Lewis Hamilton has claimed pole position for Sunday's Australian Grand Prix in the first qualifying session of the 2015 season.
The world champion, seeking victory in Melbourne for the first time since 2008, put in a dominant performance to finish his lap over half a second faster than his nearest competitor, Mercedes team mate Nico Rosberg.
This was the British driver's 39th pole of her career and his fourth at Albert Park. Last year Hamilton won pole here but the race ultimately went to Rosberg.
Felipe Massa, driving for Williams, put in a strong lap to start Sunday's race from third on the grid.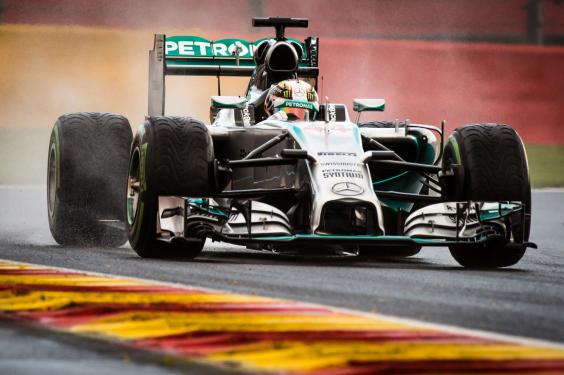 The fact that he was nearly a second and a half slower than Hamilton though is ominous for those hoping for the Constructor's Championship to be anything other than a one horse race.
Ferrari's Sebastian Vettel and Kimi Raikonnen were 4th and 5th.
Hamilton, speaking at the post-qualifying press conference, said: "It has been a great start to the weekend. It doesn't feel like a long time since the last race. We found a good balance today and it was just about pushing those laps."
Rosberg admitted that Hamilton had "absolutely nailed it" before adding: "For me it wasn't too good today but I am thankful to the team for the car that they have given me. It really is a pleasure to drive."
Perhaps the most surprising story of the day was both McLaren drivers failing to qualify for the second stage.
Drivers Kevin Magnussen and Jenson Button will start at the back of the grid, as the Manor team were unable to run and will play no part in the race, in what was a terrible day for team that has won more Australian Grand Prix's (12) than any other.
The 10 best F1 drivers
The 10 best F1 drivers
1/10 AYRTON SENNA

The tragic death of Ayrton Senna promoted the Brazilian's status in Formula One to almost mythical status. Yet even if he hadn't died in front of a world wide audience doing what he loved, his achievements in his all too short career would still have had him jostling for the title of the greatest F1 driver of all time. Senna is now considered something of a forerunner to the modern driver, who prided himself on his fitness and understanding of the modern Grand Prix cars. When he joined forces with Alain Prost at McLaren, the young driver showed no sign of being overawed by the established champion, and in the end forced Prost to move on. On the track words such as brave, fast and daring were used to describe him - and are the attributes that took him to three world titles. When he died in May 1994 in an accident at the San Marino Grand Prix, he was trying to fend off the challenge of a young Michael Schumacher. F1 fans never got a chance to see the two duel for supremacy over an extended period - but could they have done - it would have been one of the most fascinating battles in F1 history.

GETTY IMAGES

2/10 JIM CLARK

When Jim Clark joined Lotus it was a match made in heaven. Like some of the others on this list, Clark was completely dominant during his time in Formula One in the mid-60s. He was recognised for his natural ability behind the wheel. As well as winning two F1 championships he also excelled in saloon and rally races. The race for which he is often remembered is the 1963 Spa-Francorchamps Grand Prix in Belgium. In dreadful conditions, Clark lapped the entire field, effectively putting him eight miles ahead of his nearest rival in a display of supreme wet weather driving. The quiet Scotsman may well have gone on to record more Grand Prix victories and titles had he not lost his life in the pouring rain at a Formula Two race at Hockenheim in April 1968.

GETTY IMAGES

3/10 MICHAEL SCHUMACHER

The seven-time World Champion was utterly dominant during his time in the sport, particularly his spell with Ferrari with whom he picked up five titles. There is no doubt surrounding his ability behind the wheel, but question marks have always been raised regarding his sportsmanship. His first title came in 1994 amid dubious circumstances in which he crashed into title rival Damon Hill, preventing the Brit winning the championship. He tried a similar tactic against Jacques Villeneuve in 1997, but on that occasion the authorities came down hard and expunged him from the records. But whatever people think of Schumacher, there is no doubting the mark he's left on Formula One.

GETTY IMAGES

4/10 JACKIE STEWART

Jackie Stewart was something of a pioneer when it came to the playboy lifestyle often associated with the drivers of today. He became the sports first millionaire, dined out with royalty and spent much of his time in Monaco. But all of this wouldn't have been possible had the Scot not have been so formidable behind the wheel. Stewart was blindingly fast and drove himself to three championships. He could have gone on to record many more achievements but after the death of team-mate and close friend Francois Cevert, Stewart walked away from the sport in a stand against slack safety-standards. Many of the safety provisions in place today are thanks to his campaigning.

GETTY IMAGES

5/10 FERNANDO ALONSO

There are numerous young drivers on the current grid that could stake a claim to be in the mix for the greatest driver. Lewis Hamilton has been nothing short of breathtaking since he emerged on the scene while Jenson Button showed incredible patience before guiding his Brawn to the title. Yet it is the Spaniard Fernando Alonso who makes the cut. He lifted the world title twice during his first stint at Renault, and was the driver who ended Michael Schumacher's run of five straight titles. He's now often remembered for his part in the bitter power struggle with Lewis Hamilton at McLaren, but with his return to a competitive car with Ferrari, don't bet against this undoubtedly gifted driver winning more titles. He has as much of a claim to become one of the greats as Lewis Hamilton.

GETTY IMAGES

6/10 JUAN MANUEL FANGIO

If Ayrton Senna was the Pele of motorsport, Juan Manuel Fangio was certainly the Diego Maradona. The Argentine's incredible record seemed to defy logic. A rotund figure with powerful forearms, Fangio was also 47 when he won his last Grand Prix. He drove in only 51 Grand Prix yet started 48 of them from the front row and won almost half of them. The Argentine won five titles with four different teams in a career noted for his sporting behaviour and awesome driving ability.

GETTY IMAGES

7/10 SEBASTIAN VETTEL

He's been labelled the Schumacher of his day for two reasons. One, he's German. The other, he's dominated the sport in recent years, winning the last four Drivers' Championships. Some have put his success down to the Red Bull car under him, but the fact he put his former team-mate Mark Webber in the shadows before the Australian retired, prove just what a good driver he is.

Getty Images

8/10 ALBERTO ASCARI

The very name of Alberto Ascari conjures romantic images of Italian motorsport. Already a notable driver, Ascari teamed up with Enzo Ferrari in the 1950s and together they would win two Formula One titles. He was noted for his steely concentration and at times the wild, jerky corner taking that he would employ to drag the best out of the car beneath him. His career came to an abrupt end when at the 1955 Moncaco Grand Prix he careered into the harbour. Then a few days later he died at Monza during testing for Ferrari. Ascari was revered in his home country, and as the only Italian to win a title at the wheel of a Ferrari, he remains so.

GETTY IMAGES

9/10 ALAIN PROST

Alain Prost's style of driving failed to win over the purists. He drove every race in exactly the same way: he didn't take risks, refused to enter any hi-jinks with other drivers and drove a considered, intelligent race. He was the antithesis of his great rival Ayrton Senna. Yet 'The Professor's' four world championships are testament to the fact that while the Frenchman may have not won many friends, he did win a lot of races.

GETTY IMAGES

10/10 NELSON PIQUET

Another Brazilian driver to make the cut in out ten best list. Piquet took three titles during his Formula One career, all the more remarkable considering the likes of Alain Prost, Niki Lauda and Ayrton Senna were all competing against him at the time. Piquet was regarded as something of a serious professional with undeniable intelligence. His technical know-how helped him reach the peaks of the sport and his rivalry with Nigel Mansell when the two were team-mates at Williams is one of the most fondly cherished in the history of Formula One. The legend that Nelson Piquet Jnr had to live up to can not be underestimated.

GETTY IMAGES
Dutch driver Guido van der Garde dropped legal action against the Sauber team just prior to qualifying, allowing Marcus Ericsson and Felipe Nasr to race. There had been farcical scenes in the team's garage before a practice session of Friday when the driver appeared in race overralls expecting a drive.
Van der Garde signed a contract to race for Sauber in 2015 last summer however the team later agreed terms with Nasr and Ericsson. Van der Garde said: "My management will continue talks with Sauber early next week to find a mutually acceptable solution for the current situation."
The grid for Sunday's Grand Prix runs:
1. Lewis Hamilton (Mercedes) – 1:26.327
2. Nico Rosberg (Mercedes) – 1:26.921
3. Felipe Massa (Williams) – 1:27.718
4. Sebastian Vettel (Ferrari) – 1:27.757
5. Kimi Raikonnen (Ferrari) – 1:27.790
6. Valterri Bottas (Williams) – 1:28.087
7. Daniel Ricciardo (Red Bull) – 1:28.329
8. Carlos Sainz (Torro Rosso) – 1:28.510
9. Romain Grosjean (Lotus) – 1:28.560
10. Pastor Maldonado (Lotus) – 1:29.480
11. Felipe Nasr (Sauber) – 1:28.800
12. Max Verstappen (Torro Rosso) – 1:28.868
13. Daniil Kvyat (Red Bull) – 1:29.070
14. Nico Hulkenberg (Force India) – 1:29.208
15. Sergio Perez (Force India) – 1:29.209
16. Marcus Ericsson (Sauber) – 1:31.376
17. Jenson Button (McLaren) – 1:31.422
18. Kevin Magnussen (McLaren) – 1:32.037
Reuse content