Lewis Hamilton began his reign as Formula One world champion with his 34th career victory by taking the chequered flag in the season-opening Australian Grand Prix.
A year ago Lewis Hamilton was 25 points adrift of his Mercedes team-mate Nico Rosberg after retiring from the Australian Grand Prix, setting up their gripping fight for the world championship. This time, the Briton made it look easy as he won here in Melbourne, but it wasn't the procession it first appeared.
Mercedes have made their dream start to the 2015 season, with Hamilton followed home by Rosberg, but their battle was more intense than it looked.
Hamilton led all the way apart from when he made his pit stop on the 25th lap, but the gap to Rosberg fluctuated all the way to the flag. After their stops it went out to as much as 4.6 seconds, but at times Rosberg had it down to as little as 1.2sec. Each of them had moments of pushing hard, then conserving fuel and tyres. But the world champion always seemed to have something in hand.
"Nico was very quick throughout the race," Hamilton acknowledged. "Once you get a two-second gap, you try to manage that. There's no need to eke out more. When Nico turned up the heat, I was able to react, which is good.
Australian Grand Prix 2015 - in pictures
Australian Grand Prix 2015 - in pictures
1/10 Australian Grand Prix 2015

It was all smiles as the competitors posed on the grid for the drivers' photograph beforehand.

Getty

2/10 Australian Grand Prix 2015

Mercedes GP's Lewis Hamilton signs autographs at Albert Park as he arrives at the circuit.

Getty

3/10 Australian Grand Prix 2015

Planes fly overhead during the drivers' parade before the Australian Grand Prix.

Getty

4/10 Australian Grand Prix 2015

Melbourne sparkles as Felipe Massa surges in front of Sebastian Vettel at Albert Park.

Getty

5/10 Australian Grand Prix 2015

Lewis Hamilton was too fast even for the cameras as the Brit won with ease, with only 11 cars finished the season-opening race.

Getty

6/10 Australian Grand Prix 2015

Venezuela's Pastor Maldonado crashes his Lotus at the second corner.

Getty

7/10 Australian Grand Prix 2015

German Nico Rosberg makes a frantic pit stop.

Getty

8/10 Australian Grand Prix 2015

Actor Arnold Schwarzenegger delighted the crowd by making an appearance on the grid for the national anthem.

Getty

9/10 Australian Grand Prix 2015

Sebastian Vettel and Nico Rosberg embrace each other in Parc Ferme after finishing.

Getty

10/10 Australian Grand Prix 2015

... But this was a day to savour for Lewis Hamilton, getting his season off to a flier.

Getty
"But it wasn't an easy race, it really wasn't. It was a real race. Any slip and he would have been on me. We were definitely not cruising, even if it might have looked like it. All the way through, though, I was controlling the gap. I  felt confident, because I had good pace."
Rosberg admitted that his team-mate countered his every tactic. "The attack was most definitely there," he said, when it was suggested the pair of them had enjoyed a walk in Albert Park. "But Lewis made no mistakes. It was not possible to get closer than that, let alone try to overtake. It was a matter of saving a little bit of fuel in the middle of the race to be able to go full-on at the end. Unfortunately, Lewis did a similar thing, so in the end he could also push, so it didn't really help me."
The race was remarkable for having only 15 starters, after Williams' Valtteri Bottas was withdrawn after tearing a disc in his back during qualifying, Daniil Kvyat's Red Bull ate its transmission on the grid formation laps, and Kevin Magnussen's McLaren likewise broke its motor even before Honda presidents had seen it line up on the grid. With neither of the Marussias being able to make qualifying runs, the grid was perilously close to Clermont-Ferrand in 1969, when only 13 cars started the French Grand Prix.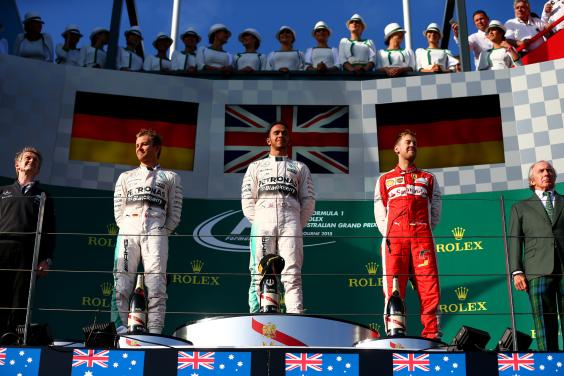 Sebastian Vettel brought his Ferrari home third on his debut with the Scuderia after a fight with Felipe Massa's  Williams. However, he triggered mayhem at the start when he slid off the inside kerb in the first corner, pushing team-mate Kimi Raikkonen wide and into contact with rookies Carlos Sainz Jnr and Felipe Nasr.
"If you look at the gap, for no one is it going to be easy to catch [Hamilton and Rosberg]," Vettel said afterwards. "We have to focus on ourselves and make sure what we have learned from this weekend we take into the next races.
"The most important thing is if we finish, we finish right behind Mercedes. We need to confirm that in the next race. That is priority No 1. We need to make sure it was not a one-off. But you have to be realistic, this weekend was in Mercedes' hands. It's a big gap. It could turn around a little bit for the next Grand Prix. We could be closer, but it could be even worse."
Before everyone gets carried away on the red tide, it is worth pointing out that Vettel was 34.5sec behind Hamilton, and that last year Fernando Alonso finished 35sec behind Rosberg. Is that progress?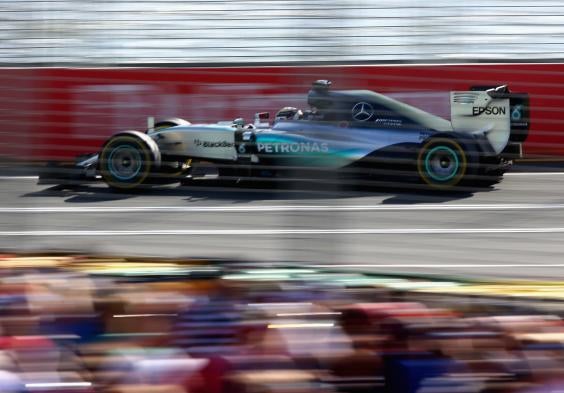 Raikkonen was less fortunate. Pushed down to eighth in the melee, he later lost time in his first pit stop when the left rear wheel stuck, and retired when a new left rear wheel worked loose after his second stop.
The 17-year-old rookie sensation Max Verstappen was also out of luck, retiring his Toro Rosso from a promising sixth place when smoke swirled round the cockpit. Team-mate Sainz was delayed in a pit stop, but the rally champion's son was a respectable ninth on his debut.
The star of the race, however, was Nasr, who drove his Sauber with the competitive verve of a confident veteran to take fifth place, the best debut finish for a Brazilian in F1 history. The race was a rollercoaster for the Swiss team, whose boss Monisha Kaltenborn had been threatened with jail for contempt earlier in the week after a judge ruled that Dutchman Giedo van der Garde had a valid contract to drive for them. As Nasr's team-mate Marcus Ericsson claimed eighth place, they scored 14 more points than they did all last year, leaving them third overall behind Mercedes and Ferrari.
There were no points, however, for Jenson Button, winner here in 2009 and 2010. His McLaren was woefully uncompetitive due to its under-developed and detuned Honda engine, and he was the last man home, in 11th place, just out of the points. But the finish, two laps down, marked the first time the car had ever covered more than 12 consecutive laps.
Reuse content