There is seemingly no off switch for Ashton Eaton's competitive instincts. After all, this is a man who admits that even brushing his teeth with his heptathlete wife Brianne Theisen-Eaton can turn into a race.
Admittedly, the American's competitive streak has been used to good effect. It gives him the ability to make the decathlon look like a breeze – he even described the 10-discipline event as "easier than you'd think". He is the greatest  all-round athlete in the world, one of only two men to have passed the 9,000-point mark in the event, and Olympic and world champion.
But following that latter triumph in Moscow a year ago, he was, by his own admission, left "feeling destroyed". He says: "At the beginning of last season I felt decent but I got hurt for the first time since college – some strain behind the left knee – and I competed hurt all year. It was a struggle mentally, a struggle physically. It was just nice to be done at the end of it all."
It left the 26-year-old feeling like he had already peaked and he had little more to offer an event he has made his own since that Olympic year.
"I remember thinking, 'I don't know if I can get better'," he admits looking back. "It had been a long three years. But that's changed. I feel like I can improve in every discipline, even just a little."
So where has the extra belief come from? In Eaton's case, it has to do with the 400 metre hurdles, an event often referred to as a "man killer" but one this year he has been simply doing "for fun".
He says: "It's like I'm not even competing like a professional track and field athlete. There's no mental stress, just travelling around the world having fun."
It comes as no surprise to those who have watched him that he is also very good at what he does. "In Paris," he says, "I got my ass kicked." But at the Diamond League in Oslo he was victorious, while in Glasgow last weekend he was second, beating Olympic champion Felix Sanchez in the process with a personal best of 48.69 seconds – only five athletes have gone quicker this year – a fitting last hurdles race before returning to multi-eventing.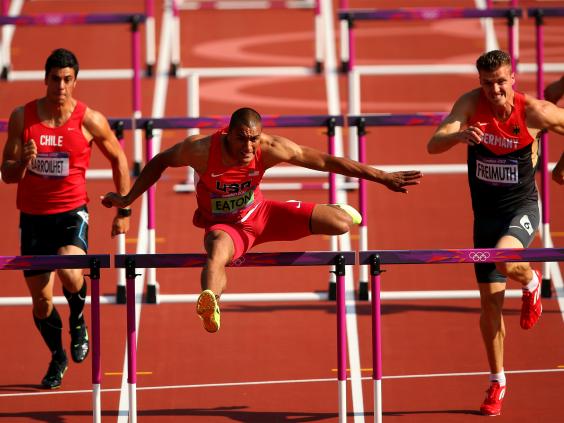 This weekend, he will take part in just one more individual competition, the long jump at the Sainsbury's Anniversary Games at Horse Guards Parade and The Mall, before returning to training in Belgium with his Canadian wife and coach.
For Eaton, London will always be a special place, the scene of his Olympic triumph in 2012 and his wife's silver behind Jessica Ennis-Hill. "It's going to be a special experience," he says. "Brianne and I shared some life-changing experiences there. It's one of the great capitals of the world and you don't get the chance to visit it that often. It's going to be good."
For the rest of this year, though, Eaton's real focus will be on playing the role of cheerleader as Theisen-Eaton – the couple celebrated their first wedding anniversary on Sunday – bids to upset British hopes in the Commonwealth Games heptathlon.
She had led the prestigious Hypo-Meeting in Götzis earlier in the summer only to be pipped by GB's Katarina Johnson-Thompson in the 800m finale by 41 points, and the event is very much being seen as a battle between the two double-barrelled athletes.
"Brianne loves the challenge and, after her battle in Götzis with Katarina, she was like 'right, I want to beat her at the Commonwealth Games'," he says. "We've seen Katarina put in some amazing performances this season so it should be a great battle.
"She's just the latest in a line of talent. You've obviously got Jess and also Morgan Lake. It's an impressive pedigree."
Lake has opted for the World Juniors while Ennis-Hill is about to give birth to her first child. Does he believe Ennis-Hill will return to the peak of her powers from next season and beyond? "That all depends on her," he says. "It's not going to be because of a lack of athletic ability, as we've seen what she can do. It will just depend on her mental position. Will she be distracted by having a kid, will she not be 100 per cent focused as before, will she still care as much?"
It is a question Ennis-Hill herself doesn't even know the answer to. As for Eaton, the focus and competitive desire going into 2015 is stronger than ever.
The world's best athletes will take part in the Sainsbury's Anniversary Games at Horse Guards Parade and The Mall on Sunday. Tickets are available for this unique event via britishathletics.org.uk or by calling 08000 556056
Reuse content