How different the sensation of silver can be, how varied the journey to get there.
Team England added five silvers to their medal tally inside Hampden Park, but in contrasting fashion. For the triple jumper Laura Samuel, it eclipsed anything she had ever aspired to; for her England team-mate Will Sharman, it was a case of what might have been in the  110m hurdles.
In the case of Ashley Bryant it was an energy-zapped stagger to the line in the men's decathlon while hammer thrower Nick Miller, who said before the Games, "I don't see the point in competing if I'm not aiming to win", came up just short against Canada's Jim Steacy. And in the night's final throw of the dice, Laura Weightman produced the run of her life to finish second behind Faith Kibiegon in the 1500m.
In truth, only Sharman had begun the night with realistic aspirations for gold. After all, two major hurdles had been removed from his path in the form of the defending champion Andy Turner, who had fallen in the heats, and the injured world No 1 Hansie Parchment.
While Sharman did not exactly fall at the final hurdle, his clipping the eighth of 10 barriers threw his rhythm and denied him any chance to aspire for gold.
It enabled Andrew Riley, of Jamaica, to sprint to the gold, Sharman immediately cutting a forlorn figure before turning on the smiles to celebrate with his family, his mother bedecked in a Union flag jester's hat.
Afterwards, he was gracious in defeat, saying: "I made a big mistake by hitting it [the hurdle] with my trail leg and that cost me, but that's no disrespect to the winner. He race a great race and there we are."
Four years ago in Delhi, Sharman had finished sandwiched in the middle of an England one-two-three. For him, though, silver has now become a familiar refrain, this one all the more bitter in what was realistically his one chance of a major title.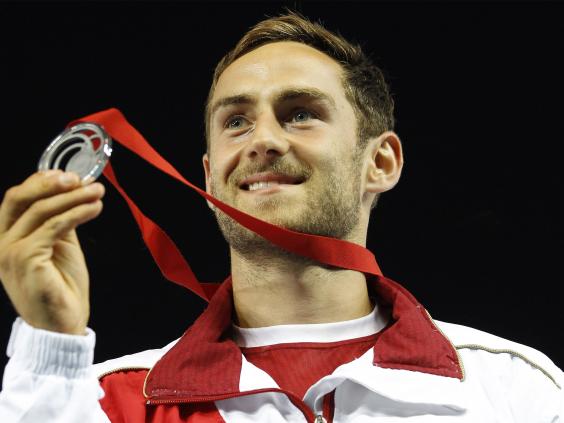 Weightman had been tipped to cause a surprise by her coach, the two-time Commonwealth champion Steve Cram, who was commentating on the race for the BBC, and she did just that with a blistering turn of pace in the home straight in a race dominated by Kibiegon.
Samuel, on the other hand, was not expected. On the day of the 2012 Olympic closing ceremony, she had been at the McCain Jumps and Throws Festival. Her oft-stated ambition for Glasgow was merely to make the final. Her stunned expression said it all as she shattered her personal best by 34 centimetres for a shock silver behind Jamaica's Kimberly Willliams.
Samuel, whose effort put her third on Britain's all-time list of triple jumpers, said: "I was just giving it my all so to get a personal best, the best I've ever jumped, at the Commonwealth Games is amazing. I kind of couldn't believe it. I kept looking up at the board thinking, 'Is that [second] really next to my name."
Britain has become accustomed to celebrating its female multi-eventers but, with Jessica Ennis-Hill watching at home with new baby Reggie, and Katarina Johnson-Thompson missing with injury, it was the decathletes who had the chance to shine.
John Lane lay in second for much of the event only to slip back with a poor javelin competition. In contrast, his England team-mate Bryant produced a throw of 66.33m in the javelin to put him third and a strong run in the 1500m moved him up to second with 8,109 points. Canada's Damian Warner was in a league of his own with a tally of 8,282.
On paper in the men's hammer, Steacy was comfortably the best thrower in the field and so it proved, while Miller held off the threat of Scotland's Mark Dry by just 3cm for the silver.
There was a heartwarming return to health and form for Novlene Williams-Mills in the 400m on a bright night for Jamaica. She could not overhaul her team-mate Stephanie McPherson but competing at all was a feat in itself.
Williams-Mills had competed at London 2012 diagnosed with breast cancer the month before and finished fifth in the 400m. Following a double mastectomy and reconstructive surgery three days after the Games, it was a remarkable turnaround a little over a year after returning to training.
Reuse content