No doubt who is aiming to be the big shot of Glasgow. He is a 60-year-old grandfather gunning for gold, a target that will make him the most successful competitor in the history of the Commonwealth Games.
Mick Gault, OBE, is already England's most decorated sportsman, yet few have heard of the pistol-packing former RAF radar engineer from Norfolk who has come out of retirement in an attempt to break the record of 18 Games medals held by another shooter, the Australian Philip Adams.
Although Gault has competed for England in five previous Commonwealth Games he has never been selected for an Olympics, much to his chagrin. He even quit the sport in frustration after being omitted from the GB team for 2012, professing himself "disappointed and gobsmacked."
Gault, who first competed at the I994 Games in Canada, subsequently became England's most successful Commonwealth Games athlete, surpassing swimmer Karen Pickering's 13 medals, in Melbourne 12 years later.
He has now won 17 Commonwealth medals, including nine golds, and accepts that the Ministry of Defence shooting range in Carnoustie offers his last chance to equal Adams's record, or break it by taking home two medals in the free and air pistol events.
The Sheffield-born Gault, who now lives in Dereham, Norfolk, says the prospect of a final shot at equalling that record proved too strong. ''I needed to be able to say, 'Job done, sorted.'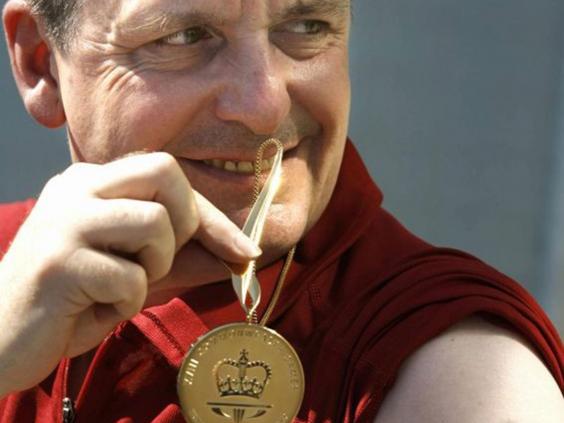 "If I can go to the Commonwealth Games and I succeed, then that will be it, but even if I don't get that medal at least I tried."
Gault has stepped up his training, which includes power-walking around the streets of Dereham and rigorous target practice at the 11-metre shooting range in his back garden.
He has represented England at five different Games: Victoria (1994), Kuala Lumpur (1998), Manchester (2002), Melbourne (2006) and Delhi (2010). "Standing on that winning platform for the first time remains in the heart – you never forget it."
He says he is having to re-learn how to steady his aim on the big occasion. "I got bronze at the British champs for air pistol – I got over-excited, my heart went and my trigger went and I shot in the wrong place."
He admits he has had some difficulty in adjusting to the sport's new spectator-friendly scoring system which sees all competitions starting from zero in the finals, rather than competitors taking their qualifying scores with them. This will be his only taste of an Olympic-like atmosphere. British Shooting jocked him off the London Games, a brutal decision which raised eyebrows at the British Olympic Association.
Gault, the nation's most prolific medallist in any sport, had achieved a qualifying score for the free pistol but was told the only host-nation quota place available was for the air pistol, for which he did not have the required mark. The irony was that had he been selected for Team GB, under Olympic rules he would be permitted to shoot in both categories. It triggered off a row which led to the former sports minister Kate Hoey, one of his greatest supporters, taking up the case, but British Shooting stuck to their guns.
"I didn't want to cause a stink but it did seem rather an injustice," Gault says. Meanwhile, away from shooting, life has not been without its problems as he focuses on another shot at Commonwealth glory.
His wife of nearly 40 years, Janet, has Parkinson's Disease, and his mother, Elizabeth, is receiving treatment for lung cancer. "What is most important to me is my family and my sport, in that order," says Gault, who has two daughters, a son and four grandchildren. "Returning to the sport is a gamble, but I've got this goal in my sights."
Gault first retired after winning silver in Delhi but returned in a self-funded bid to shoot at London 2012. ''I went through a bad period, but pulled myself together and realised what it was. When you are competing you're with your friends, then you stop and you haven't got anything.
"You have your family – your wife and your children – but there's something missing in your life and it took a long time to figure out what it was.'' But he realises that after Glasgow he may finally have to bite the bullet. "One day I'm going to have to say, 'Enough's enough.'"
The leading Commonwealth Games medallists
There will be huge sighs of relief should England's Mick Gault overtake fellow marksman Philip Adam to become the Commonwealth Games all-time leading medal winner in Glasgow. For there remains embarrassment that the Australian Adams, now retired, received a two-year ban in 2003 for drug use. Adam, then 57, tested positive for the prohibited diuretic hydrochlorothiazide in an out-of-competition test in the lead-up the Manchester Games in 2002. He claimed he had taken the drug to alleviate high blood pressure, and because of a technicality he was allowed to compete in Manchester, though he did not win a medal. But he was subsequently suspended by the Australian Olympic Committee. The same substance brought a year's ban for Australian cricketer Shane Warne in the same year.
Philip Adams (Australia) Shooting, 1982-94 - 18
Michael Gault (England) Shooting, 94-10 - 17
Susie O'Neill (Australia) Swimming, 90-98 - 15
Jaspal Rana (India) Shooting, 94-06 - 15
Ivan Lund (Australia) Fencing, 50-62 - 13
Michael Wenden (Australia) Swimming, 66-74 - 13
Karen Pickering (England) Swimming, 90-02 - 13
Samaresh Jung (India) Shooting, 02-06 - 13
David Morgan (Wales) Weightlifting, 82-02 - 12
Sharon Bowes (Canada) Shooting, 86-98 - 12
Greg Yelavich (New Zealand) Shooting, 86-10 - 12
Marcus Stephen (Nauru) Weightlifting, 90-02 - 12
Petria Thomas (Australia) Swimming, 94-02 - 12
Leisel Jones (Australia) Swimming, 02-10 - 12
* The leading track and field athlete is Raelene Boyle (Australia, 1970-82) with 9 medals
Reuse content