More than one billion people around the world are expected to turn their attention to Scotland today as Glasgow stages the opening ceremony of the 2014 Commonwealth Games.
The spectacle will pre-prepared video on Europe's largest LED screen, some 2,000 volunteers in artistic performances and the athletes' parade, featuring more than 4,500 athletes from 71 nations and territories.
Organisers said the ceremony will show the world "what we're made of" in Scotland, with appearances from Sir Chris Hoy, Sir Alex Ferguson and – for some reason – Nicole Scherzinger.
In an unprecedented move, the opening ceremony will also feature a Commonwealth-wide fundraiser for children, thanks to a partnership with children's organisation Unicef.
India will be first out for the parade as hosts of the previous games, while Judo player Euan Burton will lead out Team Scotland last. The rest of the nations and territories will appear by international region, each time accompanied by a Unicef film detailing what the charity is doing in that part of the world.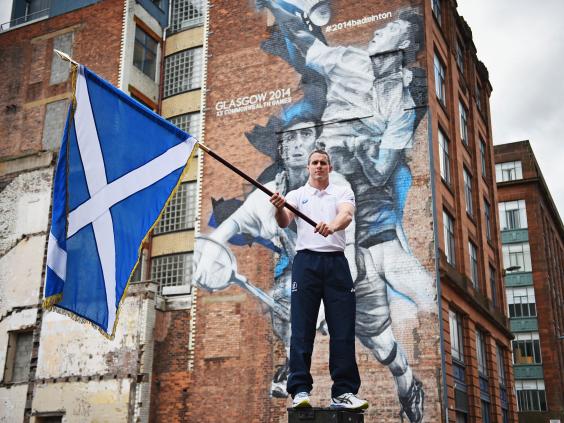 A crowd of 40,000 will watch the ceremony in Celtic Park, which has been transformed for the occasion.
The Queen will attend as head of the Commonwealth, and read from a piece of paper that was placed in the games baton before it began its 287-day relay across the nations involved. 
Commonwealth Games: amazing athletes
Commonwealth Games: amazing athletes
1/5 Maria Toorpakai Wazir

The 23-year-old Pakistani squash player was brought up in the highly conservative region of Waziristan, where girls are not allowed to play sport. In order to take part, she disguised herself as a boy by cutting her hair. Her family started receiving threats for allowing Wazir to play sport and she was eventually forced to practice in her room in case the squash court where she played was bombed. In 2011 she moved to Canada and joining a squash academy. "I am a warrior, I was born a warrior, I will die like a warrior," she said.

BBC

2/5 Adrien Niyonshuti

The Rwandan cyclist lost 60 family members, including six brothers, during the genocide of 1994 which killed an estimated 800,000 people in 100 days. Then aged seven, he survived the horror and took part in his first cycling race, the Tour of Rwanda, at the age of 16 on a bike that he borrowed from a relative. The 27-year-old has said of his sport: "It's the thing that helps me forget my problems."

Getty Images

3/5 Sophie Pascoe

In 1995, when she was two years old, the 21-year-old New Zealand swimmer's legs were caught under a ride-on lawnmower being driven by her father, Garry, at the family home in Christchurch. Her left leg was amputated below the knee following the accident, but she took up swimming at the age of seven and went on to become a six-time Paralympic gold medallist. Her father has spoken of being haunted by what happened to his daughter, saying last year: "I don't think I've really recovered from it… It just leaves a black dot in my life.

Getty Images

4/5 Steve Way

Seven years ago, he weighed 16 stone and smoked 20 cigarettes a day – now he runs marathons. The 40-year-old Englishman was selected for the squad after finishing a surprise 15th in this year's London Marathon, becoming the third Briton to reach the finish line behind Mo Farah and Chris Thompson. Not bad for someone who only took up running in order to lose weight. "It turned very quickly away from being a form of exercise to get healthy and lose weight to a competitive sport," he said recently. "Within six months of starting this journey I'd almost forgotten why I started running – to lose weight and give up smoking – and it turned into more of a competitive hobby."

5/5 Abdul Rashid Bangura

When he was a teenager, the 27-year-old middleweight boxer was forced to flee his home town of Makeni, Sierra Leone, as rebel forces from the Revolutionary United Front took over. A longing to see his father made him return, but he was captured and forced to work crushing rice. His trip to Glasgow will be his first out of Africa – but his father, formerly Sierra Leone's boxing coach, will not be there to see it, as he died this year. "The only time my father was happy was when I was boxing," Bangura said.
While details of the launch have remained largely secret, singers Rod Stewart, Susan Boyle and Amy Macdonald are among those expected to perform.
The ceremonial flag will be hoisted at the opening of the games, where it will fly continuously throughout the event until it is lowered at the closing ceremony in Hampden Park on 3 August.
Video: Commonwealth Games 2014

Michael Cavanagh, the Commonwealth Games Scotland chairman, said: "What we are about to deliver in Glasgow, I think, will be the best ever Commonwealth Games.
"We have learned from Manchester and particularly London 2012, but we are ready to deliver something spectacular."
Reuse content