Alistair Brownlee experienced double delight, adding the mixed-team triathlon title to the individual gold medal he won on Thursday.
Brownlee crossed the line 49 seconds in front of second-placed South Africa, completing a nigh-on perfect Games for English triathletes.
The England team comprised Vicky Holland, Jodie Stimpson and Alastair's brother Jonny – all of whom had taken singles medals on Thursday.
The mixed triathlon sees teams of two men and two women do a sprint-style course consisting of a 250m swim, 6km cycle and 1.6km run. Men race against men and women against women – and hands are slapped to signify the changeover at the end of each lap.
Though the Brownlee siblings have long faced off against each other in competition, this was the first medal they had won together at a major event – a fact which made the victory all the sweeter for Alastair.
"Of course it does," he said. "It's very different for us doing something as a team, although we race together all the time.
"To be able to share an achievement is really good. We've raced so many relays together over the years and we really enjoy doing it.
"It's fantastic to be able to do it on a major scale like we did today."
The triathlon team's success was the high-water mark on an uneven day for the home nations.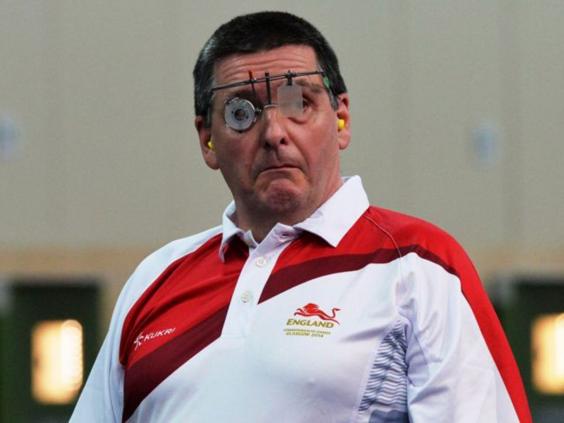 Shooting
England's Mick Gault gave what has been heralded "Super Weekend" a record-equalling start, winning an 18th Commonwealth Games medal with bronze in the 10m air pistol at Carnoustie.
After tying with Australian shooter Phillip Adams for the most medals at a Commonwealth Games, 60-year-old Gault suggested that his sixth Games might be his last.
"I can retire, put my feet up and watch everybody else working," he said. "There might be a coaching job for me somewhere and I can stay with the sport."
England's David Luckman and Parag Patel took shooting gold in the Full Bore Queen's Prize Pairs, while England's Rory Warlow took bronze in the skeet shooting.
Other sports
Irene Edgar and Robert Conway won silver in the para-sport mixed pairs bowls final. Scottish bowls pair of Paul Foster and Alex Marshall staged an impressive comeback from 15-7 down to beat South Africa 16-15.
Nick Matthew is two games away from retaining his squash title after beating Guernsey's Chris Simpson 11-7 11-8 11-9, but has team-mate Peter Barker standing in the way after beating Cameron Pilley of Australia 11-8 11-4 11-5.
Elsewhere, success was more difficult to find. Anglo hopes on the badminton court were dampened by Jenny Duncalf's quarter-final defeat to Malaysia's Nicol David.
In the all-British marquee boxing clash, England's Pat McCormack lost on points to Joe Cordina of Wales.
Reuse content