Girl power, such a vibrant factor at London's Olympics, is set to be equally evident in Glasgow. Never more so than in the so-called strength and contact sports like boxing, wrestling, taekwondo, judo and weightlifting, once the preserve of male might.
The most compelling female presence comes in the boxing ring where the main attractions will not be the men, now shorn of headguards and fighting under a pro-style 10-points scoring system, but the women, who are making their Games debut.
Save for Welshman Fred Evans (controversially denied accreditation because of an assault conviction), all Team GB's male Olympic medal-winners – Anthony Joshua, Luke Campbell and Anthony Ogogo – have turned pro, along with captain Tom Stalker, leaving the ladies who punch as the dominant force in a squad of 11.
England's formidable trio are all gold-medal prospects: Olympic champion Nicola Adams, of course (though she may have been distracted by the celeb circuit, recently losing a European title fight); Savannah Marshall, the world middleweight champion from Hartlepool called the "Silent Assassin" because of her shyness and shuddering punching power; and glamorous Liverpudlian Natasha Jonas, a charismatic European silver medallist who looks more groomed for the catwalk than the ringwalk.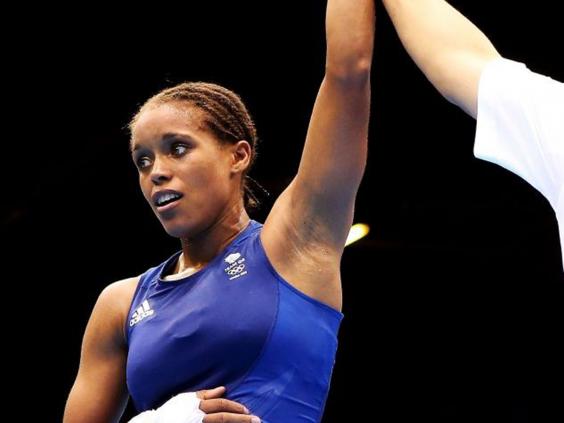 Inevitably it is 31-year-old Adams, the pocket-rocket history-maker from Leeds, who gets star billing in the first round of the women's tournament tomorrow after becoming the first woman to win an Olympic boxing gold medal. She is first up against Nigerian Oluwatoyin Oladeji and is a hot favourite to claim the 51kg flyweight title despite that loss in Bucharest, her first in over two years.
She denies that failing to get a medal two months ago, when she was beaten on points in the quarter-finals by Bulgarian Stoyka Petrova, came about because she had taken her eye off the punchball, seduced by demands for sponsorship deals and personal appearances. "I trained hard for it, but I just had a bit of an off night," she insists. "I wasn't my best. It can happen. Even so, it was controversial – a lot of people thought I had won.
"To be honest I'd forgotten what it was like to lose. It felt quite strange. I was quite angry and upset at the time, but it's been a blessing in disguise because it has increased my motivation. Now I want to be the first female to win a gold medal in the Commonwealths."
Among her chief rivals, long-time foe Mary Kom, a five-times world champion, suffered a surprise loss to Pinky Jangra in the Indian trials. Mandy Bujold, a Pan-American Games gold medallist, is a threat from Canada.
No-one has embraced the Olympic spirit more that this effervescent, ever-beaming elfin. She has trodden numerous red carpets, occupied all the chatshow sofas, met the Queen and selfied it with David Cameron. "But boxing is my passion, it's who I am, and I never get bored of it."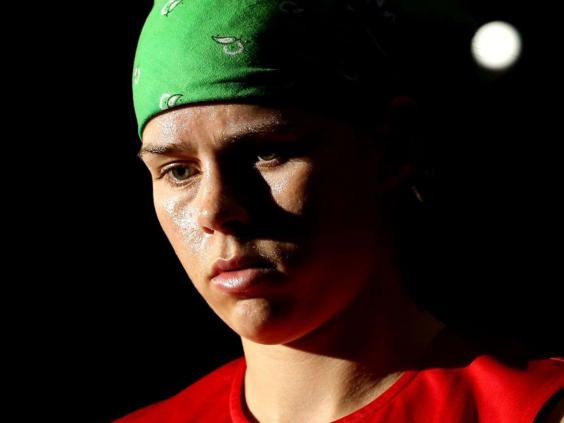 The same goes for her two team-mates. The shy six-foot middleweight Marshall may be a woman of few words but her fists certainly do the talking as she demonstrated on her 21st birthday two years ago when she made her own history by becoming Britain's first female world boxing champion.
Her victory at 75kg over Elena Vystropova of Azerbaijan suggested she would be Britain's biggest hit when women's boxing made its Olympic debut shortly afterwards but she admits she uncharacteristically froze in her opening bout and, instead, it was her friend and Olympic room-mate Adams who seized the gold and the headlines.
Marshall now fights with a new-found maturity after putting on hold a proposed Teesside University course in sports science to concentrate on her boxing career. "I just live for boxing, there's nothing else," she says. "I've got my own house and a nice car, and it's all through sport, but it hasn't come easy. A lot of my friends go out on the weekend and meet new people, but sometimes it feels like I'm just stuck.
"I'm single at the moment, but I don't get to meet anyone. I would love to do a few more Olympics if I was lucky enough but I want a family. It does cross my mind, 'Will I ever get that family?' because it's such an isolating sport."
Model material she may be, but Jonas is the only one of the trio who bears a battle scar – though the one under her right eyebrow did not come from combat but a collision in the gym with a dumbbell.
Born in Toxteth, Jonas grew up in a household of six children, recalling that meal times were where she learned to scrap. "I was always fighting for my dinner," laughs the 30-year-old lightweight whose medals include that Euro silver and a world championship bronze.
She turned to boxing when injured while on a football scholarship in the United States – her sister Nikita plays for Everton Ladies. "Me and boxing kind of happened by accident. I just walked into the gym and the atmosphere kept me there. I wanted to try something new and it turned out I was really good at it."
Seconds out, guys! The belles are about to ring in Glasgow.
... and five men to follow
Antony Fowler (England) Middleweight, 24
A striker in the mould of cousin Robbie, the former Liverpool and England star. The big-hitting world championship bronze medallist is the outstanding gold-medal hope for England. "The complete package," according to his coach.
Joe Joyce (England) Super-heavyweight, 28
Literally an artist on canvas with a degree in fine art. The 6ft 6in fighter missed out on a 2012 Olympic place to Anthony Joshua but hopes to follow fellow Englishmen Audley Harrision and David Price on to the Commonwealth podium.
Josh Taylor (Scotland) Lightweight, 23
First Scot to qualify for Olympics (where he reached quarter-finals at London 2012) since Dick McTaggart in 1956. Won silver medal in Delhi four years ago. Scotland's finest whose dad jokingly calls him "Pebble" "because I am not quite Rocky yet".
Reece McFadden (Scotland) Flyweight, 19
Now a strong medal prospect after his sensational if controversial defeat of world No 1 Andrew Selby of Wales in his opening bout. The Motherwell apprentice joiner comes fist to face with fellow teenage prospect Charlie Edwards of England today.
Paddy Barnes (Northern Ireland) Light-flyweight, 27
Combustible ex-European champion won bronze medals at Beijing and London Olympics and defends title in Glasgow. Angrily branded random drugs testing a "disgrace" after being kept up to 2am last week.
Alan Hubbard