Alastair Cook has become England's record run scorer in Test cricket, surpassing the 8900 scored by Graham Gooch in his 118-match career.
Cook began the innings needing 32 more runs to reach the milestone, as he and Adam Lyth began England's response to New Zealand's lively effort with the bat.
The England skipper surpassed Gooch's record in his 114th Test match, making his runs at an average of 46.82 – and given that he is still only 30 years old looks set to add many more runs to his tally.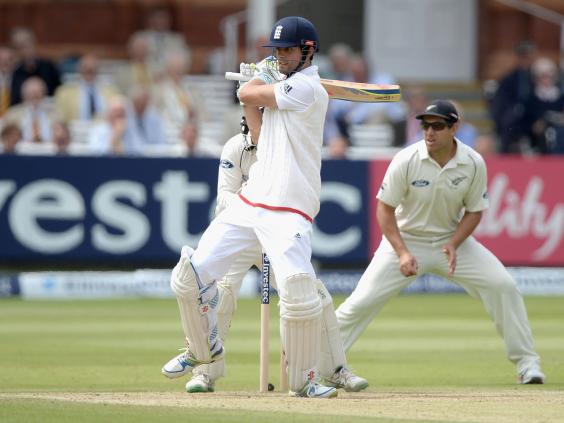 Cook now holds both the English record for most Test centuries, with 27,  as well as most Test runs.
However the left-hander still has some way to go in order to catch up with the highest run scorers in Test history, he is currently 13th in the all time list, behind South Africa's Graeme Smith who has 9265.
Cook's runs before and after lunch helped England get off to a solid start to their innings, the score at 78/0 when he brought up the record, as the home side looked to chase down New Zealand's 350.
England's more measured batting was marked difference from the tourists, who raced along at nearly five runs an over for much of their innings, their runs coming in just 72 overs, as the second Test picked up where the excitement of Lord's left off.