Ideally, Andrew Strauss would have outlined his vision for English cricket without unfortunate distractions. It was far from ideal.
He had to explain away the public sacking of the coach Peter Moores, which he did, not so much by way of damning him with faint praise as by saying Moores simply was not up to it. He chose to back the incumbent captains, Alastair Cook and the recent absentee, Eoin Morgan, which he  knows he may have cause to rue within weeks if not months.
He trod carefully around the selection process, and while he is leaving it as it is for the moment, the panel might be advised to look for other activities to fill their time just in case. He wants badly for the team to re-engage with the public, to make England cricket and cricketers part of the national round.
But they will have to do that without their biggest draw. Above all yesterday, in various locations around Lord's where his portrait hangs as a former captain – it's all right, nothing to write home about, Picasso's record will stay untouched – Strauss tried to kick into the long grass for the last time the issue of Kevin Pietersen which continues to dog English cricket.
He did not entirely succeed in either providing clarity or drawing a line under the matter, as Tom Harrison, the ECB chief executive who appointed him, wanted to happen. Pietersen has too many acolytes and if England lose the Ashes, as seems inevitable, or are defeated by New Zealand, as is possible, they will appear in force again as an invading, malevolent army.
Strauss, however, did enough to show that he has what it takes. There are those who will say his backing of Cook was all too predictable. Are they not old pals, did they not open the batting together in 68 Test matches? The same goes for his support for Eoin Morgan continuing as leader of the limited-overs sides, although many sensibilities were offended by Morgan's absence last week at the Indian Premier League when England had a one-day international in Ireland.
But in their way these are both bold decisions, imbued as they are with risk. Strauss has elevated the rapidly advancing Joe Root to be Cook's (and who knows, perhaps Morgan's) vice-captain.
It is always dangerous to plan a succession, as is demonstrated by the case of Cook being anointed much too far in advance as Strauss's heir apparent, but in these days when young cricketers hardly have the chance to become captains once they leave their under-15 sides, there may be no alternative. Root can plan his future.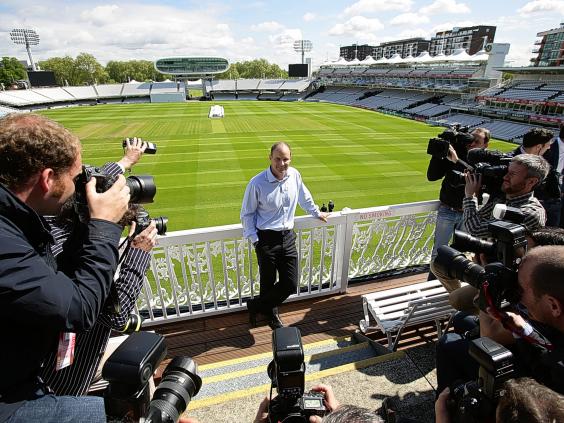 There was a certain irony to Cook's continuation. Strauss said England needed stability and Cook would provide it, yet Strauss had taken stability away by removing Moores.
The new director also made it clear that he will forge separate one-day and Test sides. The proof of that will be in the eventual selection since, as he well knows, the best batsmen and the best bowlers are often the best batsmen and bowlers. Look at the world champions, Australia. There are specialists in England but they may not be as thick on the ground as Strauss likes to think.
But it was an audacious thought – strangely it was something Strauss's predecessor, Paul Downton, who was deemed to be out of alignment with modern thinking, banged on about – and it showed that Strauss has thought about this. It was why he asked Pietersen to be a one-day advisor, aware it would have him in the tent if not the dressing room. Pietersen, hurt by rejection as a player, declined.
Strauss will also set up an advisory panel in the coming months. But he has to be careful here. He was a senior player, yet to become captain, when England, crushed in the 2006-07 Ashes, launched an inquiry.
The result was the Schofield report, the recommendations of which were largely implemented. Strauss cannot be seen to ditch the entire document immediately, which is what possibly stopped him short of changing the selection procedure which was so painfully put in place as a result of Schofield.
There remains the mild concern that Strauss is too close to some of the present team and that this will prevent him from taking tough decisions. But he has been ruthless in some areas.
Adamant that Moores had to go, he explained his reasons. Moores, he said, was exposed tactically, as was seen in the World Cup. But Moores had also been undermined by having done the job before, which made every match a referendum on his future. In other words, Moores should not have been reappointed.
There was an energy yesterday about Strauss and Harrison, a much lesser but no less zealous professional batsman, which augurs well. It would be folly to indicate it augurs well enough to bring the Ashes back him this summer, because too many mistakes have been made for that.
Strauss's most urgent task – there is no honeymoon period, he must realise – is to appoint a coach. This will not be straightforward and his apparent insistence that the chosen one has to be with the team at all times makes it less straightforward.
It is a relentless job, entailing month after long month in hotels, never seeing the family, permanently charged with producing winning teams. But while Strauss wants to divide the players between Test and limited-overs, he is anxious for an omniscient coach.
The obvious, perhaps only, candidate is Jason Gillespie. Strauss will need all his ambassadorial powers to persuade him of its merits.
Reuse content