The Ashes urn is slightly under 4.5 inches high, made of terracotta and started life as a lady's perfume jar. It may or may not contain the ashes of a cricket bail. It resides more or less permanently at Lord's but last night in all but the strictly physical sense was again setting sail, fast and true, for Australia.
When it will leave is uncertain but England, once having lost one of the oddest, oldest trophies in sport often tend to have the devil of a job regaining it. There were moments on the third day of the third Test, as there have been throughout this series, when the tourists seemed determined to make an impression on the match.
But they came to nought, either through acts of carelessness, lost concentration or wilful misfortune. But the cause of those acts derived almost certainly from the conviction and purpose with which Australia have played from the time they were in big trouble at Brisbane on the opening day.
The Ashes Podcast: Stephen Brenkley and Tom Collomosse review the second day of the Third Test in Perth. Listen below...
Trouble has stalked them periodically since but they have always extricated themselves from it, helped by themselves and by England. The tourists were not exactly out of the match at the end of the day but nor were they in it as much as they probably needed to be at  2-0 down in the series. They were hanging on, just, not waving but drowning, if that was possible in the sweltering Perth heat.
Ian Bell had scored nine from 63 balls and Ben Stokes 14 from 43. Stokes is in his second Test and he will have learned much in Adelaide last week and Perth this about himself and big-time cricket. He has as yet not done much but he is one of those who feels right for the game, one of those worth persevering with and who might be there when the Ashes come back home.
It was a batting version of what the bowling had been during the previous day. When all seemed to be proceeding rather nicely, it went awry. The centuries score almost halfway through this series in terms of playing time tells its own story: Australia 5, England 0.
There was one significant batting achievement for England yesterday. Kevin Pietersen became the 25th player and only the fifth for England to reach 8,000 Test runs. But it  was in utterly unmemorable circumstances.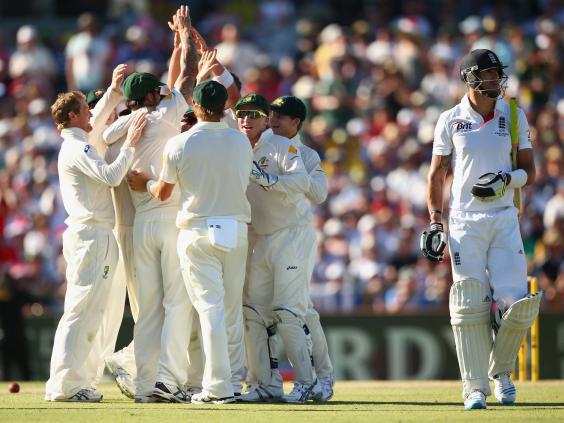 His modest series continued, scratching around determinedly for an age without managing to achieve fluency, until he was out to Peter Siddle. Pietersen is always out to Siddle. It was the 10th time in Tests that the bowler had bagged his man.
Pietersen had taken 40 balls to reach five, a study in application, but then to 19 in another 14 balls. The move from first gear direct to overdrive is inevitably fraught with risk, and in taking on the pull shot Pietersen must have known it. The ball sped to mid-on where Mitchell Johnson took an excellently timed reaction catch above his head.
The day started well for the tourists. They took the last five Australian wickets for 59 and although there was an awkward stand for the 10th wicket they would have settled for this after their bowlers mucked up a big opportunity on the first day.
Alastair Cook and Michael Carberry started with caution but also with an unspoken insistence that they would not be dominated. Australia were patient. Johnson's cutting edge had been temporarily blunted. He had gone 30 overs without a wicket by the end of the day.
But the scoring dried up. Maiden followed maiden. Australia bowled 26 of them out of 68. Compare that with the 14 England managed in a total of 103 and the difference is clear.
As the sun beat down, England were desperately trying to avoid mistakes. Australia were inviting their opponents to make them. Something had to give. Carberry tried to leave a ball from Ryan Harris but it was a manoeuvre so indeterminate that the ball took the toe of his bat and cannoned into the stumps.
Joe Root was unlucky, another victim of the Decision Review System's caprice. He was given out by the umpire Marais Erasmus after long consideration, adjudged to have been caught behind off Shane Watson.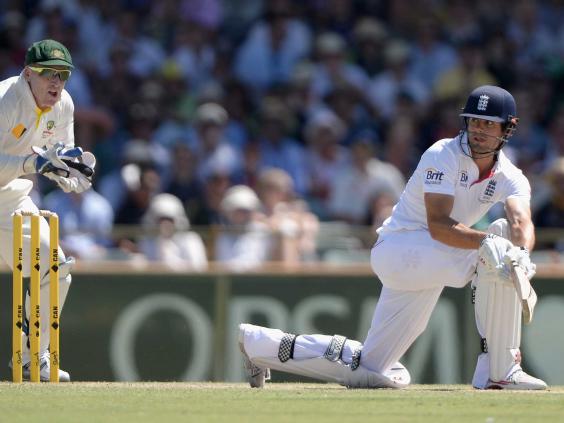 Root immediately asked for a review, but replays were as indeterminate as Carberry's leave. He almost certainly had not hit it but there was insufficient evidence to show that he had not. It was rough justice, but it was justice, and umpires unlike judges have to be permitted to err.
With Cook still in occupation, England were making a fist of it. His presence seemed to subdue Pietersen, anxious perhaps not to displease his captain. Cook became too becalmed as no scoring chances were offered, adding seven in 50 balls from 35 to 42.
He cut Nathan Lyon and in  attempting to repeat the shot two balls later was undone by slightly more bounce and caught at point. It was perfect attritional cricket by Australia of the type patented by England in recent times.
That departure was the signal for Pietersen to play with less diligence. Where he had been suppressing his natural instincts he now gave them free rein like a teenager running riot in the house when his parents are away.
Reuse content