Intervals are important in cricket. They supply respite, an opportunity to gather thoughts, to regroup. Australia went in to what they describe as the rooms on the second day of the First Test, not long after England had started batting, and offered stern advice to their bowlers.
Brad Haddin, the wicketkeeper who had salvaged their innings with the bat, said this had formed three words: "Pitch it up." Haddin, like wicketkeepers generally, is obviously a man with a deep sense of irony.
Australia did not destroy the tourists by pitching it up. They did it by unfurling the bouncer – fast, accurate, savage in intent and intensity. If it was interspersed with offerings of a fuller length they were mere morsels for England, probably designed to lull them into a false sense of security they cannot have felt.
Michael Carberry, playing his second Test, was England's top scorer with 40. He looked as if he was going on to something much more substantial only to be tied down by the accuracy of the off spinner Nathan Lyon, against whom he played three consecutive maidens as the ball spat out of footholes. He was then undone by Mitchell Johnson whose 4 for 61 did not reflect the penetration and pace he summoned. Johnson had England jumping.
"It's always hard starting out against a bowling unit that has its tail up, which was the case for some of the guys who came in before tea," said Carberry. "Australia had good plans. Early on you can be vulnerable, and we weren't quite good enough.
"Mitchell Johnson is a world-class performer. Definitely in terms of pace he's up there with some of the quickest I've faced. More importantly, he put the ball in the right areas. That's tough for anyone. But we knew what he was going to bring. We weren't up to it today, but I'm confident we can prove ourselves."
England claim they knew what to expect, that had worked in the nets to repel short pitched bowling because they knew they could expect that at Brisbane and Perth – and maybe all points north, east and south from now on. Two left-arm fast bowlers from England, Tymal Mills and Henry Gurney have been accompanying them around Australia, to help them become accustomed. It could be fairly reported that they were not entirely successful in their mission.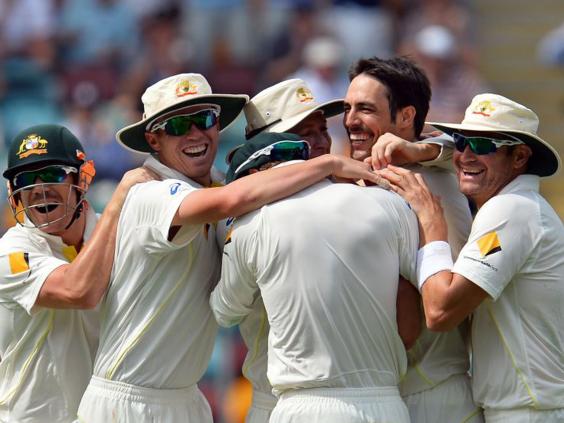 "Struggling's a bit strong," said Carberry, resisting the suggestion that this was what England despite losing six wickets for nine runs. "Any batsmen, whether it's in first-class cricket or Test cricket, the first couple of balls are the toughest phase of an innings.
"If there are some good balls flying around, unfortunately sometimes if it's not your day, your name's on it. These guys are proven world-class performers. You don't become bad players overnight. It was just a bad session, which can happen to any team but I'm positive we'll come back strong."
For most of his innings, Carberry looked like a Test batsman. The end was undistinguished as he became tied down as he failed to score from his last 25 balls but he had an appetite for the fight.
"I loved the thrill," he said. "It was great to get involved. I loved being out there in the battle. The Australian bowlers came hard at us, but it's where you want to be as a cricketer.
"I wouldn't say there was too much verbal out there. I didn't come here expecting the Aussies to be shaking my hand. Our preparation has been spot on." Just not quite spot on enough.