Australia will spend the next three months trusting that Ryan Harris remains at peak fitness as they seek what they have termed "payback" in the return Ashes series.
No player is more important for Australia than the reborn 33-year-old who, at an age when many quicks are seeking superannuation in the Twenty20 leagues or easing their aching bones into commentary boxes and coaching gigs, will spearhead an assault on the Ashes.
Or so Australia hope after Harris reaffirmed his rare and irreplaceable value at The Kia Oval yesterday. Bowling with the extreme hostility that has marked his effort all series, the bustling quick made the first strike as England relished batting on a mostly sun-baked day.
Alastair Cook was the victim, edging behind after being drawn into an errant stroke through the bowler's classic three-card trick – in-ducker, in-ducker, away-slanter.
While Australia's batting line-up is falling into place with Ashes centuries from four of their preferred top order and David Warner virtually guaranteed a start, Harris is emerging as the key pace-bowling figure in the home campaign. The loss of James Pattinson, Jackson Bird and Pat Cummins to back injuries has eroded Australia's depth and underlined the importance of having a bowler capable of turning a match.
There are few other options within Australian ranks. Mitchell Starc was unable to supply the consistency that he complained had been denied him through a lack of selection continuity. He can swing but only too rarely does he sting.
The third member of the pace attack here, Peter Siddle, is a workhorse but one whose impact invariably diminishes over a long series. James Faulkner made his debut as a seam-bowling all-rounder but was only given a handful of overs and offered little to suggest his career would extend beyond Simon Kerrigan's.
Mitchell Johnson is being warehoused with a likely expiry date coinciding with the end of the Perth Test in December, while his Western Australia team-mate Nathan Coulter-Nile is a likely prospect and one or two others are emerging in domestic cricket. But no other paceman has the combination of pace, pride and power that Harris brings to the team.
Cook was Harris's 21st victim of the series, a tally achieved at the superb average of 19, as he equalled England spearhead James Anderson's return but at 10 runs a wicket cheaper.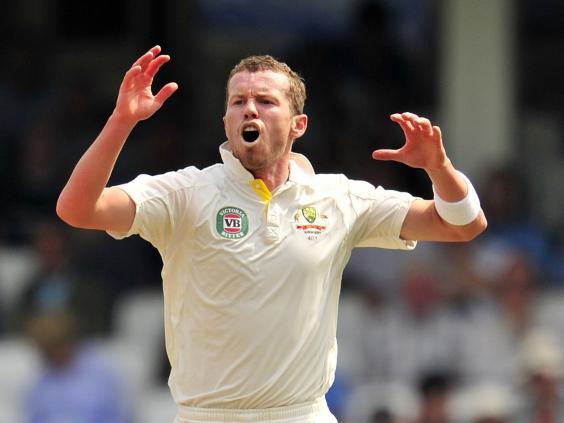 Brad Haddin claimed the catch to have his 26th dismissal of the series. He needs just three more to break Rod Marsh's series record of 28, achieved in the Ashes in 1982-83. Marsh is one of the Australian selectors who recalled Haddin to the team this series and was eager for the veteran to pass his 20-year mark.
Normally a dour individual not much given to public praise, Marsh had a slightly surprising pre-match view on the record awaiting Haddin. "I hope he breaks it," Marsh said. "I hope he breaks it by 17."
Yet it is far more likely that Marsh's greatest hope surrounds the future of the oldest bowler on the national radar. Only nine Australian pacemen have taken more wickets than Harris once they had turned 30. Stuart Clark, who was 10 days older than Harris when he made his debut seven years ago, was the only other one to start his career while in his fourth decade.
Yet there is nothing to say that a  34-year-old, which Harris will be when the first ball is bowled at The Gabba in November, cannot have a say with a shiny new cherry.
Glenn McGrath claimed more than a century of wickets beyond 34 while Dennis Lillee, Ray Lindwall and Keith Miller inflicted plenty of bruises and broke a few stumps as senior citizens raging against the dying of the light.
Harris established a first when he stepped on to The Oval on Wednesday to start a fourth consecutive Test for the first time in his career. And he is about to achieve his tour goal by returning home with the rest of his Test team-mates rather than be on an early plane due to yet another injury.
Fit and firing for longer than at any stage in his career, the bullocking big man has just one more box to tick – leading Australia to victory in an Ashes series.
Australia could win the Ashes with Harris in the team; it is not likely they would without him.
How's stat? Day three in numbers
1,500 Both England captain Alastair Cook and Ian Bell reached 1,500 Test runs against Australia
10 Chris Woakes became the first England player since 2003 to hit the first Test ball he faced for four
3 Kevin Pietersen hit his third-slowest Test fifty – off 127 balls