There was no suggestion of misplaced joy about England's captain, no hint of swaggering confidence. Anyone who had not seen the Cardiff scorecard would have presumed from Alastair Cook's guarded, downbeat countenance that England were down in this Ashes series.
Perhaps Cook was anxious to allay any notion that the job is done when it has hardly begun, that the fortunes of the two teams have been rapidly reversed, that England are now dominant and Australia subservient. That is not how it works.
England can hardly believe what happened last week. The exultation at Sophia Gardens as they won by 169 runs matched (well, almost) any rugby union Grand Slam that has been celebrated in the nearby streets over the years. But the regrouping, the focus on the next part of the campaign must have taken place on the return across the Severn Bridge.
Thus Cook wanted to avoid any premature sense of superiority. He and his team know that Australia intend to throw the lot at them this week at Lord's during the second Investec Test. Before the whole series started he was chipper, keen to let the world know that England did not intend simply to show up. Now it has gone better than he could have dreamed, Cook has to try to keep bottled what it is they have found.
Ashes 2015 First Test in pictures
Ashes 2015 First Test in pictures
1/45 Day One

Alastair Cook wins the toss and elects to bat first

Getty Images

2/45 Day One

Josh Hazlewood celebrates the wicket of Adam Lyth

Getty Images

3/45 Day One

Brad Haddin and Michael Clarke celebrate after dismissing Alastair Cook

Getty Images

4/45 Day One

Joe Root runs as Mitchell Starc looks on from the ground

Getty Images

5/45 Day One

Joe Root celebrates reaching his half-century in the first innings

Getty Images

6/45 Day One

Gary Ballance passes his 50 for England in the first innings

Getty Images

7/45 Day One

Joe Root passes his 50 for England on day one of the first Test

Getty Images

8/45 Day One

Nathan Lyon unsuccessfully appeals for the wicket of Joe Root

Getty Images

9/45 Day One

Steve Smith drops Gary Ballance before he reaches his century

Getty Images

10/45 Day One

Joe Root celebrates reaching his century

11/45 Day One

Gary Ballance reacts after being caught lbw by Josh Hazlewood

12/45 Day One

Joe Root raises his bat as he is dismissed for 134

13/45 Day One

Mitchell Starc goads Ben Stokes after taking the wicket of the Englishman

GETTY IMAGES

14/45 Day One

Jos Buttler was out for 27

GETTY IMAGES

15/45 Day Two

Wales rugby player Jonathan Davis started the day's action

Getty Images

16/45 Day Two

Stuart Broad struggled to cope with the high ball once again

Getty Images

17/45 Day Two

Moeen Ali hit 77 on his Ashes debut

Getty Images

18/45 Day Two

Mitchell Starc finished with five wickets as England were dismissed for 430

Getty Images

19/45 Day Two

Mitchell Johnson failed to take a single wicket in the first innings

Getty Images

20/45 Day Two

Warner failed to reproduce the fireworks that has tormented England in the past

Getty Images

21/45 Day Two

David Warner survived one lbw shout when James Anderson's ball pitched outside leg stump

Getty Images

22/45 Day Two

Alastair Cook dives to his right to take the wicket of David Warner

Getty Images

23/45 Day Two

England celebrate after James Anderson takes the wicket of David Warner

Getty Images

24/45 Day Two

Joe Root signals for help after Alastair Cook is hit by the ball

Getty Images

25/45 Day Two

Alastair Cook writhes in agony as Joe Root sees the funny side

Getty images

26/45 Day Two

Joe Root looks on as Alastair Cook receives treatment

Getty Images

27/45 Day Two

Cook gives the universal gesture that he's ok while tending to the injured area

Getty Images

28/45 Day Two

Steve Smith trudges off the field after being dismissed for 33 by Moeen Ali

Getty Images

29/45 Day Two

Moeen Ali (L) celebrates taking the wicket of Australia's Steven Smith

GETTY IMAGES

30/45 Day Three

Jimmy Anderson celebrates as the England bowlers restricted Australia to 308

Getty Images

31/45 Day Three

Australia celebrate the wicket of Gary Ballance, who was out for a duck

Getty Images

32/45 Day Three

Nathan Lyon was Australia's best bowler, taking four wickets

Getty Images

33/45 Day Three

After a poor first innings Ian Bell responded with a half-century to steady the ship

Getty Images

34/45 Day Three

Ian Bell falls on 60

Getty Images

35/45 Day Three

Joe Root batted his way to a decent 60

Getty Images

36/45 Day Three

Joe Root sweeps a shot away in his second innings

Getty Images

37/45 Day Three

No 10 Mark Wood made an impressive cameo at the end of the day, making 32 runs off just 18 balls

Getty Images

38/45 Day Three

Mitchell Johnson reacts to a missed chance in the second innings

Getty Images

39/45 Day Three

Mitchell Starc fields a ball from the boundary

Getty Images

40/45 Day Three

Mark Wood reverse-sweeps a shot towards Michael Clarke

Getty Images

41/45 Day Four

Alastair Cook leads England out on day four

Getty Images

42/45 Day Four

Stuart Broad runs off in celebration after having Chris Rogers caught for 10

Getty Images

43/45 Day Four

David Warner passes his 50 in the second innings

Getty Images

44/45 Day Four

David Warner was dismissed by Moeen Ali in the second innings for 52

Getty Images

45/45 Day Four

Alastair Cook leaps in joy as Moeen Ali traps David Warner lbw

Getty Images
"It's always nice to be the underdog," he said, obviously remembering how good it felt when nothing was expected – except, of course, that the sack might have been waiting if it went as predicted. "Australia probably still are favourites – they only have to retain the Ashes, I suppose. But as I said before, the series is not played on paper or on potential, it's what people deliver out there. The next challenge is at Lord's."
That was as animated as he became. He did not want to concentrate too much on the opposition but he sensed what is coming, so he made a studied effort not to be optimistic, to avoid predictions or offering the remotest opening.
Cook also has selection issues about which he was reluctant to go into detail. After their triumph in Cardiff, England would certainly have fielded an unchanged side at Lord's. They probably still will but it has not been straightforward getting there and Moeen Ali, their spinner, will still have to pass a fitness test this morning on a side strain, though the indications are that he will. Cook said the medical team were wrapping the players in cotton wool.
Moeen's possible replacement, Adil Rashid, the Yorkshire leg-spinner, was being seriously considered but his sore spinning finger has complicated that possibility. Small wonder that Cook was playing it all low-key.
As for Australia, they could only be bullish and had to convey the idea that they still believed they were as good now as they were supposed to be last week. They will have a new wicketkeeper in Peter Nevill after Brad Haddin withdrew for family reasons, and a different No 6 in Mitchell Marsh, who will after all replace Shane Watson.
Michael Clarke, the tourists' captain, said he genuinely did not know the team despite overnight leaks in Australia of Watson's fate. But when Adam Voges lined up at first slip in fielding practice,  Watson's usual place, everyone knew the decision had been made.
It is as bold as it is hazardous. Australia are making one change they do not want to make but which has been forced upon them by unfortunate circumstance, and another they feel they have to make to save their tour. They are in trouble and that is compounded because it is so unexpected.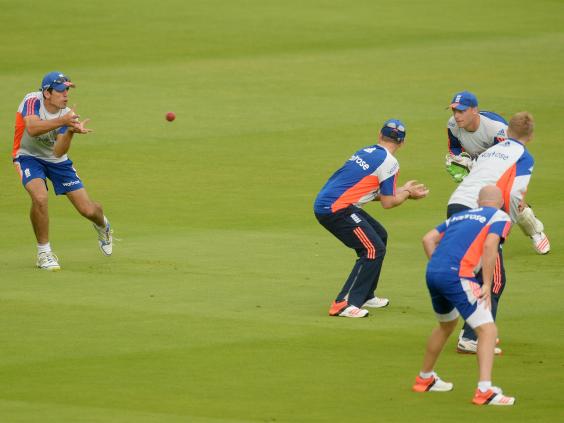 Haddin's family is with him in London and he was in the Australia team photo. Although there are few details, he is staying with the squad and Clarke said he was sure Haddin would have a part to play later in the series.
The tourists will feel obliged to assert themselves, the home side certain to assert themselves right back. If Australia must do so, there is no question of England going back to old ways and trying to protect their lead. The pitch will be more lively than for the opening match but no one should expect a firecracker.
Both captains played down history. England had not defeated Australia at Lord's for 75 years until 2009. Now they have won two consecutive Tests against them at the ground. None of this seemed to count for anything for Cook or Clarke. But England were worn down by history for three- quarters of a century. Every four years or so they would roll up to Lord's and hear the story of how Hedley Verity took 14 wickets in a day.
Only when Andrew Strauss's side won six years ago was history overturned. It means something and none of the three Australians who lost here two years ago – Clarke, Chris Rogers and Steve Smith – will want to do so again.
It is difficult to imagine that everything will go as well for England as it did last week, when they thrust aside the bad habit of a year and took most of their catches. Of the 17 offered, 16 were taken. Australia accepted 12 and spurned two. So often does the taking of catches change things, as does their dropping. When the latter happens, bowlers have a knack of not creating chances any more.
But England have also bowled better than Australia so far. They relished the surface and they knew the lengths from which they would profit. Their quintet, Moeen included, looked a force. Australia are hoping the introduction of Marsh, more incisive with the ball than Watson, may lend them an extra edge if the swingers are muted. But the swingers, the Mitchells, Johnson and Starc, will seize on anything with a little carry.
This match will determine if Cardiff was a false dawn, a mirage. New England have more cause for optimism than their captain was willing to show.
Tendulkar's son bowls at England in the nets
Arjun Tendulkar, the son of India legend Sachin, bowled at England in the nets at Lord's ahead of the second Test against Australia.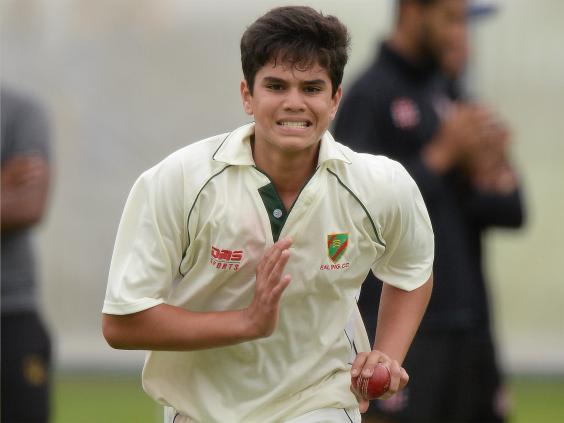 The 15-year-old plies his trade as a left-arm medium pacer, as well as being a batsman, like his father.
The youngest of Tendulkar's two children, who is staying with his father in St John's Wood, was given advice by England bowling coach Ottis Gibson and has already caught the eye of former Pakistan left-arm paceman Wasim Akram.
The Lord's official Twitter account said: '"@sachin_rt's son bowled at @Englandcricket in the nets this morning. Only at Lord's! #LoveLords #Ashes"
Second Test details
Probable teams:
England A N Cook (capt),  A Lyth, G S Ballance, I R Bell, J E Root, B A Stokes, J C Buttler (w/k), M M Ali, S C J Broad, M A Wood, J M Anderson
Australia M J Clarke (capt), C J L Rogers, D A Warner, S P D Smith, A C Voges, M R Marsh, P M Nevill (w/k), M G Johnson, M A Starc, N M Lyon, J R Hazlewood.
Umpires K Dharmasena (SL)  & M Erasmus (SA).
Weather Dry and overcast, with patchy sun in the afternoon. Maximum temperature: 24C.
Television 10am-7pm, Sky Sports Ashes (Highlights: 7-8pm, Channel 5).
Odds for second Test England 11-8 Australia 7-4 Draw 11-4.
Pitch report Likely to be a traditional Lord's surface, with a little in it for both disciplines. Quicker than Cardiff, with scope for plenty of runs.