Brad Haddin, Australia's veteran wicketkeeper, has withdrawn from the Second Test of the Ashes series for family reasons. After a day of speculation, his self-imposed absence was confirmed by the team management and he will be replaced by Peter Nevill, the reserve who will be making his debut.
There were no details of the precise reasons for Haddin's absence and Cricket Australia said there would be no further comment. Haddin, however, will be remaining with the squad, which suggests that he does not feel the need to dash home.
While everyone will wish Haddin well, it is the sort of unforeseen setback that often seems to afflict teams, especially those on tour, who are up against it. Things keep going wrong. Australia are 1-0 down in the Ashes series  after suffering an unexpected 169-run defeat in Cardiff on Saturday and their team selection for the second Investec Test at Lord's on Thursday was already a delicate affair.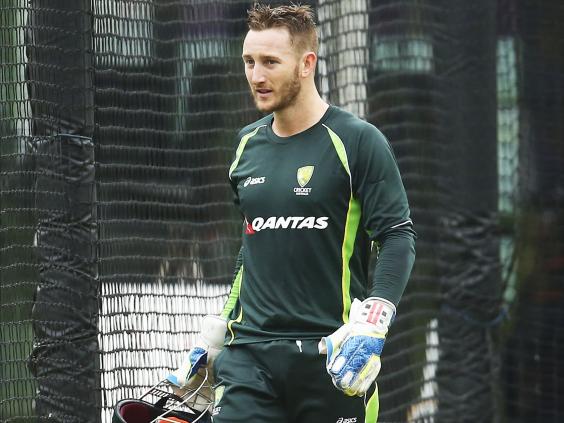 With Haddin out and without any indication of when he may return, it is unlikely that the tourists' selectors will dare make other changes. The position of the all-rounder, Shane Watson, was in some doubt, but the alternative is Mitchell Marsh, who has played only four previous Tests without any marked success.
A side featuring Marsh at six in the order and Nevill at seven would be dangerously inexperienced with England suddenly so confident. The good news for Australia was that Mitchell Starc, who had a sore ankle which hindered his bowling in Cardiff has been passed fit.
Haddin will understand that if Nevill does well, his own career, at the age of 37, could finally be over. Two years ago, Haddin's daughter, Mia, then 17 months old, was diagnosed with neuroblastoma, a rare form of childhood cancer. He flew home from a tour of the West Indies and put his cricket career on hold. Only when Mia was on the road to recovery did he think of donning his gloves again.
Ashes 2015 First Test in pictures
Ashes 2015 First Test in pictures
1/45 Day One

Alastair Cook wins the toss and elects to bat first

Getty Images

2/45 Day One

Josh Hazlewood celebrates the wicket of Adam Lyth

Getty Images

3/45 Day One

Brad Haddin and Michael Clarke celebrate after dismissing Alastair Cook

Getty Images

4/45 Day One

Joe Root runs as Mitchell Starc looks on from the ground

Getty Images

5/45 Day One

Joe Root celebrates reaching his half-century in the first innings

Getty Images

6/45 Day One

Gary Ballance passes his 50 for England in the first innings

Getty Images

7/45 Day One

Joe Root passes his 50 for England on day one of the first Test

Getty Images

8/45 Day One

Nathan Lyon unsuccessfully appeals for the wicket of Joe Root

Getty Images

9/45 Day One

Steve Smith drops Gary Ballance before he reaches his century

Getty Images

10/45 Day One

Joe Root celebrates reaching his century

11/45 Day One

Gary Ballance reacts after being caught lbw by Josh Hazlewood

12/45 Day One

Joe Root raises his bat as he is dismissed for 134

13/45 Day One

Mitchell Starc goads Ben Stokes after taking the wicket of the Englishman

GETTY IMAGES

14/45 Day One

Jos Buttler was out for 27

GETTY IMAGES

15/45 Day Two

Wales rugby player Jonathan Davis started the day's action

Getty Images

16/45 Day Two

Stuart Broad struggled to cope with the high ball once again

Getty Images

17/45 Day Two

Moeen Ali hit 77 on his Ashes debut

Getty Images

18/45 Day Two

Mitchell Starc finished with five wickets as England were dismissed for 430

Getty Images

19/45 Day Two

Mitchell Johnson failed to take a single wicket in the first innings

Getty Images

20/45 Day Two

Warner failed to reproduce the fireworks that has tormented England in the past

Getty Images

21/45 Day Two

David Warner survived one lbw shout when James Anderson's ball pitched outside leg stump

Getty Images

22/45 Day Two

Alastair Cook dives to his right to take the wicket of David Warner

Getty Images

23/45 Day Two

England celebrate after James Anderson takes the wicket of David Warner

Getty Images

24/45 Day Two

Joe Root signals for help after Alastair Cook is hit by the ball

Getty Images

25/45 Day Two

Alastair Cook writhes in agony as Joe Root sees the funny side

Getty images

26/45 Day Two

Joe Root looks on as Alastair Cook receives treatment

Getty Images

27/45 Day Two

Cook gives the universal gesture that he's ok while tending to the injured area

Getty Images

28/45 Day Two

Steve Smith trudges off the field after being dismissed for 33 by Moeen Ali

Getty Images

29/45 Day Two

Moeen Ali (L) celebrates taking the wicket of Australia's Steven Smith

GETTY IMAGES

30/45 Day Three

Jimmy Anderson celebrates as the England bowlers restricted Australia to 308

Getty Images

31/45 Day Three

Australia celebrate the wicket of Gary Ballance, who was out for a duck

Getty Images

32/45 Day Three

Nathan Lyon was Australia's best bowler, taking four wickets

Getty Images

33/45 Day Three

After a poor first innings Ian Bell responded with a half-century to steady the ship

Getty Images

34/45 Day Three

Ian Bell falls on 60

Getty Images

35/45 Day Three

Joe Root batted his way to a decent 60

Getty Images

36/45 Day Three

Joe Root sweeps a shot away in his second innings

Getty Images

37/45 Day Three

No 10 Mark Wood made an impressive cameo at the end of the day, making 32 runs off just 18 balls

Getty Images

38/45 Day Three

Mitchell Johnson reacts to a missed chance in the second innings

Getty Images

39/45 Day Three

Mitchell Starc fields a ball from the boundary

Getty Images

40/45 Day Three

Mark Wood reverse-sweeps a shot towards Michael Clarke

Getty Images

41/45 Day Four

Alastair Cook leads England out on day four

Getty Images

42/45 Day Four

Stuart Broad runs off in celebration after having Chris Rogers caught for 10

Getty Images

43/45 Day Four

David Warner passes his 50 in the second innings

Getty Images

44/45 Day Four

David Warner was dismissed by Moeen Ali in the second innings for 52

Getty Images

45/45 Day Four

Alastair Cook leaps in joy as Moeen Ali traps David Warner lbw

Getty Images
Widely respected by most of his team-mates, Haddin is a contentious figure. Always a highly competitive wicketkeeper, he seemed to add an extra edge during this year's World Cup final when Australia defeated New Zealand. The aggressive manner in which Haddin behaved towards to some of the opposition when they were dismissed was unsavoury and puerile.
It is to be hoped that Haddin's unfortunate withdrawal may have a sobering effect on the teams. The match in Cardiff was conducted in splendid spirit almost throughout, but there have been veiled suggestions that might change.
Jimmy Anderson, England's senior bowler, criticised the Australians for not accepting the invitation to have a drink in the victors' dressing room, conveniently overlooking the fact that drinks are normally shared after the series, not during a campaign – with one infamous exception.
Following England's shattering defeat at Adelaide in 2006 after scoring 551 in their first innings, their captain, Andrew Flintoff, visited Australia's changing room for a consolation drink and was virtually the last to leave.
Reuse content