Test cricket demands to be taken literally. It tests talent and temperament with trademark mercilessness. Sustained scrutiny reveals more than victims intend, since pressure is applied constantly, insidiously. There is no hiding place.
Such an examination represents a timeless challenge, especially where the Ashes are concerned. The absorbing intensity of yesterday's play at Lord's could not be judged in isolation; it was tinged with tribal ritual and framed by history.
It was an occasion which lent itself to lyricism. Lord's was a study in colour and texture; the green gingham check of the lush outfield contrasted with the supine, straw- coloured pitch and the terracotta splendour of the pavilion. 
Ashes Second Test in pictures
Ashes Second Test in pictures
1/39 Day Four

Michael Clarke leads the celebrations as Australia win the Second Test

PA

2/39 Day Four

Mitchell Johson celebrates taking the wicket of Moeen Ali

PA

3/39 Day Four

Moeen Ali trudges off after going for a duck

PA

4/39 Day Four

Ben Stokes reacts after being run out by Mitchell Johnson for a duck

PA

5/39 Day Three

Adam Lyth reacts after dropping David Warner on 60

Getty Images

6/39 Day Three

Captain Alastair Cook (left) in discussion with James Anderson and Stuart Broad as Australia pile on the runs on a shirtfront track at Lord's

Getty Images

7/39 Day Three

Alastair Cook is bowled by Mitchell Marsh

Getty Images

8/39 Day Three

Alastair Cook is bowled by Mitchell Marsh

Getty Images

9/39 Day Three

Jos Buttler walks after Peter Nevill's catch

Reuters

10/39 Day Three

Mitchell Marsh bowls Ben Stokes after he drags onto his wickets

Getty Images

11/39 Day Three

Ben Stokes plays on to his stumps

Getty Images

12/39 Day Three

Ben Stokes celebrates reaching his 50

Getty Images

13/39 Day Two

Mitchell Johnson of Australia celebrates after taking the wicket of Joe Root

GETTY IMAGES

14/39 Day Two

Ian Bell walks back to the pavilion after losing his wicket for 1 run

GETTY IMAGES

15/39 Day Two

Bails fly as Englands Gary Ballance is bowled out by Australias Mitchell Johnson for 23 runs

GETTY IMAGES

16/39 Day Two

David Warner and Peter Nevill celebrate the wicket of Adam Lyth

Getty Images

17/39 Day Two

Mitchell Star celebrates the wicket of Adam Lyth with the second ball of the innings

Getty Images

18/39 Day Two

Alastair Cook takes to the field for the start of England's first innings

Getty Images

19/39 Day Two

Mitchell Johnson was the last man out before the declaration for 566-8

Getty Images

20/39 Day Two

Peter Nevill hit an impressive 44 on his Ashes debut

Getty Images

21/39 Day Two

Steve Smith hit a magnificent 215

Getty Images

22/39 Day Two

Steve Smith celebrates his double-century in the second Ashes Test

Getty Images

23/39 Day Two

Steve Smith saw out the morning session to reach his 150

Getty Images

24/39 Day Two

Michael Clarke walks off after making just 7 runs

Getty Images

25/39 Day Two

Michael Clarke never looked comfortable at the crease

Getty Images

26/39 Day Two

Chris Rogers walks off as Stuart Broad celebrates taking his wicket

Getty Images

27/39 Day Two

Stuart Broad celebrates the early wicket of Chris Rogers for a brilliant 173

Getty Images

28/39 Day Two

Chris Rogers attempts to duck out of the way before being hit on the head by the first ball of the day

Getty Images

29/39 Day One

Chris Rogers reached his century shortly after Smith

Getty Images

30/39 Day One

Steve Smith salutes his Australian team-mates and the crowd after reaching his century

Getty Images

31/39 Day One

Steve Smith passes his century to frustrate England

Getty Images

32/39 Day One

Ben Stokes reacts to a dropped catch by Ian Bell

Getty Images

33/39 Day One

Ian Bell looks on after dropping a chance to dismiss Steve Smith

Getty Images

34/39 Day One

Steve Smith formed a strong partnership with Chris Rogers

Getty Images

35/39 Day One

Alastair Cook reacts after Joe Root misses a chance in the slips

Getty Images

36/39 Day One

Moeen Ali and Alastair Cook celebrate the wicket of David Warner

Getty Images

37/39 Day One

David Warner walks off after being dismissed by Moeen Ali

Getty Images

38/39 Day One

The start of play at Lord's on day one of the second Test

Getty Images

39/39 Day One

A shot of Lord's Cricket Ground ahead of the Second Ashes Test

Getty Images
The sun shone, encouraging languor despite the tension created by England's fitful resistance. You could be forgiven for ambling to the conclusion that everything was well with the world. Virtues were familiar, even if England's requirement for a rearguard action over the final two days to save this Test is an all-too familiar scenario.
Alastair Cook's vigil, nine minutes short of six hours, was a classic of its kind. When he dragged a delivery from Mitchell Marsh on to his leg stump, in attempting a drive four short of a richly-deserved century, he sank to one knee in despair. The manner of his dismissal mirrored that of Ben Stokes, who also seemed set for a place on the Lord's honours boards.
But who was watching, beyond a capacity crowd that confirmed Middle England's ability to colonise the great sporting events of our summer? Cricket is a game in search of new heroes when its instinct is to protect and project the old ways.
It is 10 years since paywalls were erected, with promises that the injection of cash from non-terrestrial television would nourish the game at grassroots level. Public money has been invested, to little effect. Instead of addressing domestic concerns, ECB mandarins such as the dismal Giles Clarke prefer to play global politics.
This Ashes series is reaching a minority audience, which appears to be declining. There was something unintentionally emblematic about the lack of children on the outfield at lunchtime, given that such theatrical displays of Kwik Cricket are now a traditional part of the Test tableau.
Cricket's need to replenish its support base is mirrored by that of baseball, another game of intricacy and subtlety ill-suited to minimal attention spans and modern mores. Each has problems with rapidly-declining participation rates and ageing aficionados. 
Half of baseball's TV viewers are 55 or older, an increase of 9 per cent over the last decade. Only four per cent of the audience for the post-season matches which culminate in the World Series are aged between six and 17.
The ECB suggest two million children have been attracted by their Chance to Shine initiative, but fail to support many of the clubs who have taken on the developmental role traditionally undertaken by schools. Local leagues are also suffering, since many clubs are having difficulty raising senior teams.
Who are the role models for a new generation? Joe Root (left) will doubtlessly have an opportunity to restate his credentials should, as seems likely, Australia declare their second innings closed, sometime around lunchtime today.
The decision not to enforce the follow-on was predictable, since the last time they did so in an Ashes series was in the Melbourne Test in 2002. They batted with ominous ease in yesterday's final session, and an artillery assault will doubtlessly be triggered by the resumption of hostilities.
The marketeers will pray that Root's first innings failure is a brief aberration. He has a natural ebullience and a knack of burrowing beneath the skin of his opponents.  Stokes, too, has the potential to develop into an entertaining, almost cartoonish character.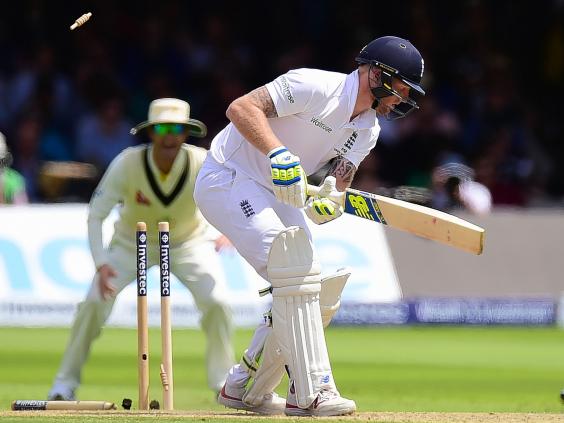 Saturday's partnership with Cook, which yielded 145 runs in 187 minutes, was their second century stand this summer. As a pair they are attractive because they are such contrasting characters, the terminator matched with the accumulator.
Cook was imperturbable. He regally ignored the waspish comments from close fielders. His mental strength, aligned to remarkable powers of concentration, ensured he rarely wavered from the moment he took his leg-stump guard at the start of play.
He shrugged aside being hit on the point of the elbow by Mitchell Johnson, and reached his highest score in 23 Ashes innings stretching back to 2010. By the time of his dismissal, to general disbelief, the odds on his carrying his bat were plummeting.
With his physical strength and his natural inclination to take the fight to the foe, Stokes' bloodlines can be traced back to Ian Botham. As crass as it sounds, his transition to folk hero will be accelerated by the sort of scrape in which the old all-rounder specialised.
Perhaps he should invite David Warner out for a few liveners in the Earl's Court Walkabout.
Reuse content