Australia announced a Test squad today which looks ominously capable of winning this summer's Ashes. It contains 10 of the team which swept aside England at home little more than a year ago, as well as a couple of rapidly rising fast bowlers, a swashbuckling young all-rounder and an emigrant leg-spinner.
It was the leg-spinner who caught the eye more than the other 16 names, partly because Australia have been searching for a candidate to fill the yawning gap created by Shane Warne eight years ago, partly because Fawad Ahmed arrived in Australia from Pakistan five years ago as an asylum seeker, fearing for his life at home.
Fawad has yet to play a Test match, although he played a handful of limited-overs matches in England two years ago. But the 33-year-old made an unanswerable case for inclusion in the Ashes party with his performances for Victoria in this season's Sheffield Shield.
With 48 wickets, he was easily the competition's leading bowler. It would be no surprise if he were to push Nathan Lyon for the main spinner's role and it is also possible that Australia may pick both of them, depending on the kind of pitches that England prepare.
Cricket World Cup 2015: 10 young players to watch
Cricket World Cup 2015: 10 young players to watch
1/10 Usman Ghani, 18, Afghanistan

At just over 18 years old, Ghani is the youngest player at the tournament, but the attacking opener already has an ODI century to his name. If the Aghans are to spring a shock, much will depend on him getting them off to a good start.

AFP/Getty Images

2/10 Pat Cummins, 21, Australia

With his wonderful action and searing pace, Cummins burst onto the scene when he took seven wickets as an 18-year-old Test debutant against South Africa. Terrible injuries have prevented him from adding to his solitary Test cap, but now the stage is set for Cummins to re-establish himself as one of cricket's hottest talents.

Getty Images

3/10 Mominul Haque, 23, Bangladesh

A compact left-handed batsman, Haque will occupy the No.3 spot in the Bangladeshi batting order. He has already made 24 ODI appearances, but thus far has enjoyed more success in the longer format - in 12 Test appearances he has plundered almost 1200 runs at 63.05, with four centuries.

AFP/Getty Images

4/10 Jos Buttler, 24, England

One of the genuine box-office talents in the England squad, Buttler's 121 against Sri Lanka last summer was the most eye-catching innings of the season. His keeping needs work, but as a mid- to lower-order batsman he has the talent to change the course of a game in the blink of the eye.

Getty Images

5/10 Akshar Patel, 21, India

One of the few positives of India's disastrous recent Tri-Series with Australia and England was the consistency of Patel, who was miserly and probing with his tight left-arm spin. He enjoyed a superb 2014 IPL season with 16 wickets and an economy rate of just 6.22 for Kings XI Punjab.

AFP/Getty Images

6/10 George Dockrell, 22, Ireland

Despite having been a mainstay of the Ireland side since his debut in 2010, and with four county seasons at Somerset under his belt, Dockrell is still only 22. The canny spinner was named the ICC Associate Player of the Year in 2012, and he has been touted to follow Eoin Morgan into England colours.

AFP/Getty Images

7/10 Kane Williamson, 24, New Zealand

Williamson is the most consistent performer in a dangerous New Zealand batting line-up, his devastating recent form in all forms of cricket cementing his reputation as one of the most exciting, talented batsmen in world cricket. Having recently had his action cleared, he can now resume bowling his useful off-spin.

Getty Images

8/10 Ahmed Shehzad, 23, Pakistan

Despite his tender age, Shehzad boasts a wealth of experience, with over 50 ODI appearances and six centuries to his name. More of a classical, patient opener than a David Warner-esque pinch-hitter, he will lay the foundation from which Pakistan's big-hitting middle order can tee off.

AFP/Getty Images

9/10 Quinton de Kock, 22, South Africa

Since making his debut just after his 20th birthday, De Kock has been an aggressive, punchy performer at the top of the South African order, plundering six hundreds in just 36 matches. A tidy gloveman, who by taking over keeping duties has allowed AB De Villiers to focus on his batting, to devastating effect.

AFP/Getty Images

10/10 Tendai Chatara, 23, Zimbabwe

An athletic opening bowler with a curious, idiosyncratic action, Chatara takes the ball away from the right-hander at decent pace and is Zimbabwe's key strike bowler. His maiden Test five-wicket haul set up a famous victory over Pakistan in 2013.

AFP/Getty Images
Rod Marsh, the chairman of Australia's selectors, was visibly and audibly excited as he talked about the touring party, which will play two Tests in the West Indies before arriving in England. If nothing else, it will ensure they are well match-hardened before the first Test of the Ashes series in Cardiff in July. He could not resist laying the gauntlet down in a gentle manner.
"It's difficult to judge England from afar and it's difficult to know what's going on, and we don't know which players will be selected," he said. "But they're pretty strong at home. We always seem to struggle against them, in recent years anyway, in England.
"It'll be really interesting. It'll be a fascinating series, I reckon, because we've got a couple of young blokes that are starting to play pretty well at the top of the order, we've got a couple of old heads that would dearly love to win the series, and we've got a couple of young fast bowlers who are not bad either."
Marsh sounded as though he meant business – he always did – and he also did not mind being undiplomatic by giving the team's captain, Michael Clarke, a gentle nudge. There is the growing suspicion that Clarke, while unassailable at present, is not exactly flavour of the month with selectors and coach, a potential weakness that England may be able to exploit. They will need all the breaks they can get.
Asked if the rampant Steve Smith should bat at three, the position lately occupied by Shane Watson, Marsh said: "Personally, if you're not asking me as chairman of selectors, I would say yes. If you ask me as chairman of selectors I'll give you the stock, standard answer: captain sets the batting order." Clarke, however, should try ignoring that.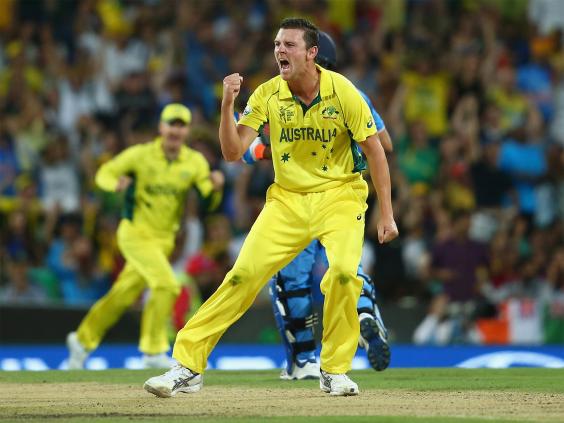 Only 16 of Australia's party will go to the West Indies, with Ryan Harris staying at home. Nominally, this is for the birth of Harris and his wife's first child but even if the baby had not been imminent Harris, whose body is usually held together by sticking plaster, would probably have been saved for the Ashes.
He is likely to be part of a pace trio also containing Mitchell Johnson and the relative newcomer Josh Hazlewood, who has played only three Tests but was hugely influential in the World Cup. That would leave the player of the tournament, Mitchell Starc, on the Ashes bench.
Marsh's description of Hazlewood was designed to chill Pommy hearts.
"Personally, I think he will be a terrific bowler in England. I really think he's one guy that I'm looking forward to seeing bowl in England. I think he could be very, very good – McGrath-like." Glenn McGrath played 14 Test matches in England and took 87 wickets at 19.34.
The extra batting place has been given to the uncapped 33-year-old Adam Voges after he made 1,358 Shield runs, the fourth-highest haul in the competition's history. There is no question of Australia using the Caribbean leg of their expedition as a mere training exercise for the Ashes. West Indies are not quite the pushovers at home they are away, as England might soon discover, and while they will not be fancied to beat Australia they will sharpen them up.
"That's a series against the West Indies," said Marsh. "It's got nothing to do with England. We'll be fielding our best side to win the two Test matches." And the five that follow.
Australia squad for Windies/Ashes tours
M J Clarke (NSW; capt)
S P D Smith (NSW; v-capt)
F Ahmed (Victoria)
B J Haddin (NSW)
J R Hazlewood (NSW)
R J Harris (Queensland)
M G Johnson (Western Aus)
N M Lyon (NSW)
S E Marsh (Western Aus)
M R Marsh (Western Aus)
P M Nevill (NSW; w/k)
C J L Rogers (Victoria)
P M Siddle (Victoria)
M A Starc (NSW)
A C Voges (Western Aus)
D A Warner (NSW)
S R Watson (NSW)