The look on Ben Stokes' face in the nets told the story of the journey England faced. Others in their ranks walked out with equanimity into Saturday morning's sunshine to prepare for the batting challenge which lay ahead. Adam Lyth was not so chastened by his three-ball first-innings appearance to resist a grin and some words with the coach, Trevor Bayliss. Stokes just brooded. He hit balls for a time and then sat on a portable cricket net, alone with his thoughts, staring into space, jabbing the toe of a bat into the turf.
He had already seen enough to know there was a step-change when Australia's bowlers had started to test this pitch. Not just the tick up in pace from the English velocity – two Mitchells bowling at 90mph or just less and a third of that name doing enough to cause trouble – but simply the choreography of this visiting team. They have signalled they are back, complacency gone, minds clear, telegraphing such an emphatic belief they are winners.
Even before the umpires set out down the pavilion steps yesterday morning, Australia's players were massing behind the boundary rope in an impatient state of readiness for the task in hand.
Ashes Second Test in pictures
Ashes Second Test in pictures
1/39 Day Four

Michael Clarke leads the celebrations as Australia win the Second Test

PA

2/39 Day Four

Mitchell Johson celebrates taking the wicket of Moeen Ali

PA

3/39 Day Four

Moeen Ali trudges off after going for a duck

PA

4/39 Day Four

Ben Stokes reacts after being run out by Mitchell Johnson for a duck

PA

5/39 Day Three

Adam Lyth reacts after dropping David Warner on 60

Getty Images

6/39 Day Three

Captain Alastair Cook (left) in discussion with James Anderson and Stuart Broad as Australia pile on the runs on a shirtfront track at Lord's

Getty Images

7/39 Day Three

Alastair Cook is bowled by Mitchell Marsh

Getty Images

8/39 Day Three

Alastair Cook is bowled by Mitchell Marsh

Getty Images

9/39 Day Three

Jos Buttler walks after Peter Nevill's catch

Reuters

10/39 Day Three

Mitchell Marsh bowls Ben Stokes after he drags onto his wickets

Getty Images

11/39 Day Three

Ben Stokes plays on to his stumps

Getty Images

12/39 Day Three

Ben Stokes celebrates reaching his 50

Getty Images

13/39 Day Two

Mitchell Johnson of Australia celebrates after taking the wicket of Joe Root

GETTY IMAGES

14/39 Day Two

Ian Bell walks back to the pavilion after losing his wicket for 1 run

GETTY IMAGES

15/39 Day Two

Bails fly as Englands Gary Ballance is bowled out by Australias Mitchell Johnson for 23 runs

GETTY IMAGES

16/39 Day Two

David Warner and Peter Nevill celebrate the wicket of Adam Lyth

Getty Images

17/39 Day Two

Mitchell Star celebrates the wicket of Adam Lyth with the second ball of the innings

Getty Images

18/39 Day Two

Alastair Cook takes to the field for the start of England's first innings

Getty Images

19/39 Day Two

Mitchell Johnson was the last man out before the declaration for 566-8

Getty Images

20/39 Day Two

Peter Nevill hit an impressive 44 on his Ashes debut

Getty Images

21/39 Day Two

Steve Smith hit a magnificent 215

Getty Images

22/39 Day Two

Steve Smith celebrates his double-century in the second Ashes Test

Getty Images

23/39 Day Two

Steve Smith saw out the morning session to reach his 150

Getty Images

24/39 Day Two

Michael Clarke walks off after making just 7 runs

Getty Images

25/39 Day Two

Michael Clarke never looked comfortable at the crease

Getty Images

26/39 Day Two

Chris Rogers walks off as Stuart Broad celebrates taking his wicket

Getty Images

27/39 Day Two

Stuart Broad celebrates the early wicket of Chris Rogers for a brilliant 173

Getty Images

28/39 Day Two

Chris Rogers attempts to duck out of the way before being hit on the head by the first ball of the day

Getty Images

29/39 Day One

Chris Rogers reached his century shortly after Smith

Getty Images

30/39 Day One

Steve Smith salutes his Australian team-mates and the crowd after reaching his century

Getty Images

31/39 Day One

Steve Smith passes his century to frustrate England

Getty Images

32/39 Day One

Ben Stokes reacts to a dropped catch by Ian Bell

Getty Images

33/39 Day One

Ian Bell looks on after dropping a chance to dismiss Steve Smith

Getty Images

34/39 Day One

Steve Smith formed a strong partnership with Chris Rogers

Getty Images

35/39 Day One

Alastair Cook reacts after Joe Root misses a chance in the slips

Getty Images

36/39 Day One

Moeen Ali and Alastair Cook celebrate the wicket of David Warner

Getty Images

37/39 Day One

David Warner walks off after being dismissed by Moeen Ali

Getty Images

38/39 Day One

The start of play at Lord's on day one of the second Test

Getty Images

39/39 Day One

A shot of Lord's Cricket Ground ahead of the Second Ashes Test

Getty Images
A former England Test opener told me last week that it is the "extra two per cent" that a tired bowler can find which separates the good from the great at this level. That extra quotient comes from depths unknown to sports science – Ashes motivation being beyond the wit of academics to quantify or explain – and it is what has made Mitchell Johnson so dangerous in this Test, which has revealed how steep a mountain England have to climb.
The vignette which perhaps best told what he brings does not belong directly to the story of the home side's gradual disintegration, which reached the point of no return in mid-afternoon when Alastair Cook sank down on one knee, folded his arms around the other one and took in the significance of his own dismissal.
It came amid the spell of bowling which the 33 year old sent down after lunch, when Cook wanted to claim a single from a push to midwicket. Johnson, whose supreme athleticism is sometimes obscured by that caricature of mustachioed venom, heaved his 6ft 2in frame towards the ball, ducked down to scoop it with his left hand and wheeled around to throw down the stumps. He wanted a piece of Cook to direct his bowling at. Cutting off an escape route was his motivation.
He had already half-throttled Cook by then, rattling down the ball which cracked him hard on the point of his elbow while taking evasive action just before lunch. It provoked the kind of pain that you had to imagine Cook would have carried from the field when he departed a few hours later. When Jimmy Anderson sent the first ball of Friday thumping into Chris Rogers' helmet grille, he lingered for a moment or two of mild concern. There was barely a glance when Johnson had hit Cook. His sidewise look at the physiotherapist attending told us he wanted another hit at this man before lunch. Cook was sent hopping into self-defence from the next ball. Another flew past his visor before the over was out.
They preserve this kind of intensity by using Johnson in concentrated bursts: rarely more than four overs, and sometimes just the two. It makes for theatre when the Mitchalo looms into view and sets off on that pounding, scowling run-up and low slung despatch, ball transferred right hand to left at the last moment, so the batsman can never be sure. England laughed at him in 2009 and 2010-11, when the Ashes have come around. There were more strains of laughter when he conceded 100 runs without a wicket in Cardiff, where he acknowledged the ironic applause by kissing his cap. The bounce he has extracted from such a low point of delivery since Friday evening tells us all we need to know about the value attached to his extra two mph on a pitch as lifeless as this. Only Australia possess that pace.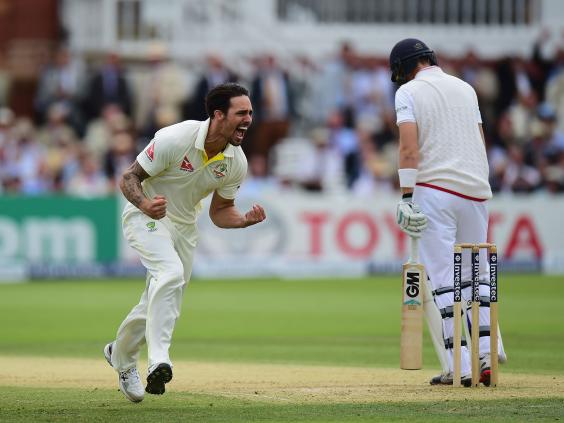 It was Johnson's 24-ball burst after lunch which revealed most. It would have claimed Jos Buttler, had Peter Nevill's weight transfer not taken the ball brushing across the turf after he climbed into the sharp catch, to his right. It should have given him his prize quarry Cook, dropped by Steven Smith behind square leg.
Johnson was seven balls into his fifth spell when he wrapped up the English innings, removing Stuart Broad, and earned himself a rest. Not insignificantly, Michael Clarke waited for him and Mitchell Starc to reach the boundary before taking the team from the field.
It was the need to give those two men time to rest and re-charge that led Clarke not to enforce an England follow-on last night. So, we can expect to see Johnson's pace again late this afternoon. Stokes is not the only one to divine what kind of express is heading down the tracks.
Reuse content