I love our off-spinner Nathan Lyon. He has a bit of Bill Murray's character Carl Spackler from the movie Caddyshack about him, and they are both former greenkeepers. It's a bit of a Cinderella story too, the way he progressed to the Test side after his days as a young cricketer at the Adelaide Oval, opening the bowling for the South Australia Redbacks in the T20 competition – a form of the game  he rarely plays in these days. He is now the leading off-spinner in Australian Test history, with 153 wickets. 
On non-spinning days like Saturday, he generally bowls around the wicket and cramps the  right-hand batsmen's room, as opposed to tempting them into cover drives. The Jos Buttler dismissal was a classic for this type of tactic. Buttler played down the wrong line, assuming there would be some spin, and he got the faintest of outside edges that only Steve Smith, with his bionic hearing, picked up. I'm not sure if Buttler's wicket was the result of Lyon's arm ball, the slope angle or a hint of reverse spin. Nathan is going to be a handful for the English left-handers on day four and five, when it starts to spin.
Buttler is a walker. He didn't look like he was going to be given out by umpire Dharmasena who, not so subtly, changed from shaking to nodding his head when he noticed Buttler had walked.
Ashes Second Test in pictures
Ashes Second Test in pictures
1/39 Day Four

Michael Clarke leads the celebrations as Australia win the Second Test

PA

2/39 Day Four

Mitchell Johson celebrates taking the wicket of Moeen Ali

PA

3/39 Day Four

Moeen Ali trudges off after going for a duck

PA

4/39 Day Four

Ben Stokes reacts after being run out by Mitchell Johnson for a duck

PA

5/39 Day Three

Adam Lyth reacts after dropping David Warner on 60

Getty Images

6/39 Day Three

Captain Alastair Cook (left) in discussion with James Anderson and Stuart Broad as Australia pile on the runs on a shirtfront track at Lord's

Getty Images

7/39 Day Three

Alastair Cook is bowled by Mitchell Marsh

Getty Images

8/39 Day Three

Alastair Cook is bowled by Mitchell Marsh

Getty Images

9/39 Day Three

Jos Buttler walks after Peter Nevill's catch

Reuters

10/39 Day Three

Mitchell Marsh bowls Ben Stokes after he drags onto his wickets

Getty Images

11/39 Day Three

Ben Stokes plays on to his stumps

Getty Images

12/39 Day Three

Ben Stokes celebrates reaching his 50

Getty Images

13/39 Day Two

Mitchell Johnson of Australia celebrates after taking the wicket of Joe Root

GETTY IMAGES

14/39 Day Two

Ian Bell walks back to the pavilion after losing his wicket for 1 run

GETTY IMAGES

15/39 Day Two

Bails fly as Englands Gary Ballance is bowled out by Australias Mitchell Johnson for 23 runs

GETTY IMAGES

16/39 Day Two

David Warner and Peter Nevill celebrate the wicket of Adam Lyth

Getty Images

17/39 Day Two

Mitchell Star celebrates the wicket of Adam Lyth with the second ball of the innings

Getty Images

18/39 Day Two

Alastair Cook takes to the field for the start of England's first innings

Getty Images

19/39 Day Two

Mitchell Johnson was the last man out before the declaration for 566-8

Getty Images

20/39 Day Two

Peter Nevill hit an impressive 44 on his Ashes debut

Getty Images

21/39 Day Two

Steve Smith hit a magnificent 215

Getty Images

22/39 Day Two

Steve Smith celebrates his double-century in the second Ashes Test

Getty Images

23/39 Day Two

Steve Smith saw out the morning session to reach his 150

Getty Images

24/39 Day Two

Michael Clarke walks off after making just 7 runs

Getty Images

25/39 Day Two

Michael Clarke never looked comfortable at the crease

Getty Images

26/39 Day Two

Chris Rogers walks off as Stuart Broad celebrates taking his wicket

Getty Images

27/39 Day Two

Stuart Broad celebrates the early wicket of Chris Rogers for a brilliant 173

Getty Images

28/39 Day Two

Chris Rogers attempts to duck out of the way before being hit on the head by the first ball of the day

Getty Images

29/39 Day One

Chris Rogers reached his century shortly after Smith

Getty Images

30/39 Day One

Steve Smith salutes his Australian team-mates and the crowd after reaching his century

Getty Images

31/39 Day One

Steve Smith passes his century to frustrate England

Getty Images

32/39 Day One

Ben Stokes reacts to a dropped catch by Ian Bell

Getty Images

33/39 Day One

Ian Bell looks on after dropping a chance to dismiss Steve Smith

Getty Images

34/39 Day One

Steve Smith formed a strong partnership with Chris Rogers

Getty Images

35/39 Day One

Alastair Cook reacts after Joe Root misses a chance in the slips

Getty Images

36/39 Day One

Moeen Ali and Alastair Cook celebrate the wicket of David Warner

Getty Images

37/39 Day One

David Warner walks off after being dismissed by Moeen Ali

Getty Images

38/39 Day One

The start of play at Lord's on day one of the second Test

Getty Images

39/39 Day One

A shot of Lord's Cricket Ground ahead of the Second Ashes Test

Getty Images
Walking must be instinctive. Whatever your first instinct is, walk or stay, just do it. Over the years there have been stories of batsmen who would play the game both ways, walking for the obvious ones and getting a reputation as a walker, then not moving for the close ones and getting the decision going their way.
Strategically, in this ultra professional era, it makes sense to stay and let the umpires make their decision, or use technology to help. Umpires are human beings after all and the best ICC panel umpires make the correct decision over 90 per cent of the time, which is excellent.
Ethically walking if you know you are out helps the umpires and moves the game on quicker. Generally, Australians don't walk. In Australian cricket history, the only walker pre-Adam Gilchrist was Max Walker, and then it was in name only.
The Australian bowlers toiled manfully on a pitch that had less life than planet Mars. The pace of the fast bowling trio was excellent. Josh Hazlewood's bounce, Mitchell Johnson's hostility and Mitchell Starc's swing also meant they came up with excellent variety for the English batsmen to counter.
Mitchell Marsh's extra pace was important as well. He took a couple of big wickets, too, Ben Stokes for 87 and Alastair Cook, for a patient 96.  Both were dismissed by inside edges played on to their stumps. I'm not sure if he has been practising that type of dismissal bowling to his dad, the former Test opener Geoff Marsh who used to play on quite a bit later in his career.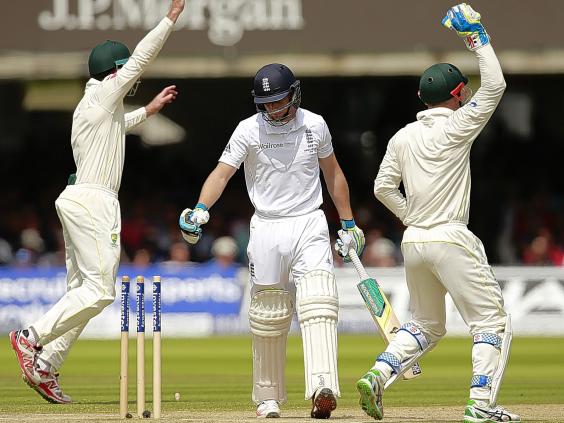 Skipper Michael Clarke doesn't do follow-ons. He would rather take the bat-again option, raising the question, when will Australia declare? Under the "Pup" captaincy regime he generally surprises everyone with his declaration to give the Australia the maximum time to get 10 wickets.
On a wearing Lord's pitch, inconsistent bounce and reverse swing, as well as some Lyon spin, would be England's major worry in attempting to save this Test.
Reuse content