Australia's humiliating two-Test thrashing by Pakistan in the United Arab Emirates, which featured their worst bowling figures in 137 years of Test cricket, should, on the face of it, give English cricket's beleaguered officials cause for optimism.
Having been beaten in Dubai by 221 runs last week Australia yesterday lost the second Test in Abu Dhabi by 356 runs. It was Pakistan's largest Test victory, completed their first series defeat of Australia in 20 years, and provided some heartfelt consolation for the ongoing frustration at not being able to play home Tests for fear of terrorism.
Since Australia are due in England next summer, defending the Ashes they regained in drubbing England 5-0 last winter, their humbling may give the England and Wales Cricket Board succour after its evisceration by Kevin Pietersen last month.
However, unless England enjoys one of the hottest and driest summers on record, and the ECB suddenly unearths a new Graeme Swann, ideally two, Australian travails in the Gulf are likely to have limited relevance.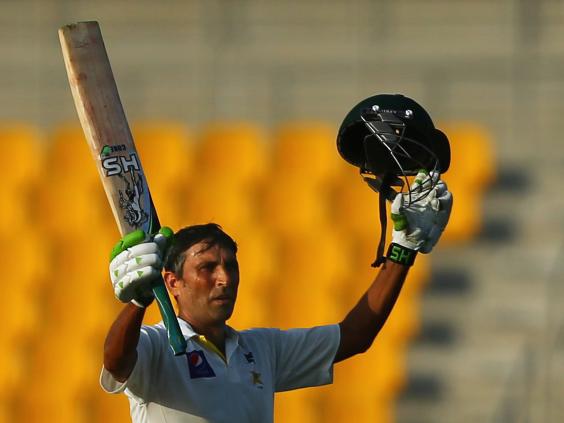 The tourists' batting was bamboozled by spin on dusty wickets that their own bowlers were then incapable of using to their advantage. Embarrassing as the scale of their defeat was, it is only three years since England themselves were beaten 3-0 by Pakistan in the UAE. In that series England lost the first Test by 10 wickets, were bowled out for 72 in the second, then managed to lose the third despite dismissing Pakistan for 99 on the opening day.
But England were primarily undone by Saeed Ajmal and Abdur Rehman, who respectively took 24 and 19 wickets in the three Tests. The brilliant off-spinner is currently suspended for having an illegitimate action while Rehman is out of favour, having failed fitness tests in September. In their absence Australia were deceived by a 35-year-old playing only his third and fourth Tests, and a 28-year-old playing his first two. Left-arm finger spinner Zulfiqar Babar took 14 wickets at 26.36, leg-break bowler Yasir Shah took 12 at 17.25.
Prior to the series Australia had sent batsmen to the subcontinent to practise, imported Indian soil to recreate dusty pitches, and hired Muttiah Muralitharan. It made little difference. David Warner continued to confound his early critics with a respectable showing but captain Michael Clarke, usually regarded as a good player of spin, struggled again with 57 runs in four innings, including three scores under six. Clarke averages less than 30 over his last dozen innings – his poorest form since 2005, when he was dropped.
"I have always prided myself on leading by example," said the 33-year-old, adding that previously in defeat he had still "led from the front", but this time, he said, "I haven't done that". Clarke added: "I don't have any excuse, I feel like I have been working as hard as I can. I would have liked more cricket, but I have been hitting a lot of balls.
"I will be judged like any other player that's underperformed. That's what burns me. There's no doubt I am disappointed we lost the series 2-0, but when you are captain you take things personally and when you don't perform that makes it even harder."
If the batting was poor, the bowling and fielding were abject. Australia, despite the appointment of a new fielding consultant, former Test batsman Greg Blewett, dropped 11 chances in the two Tests, including Misbah-ul-Haq on four – he went on to equal the fastest century in history. Chances to execute run-outs and stumpings have also been squandered, though the need for Warner and Glenn Maxwell to take the wicketkeeping gloves after Brad Haddin injured his shoulder was a factor.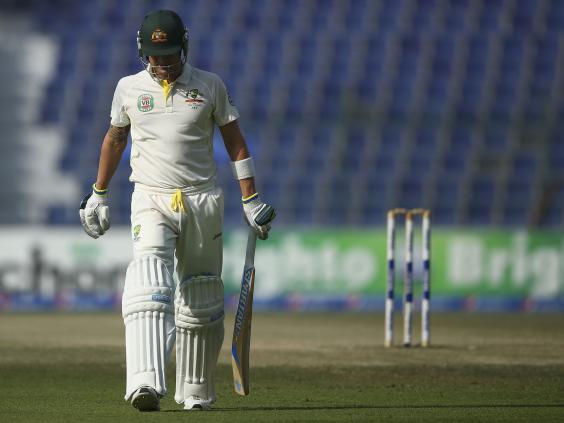 Injuries also affected the bowling. Mitchell Johnson, whose six wickets at 29.50 were creditable figures in the circumstances, had a sore hip. This contributed to Australia conceding 80.15 runs per wicket taken, the worst return in their Test history. The differential between runs scored and runs-per-wicket-taken was also a new low at minus 52.
This was Australia's second whitewash in as many years in Asia, making a run of six successive defeats. So bad is their form on the subcontinent even Bangladesh are now talking of beating them for the first time. Australia play two Tests in Bangladesh next October and their coach, Chandika Hathurusingha, a former Sri Lankan international who has coached in Australia, said his team's spinners "will cause trouble to the Australian batsmen in these conditions.
"It's when you're not exposed to the conditions often it's hard to make adjustments that quickly, it's all about the mindset," said Hathurusingha. "You can panic when things aren't going right for you. You bring change in a hurry. When you panic and go away from your trusted game? That's what I see happening to the guys in the UAE."
That, though, is after the summer's Ashes. Before coming to England next June Australia have the chance to rebuild confidence when they host India, who are equally poor travellers in alien conditions, in a four-Test series starting in a month's time. Then they host the World Cup, in which their prospects are somewhat brighter than England's.
The ECB had better keep a lid on the tittering awhile yet.
--
Series in Numbers
8 - The number of runs the final five Australian wickets fell for on Monday
20 - Years since Pakistan had last won a Test series against Australia
468 - Runs scored by Pakistan batsman Younis Khan, including three centuries
356 - Margin of victory in runs for Pakistan – the largest in their history
Reuse content