Sport, like life, hinges on fleeting moments. How different things might have been for England in the World Cup. The fifth ball of their tournament, bowled by Jimmy Anderson, was clipped hard just above head height to square leg by the Australia opening batsman Aaron Finch.
There, a fairly regulation catch eluded Chris Woakes, who mistimed his jump. Finch, who had yet to score at the time, went on to make 135, Australia won by 111 runs and England were already on their way out.
Had Woakes taken the catch, the whole course of events might have changed. It would have been precisely the start England had dreamed about and belief would have coursed through their veins as the ball had burst through Woakes' hands.
But the error captured England's mood: they were cowed by the occasion and by 90,000 rabid fans at the MCG. And poor Woakes, who had opened the bowling in England's previous 11 one-day internationals, was fielding there only because a change in strategy had been made at the last minute.
It meant Stuart Broad would share the new ball with Anderson, renewing their partnership. Otherwise, Woakes would have been down at long leg thinking about bowling the second over. Who knows what was going through his mind?
Perhaps he was not feeling rejected, perhaps he recognised the decision had been taken for the good of the team. But he was fielding in a position that would have been unfamiliar to him at that stage.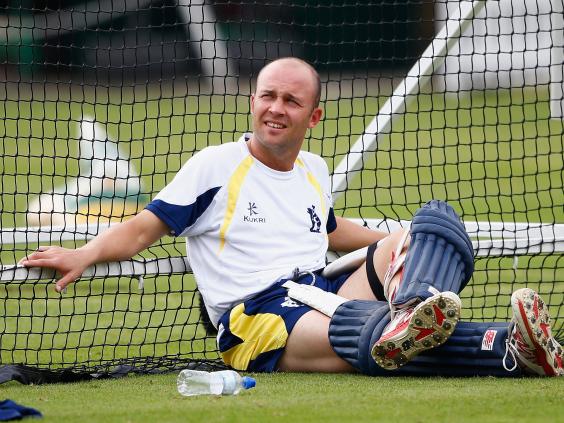 On such small considerations can World Cups be won or, more likely, lost. Entire eras flourish or founder. It was all downhill for England from then on. Their disarray was not yet complete but that was the start of it, the initial clue that here were a team unconvinced of their own abilities.
Disappointment has been expressed all round at England's premature exit from the tournament. But recriminations have been much thinner on the ground. Those who got England into this mess have been invited, it would seem, to get them out of it.
Losing in the World Cup is one thing, and although there is at present a steadfast determination to ensure it does not happen again, that has been demonstrated many times before without anything truly changing. One-day cricket is still treated with a wariness and slight dismissiveness.
How often is it said of a rising youngster: "Oh, he'll make a one-day player, nothing more," as though that made him a lesser practitioner rather than a different one with different skills. Losing in the Ashes this summer would be quite another matter, and not so easily forgiven.
By way of preparation for that, England have a Test tour of the West Indies next month for which the squad will be named on Tuesday. It is the start of a long sequence of Test matches – 17 in eight months, with New Zealand and Australia at home, to be followed by Pakistan and South Africa away. Few may be left standing by next January.
Tuesday's announcement may feature a recall for Jonathan Trott as opening batsman – unless they decide to keep faith with Sam Robson, who was intermittently adequate last summer.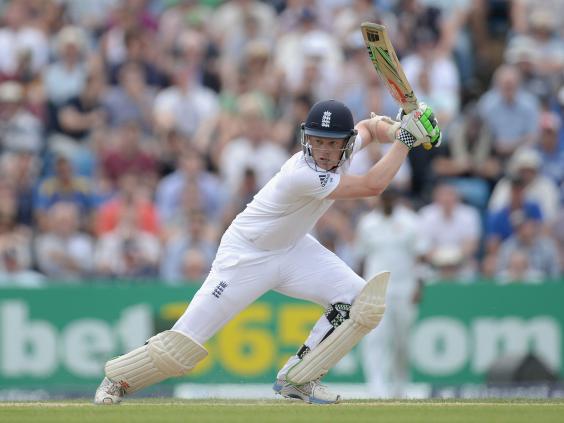 Trott's recall would be a huge gamble. He withdrew from last year's tour of Australia with a stress-related condition after being mauled by Mitchell Johnson in the opening Test at Brisbane. Although he appears to have recovered and did well for England Lions in South Africa recently, fast bowlers will be queuing up to try to expose his frailties again.
For all that Test cricket is in a worryingly torpid state, in which countries pay lip service to its sanctification while regularly committing heresy in its name, England playing Australia still carries most weight. They are playing each other too often, of course, and this will be the third time in two years that the old urn has been up for grabs.
England have won three successive series against Australia at home, in 2005, 2009 and 2013. But there is a discernible gap in class and, more importantly, belief between them now. Mark Butcher, the former England batsman, is not alone in fearing the worst and suggested the series might be less an occasion for watching than hiding behind the sofa.
Michael Vaughan, the captain who ended 16 years of failure in 2005 with the most glorious of triumphs, was less pessimistic, though still cautious. "We're still a hard team to beat at home," he said last week. "I've a bit more confidence than that. We haven't really been hammered – South Africa gave us a bit of a pasting the other year but we've won the last three Ashes series at home.
Cricket World Cup 2015: 10 young players to watch
Cricket World Cup 2015: 10 young players to watch
1/10 Usman Ghani, 18, Afghanistan

At just over 18 years old, Ghani is the youngest player at the tournament, but the attacking opener already has an ODI century to his name. If the Aghans are to spring a shock, much will depend on him getting them off to a good start.

AFP/Getty Images

2/10 Pat Cummins, 21, Australia

With his wonderful action and searing pace, Cummins burst onto the scene when he took seven wickets as an 18-year-old Test debutant against South Africa. Terrible injuries have prevented him from adding to his solitary Test cap, but now the stage is set for Cummins to re-establish himself as one of cricket's hottest talents.

Getty Images

3/10 Mominul Haque, 23, Bangladesh

A compact left-handed batsman, Haque will occupy the No.3 spot in the Bangladeshi batting order. He has already made 24 ODI appearances, but thus far has enjoyed more success in the longer format - in 12 Test appearances he has plundered almost 1200 runs at 63.05, with four centuries.

AFP/Getty Images

4/10 Jos Buttler, 24, England

One of the genuine box-office talents in the England squad, Buttler's 121 against Sri Lanka last summer was the most eye-catching innings of the season. His keeping needs work, but as a mid- to lower-order batsman he has the talent to change the course of a game in the blink of the eye.

Getty Images

5/10 Akshar Patel, 21, India

One of the few positives of India's disastrous recent Tri-Series with Australia and England was the consistency of Patel, who was miserly and probing with his tight left-arm spin. He enjoyed a superb 2014 IPL season with 16 wickets and an economy rate of just 6.22 for Kings XI Punjab.

AFP/Getty Images

6/10 George Dockrell, 22, Ireland

Despite having been a mainstay of the Ireland side since his debut in 2010, and with four county seasons at Somerset under his belt, Dockrell is still only 22. The canny spinner was named the ICC Associate Player of the Year in 2012, and he has been touted to follow Eoin Morgan into England colours.

AFP/Getty Images

7/10 Kane Williamson, 24, New Zealand

Williamson is the most consistent performer in a dangerous New Zealand batting line-up, his devastating recent form in all forms of cricket cementing his reputation as one of the most exciting, talented batsmen in world cricket. Having recently had his action cleared, he can now resume bowling his useful off-spin.

Getty Images

8/10 Ahmed Shehzad, 23, Pakistan

Despite his tender age, Shehzad boasts a wealth of experience, with over 50 ODI appearances and six centuries to his name. More of a classical, patient opener than a David Warner-esque pinch-hitter, he will lay the foundation from which Pakistan's big-hitting middle order can tee off.

AFP/Getty Images

9/10 Quinton de Kock, 22, South Africa

Since making his debut just after his 20th birthday, De Kock has been an aggressive, punchy performer at the top of the South African order, plundering six hundreds in just 36 matches. A tidy gloveman, who by taking over keeping duties has allowed AB De Villiers to focus on his batting, to devastating effect.

AFP/Getty Images

10/10 Tendai Chatara, 23, Zimbabwe

An athletic opening bowler with a curious, idiosyncratic action, Chatara takes the ball away from the right-hander at decent pace and is Zimbabwe's key strike bowler. His maiden Test five-wicket haul set up a famous victory over Pakistan in 2013.

AFP/Getty Images
"I do think this is the best Australia team since 2005 so England will have to play very well. I do worry about the bowling. If Jimmy Anderson picks up an injury I would say that sofa would be available to have a look behind."
Vaughan added: "This performance at the World Cup has been poor. I look at what we have got in English cricket with all our development, all our academies coaches, I have not seen any pace. I worry about that more than balls not being hit out of the ground or not seeing mystery spinners tweaking it. Why aren't we producing quick bowlers?"
Whereas Australia have quick bowlers, of both left and right-handed variety, as if coming off a production line. One of their very best exponents, Glenn McGrath, has a history of predicting 5-0 wins for Australia in Ashes series.
"I waited until after day one of the last series in Australia before I predicted 5-0," he said. "I might have to do the same again. There is a fair gap between the two teams at the moment so a fair bit has to happen in the next few months for England."
England are a team patently lacking self-belief at the moment. Whether they can discover some in the Caribbean, with Alastair Cook returning as captain, will shortly be seen. It may not have any bearing on subsequent events but they have to start somewhere.
Brenkley's Ashes team for first Test
1 Alastair Cook
2 Jonathan Trott
3 Gary Ballance
4 Ian Bell
5 Joe Root
6 Moeen Ali
7 Ben Stokes
8 Jos Buttler
9 Mark Wood
10 Chris Jordan
11 Jimmy Anderson
World Cup latest: Starc lays waste to the Scots
Australia rushed to victory over Scotland in Hobart and earned the two points they needed to ensure that they finished second in Pool A behind co-hosts New Zealand and thereby avoided playing South Africa in the quarter-finals.
Michael Clarke chose to field first because of the threat of rain, and his left-arm seamer Mitchell Starc went to the top of the wicket-takers' list with 4 for 14 – taking him ahead of New Zealand's Trent Boult with 16 victims, as Scotland subsided to 130 all out in just 25.4 overs.
Clarke, who needed to spend time in the middle ahead of the knock-out stage after coming back from injury, opened the reply with 47 and his side raced to the target on 133 for 3 after just 15.2 overs.
India completed a clean sweep in Pool B as they defeated Zimbabwe by six wickets in Auckland. Brendan Taylor signed off his international career in style with 138 off 110 balls with 15 fours and five sixes as Zimbabwe posted a sizeable 287.
But India knocked off the runs to reach 288 for 4 with eight balls left, Suresh Raina scoring an unbeaten 110 and captain MS Dhoni 85 not out in a stand of 196. They will play Bangladesh in the quarter-finals.
Reuse content