As hostilities intensify between England and Australia for control of the Ashes, an altogether different cricketing clash is set to take place over the Irish Sea.
Pitting two of the 20th century's greatest playwrights against each other, an international Beckett festival is to stage the first ever honorary cricket match between teams representing Harold Pinter and Samuel Beckett.
The two literary heavy-weights became close friends, sharing a mutual love of the sport. Beckett, who wrote Waiting for Godot and Happy Days, is the only Nobel literature laureate to have made it into cricketing almanack  Wisden – regarded as the sport's bible – for playing in a first class match.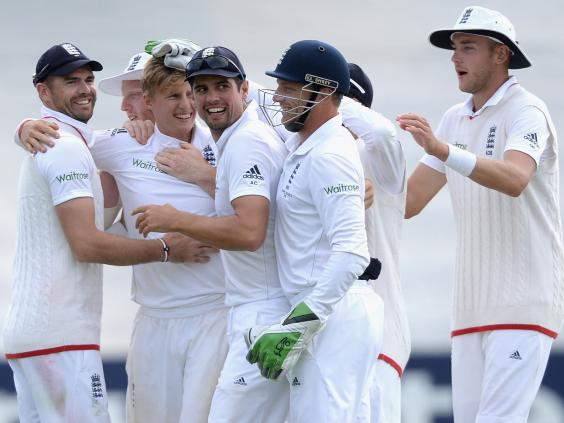 Pinter, whose acclaimed work includes The Birthday Party, Old Times and The Homecoming, talked of cricket being the "greatest thing that God created on earth", adding that it was "certainly greater than sex". In November, curators at the British Library were only able to date an archive of his letters with copies of  Wisden, because the references he had made to cricket matches were so detailed.
The Happy Days Enniskillen International Beckett Festival starts next week and includes performances of the playwright's work and talks about his life and collaborators. One of this year's showpiece events is the cricket match between the Beckett XI, representing Ireland, against the Pinter XI representing England at Kesh Cricket Club. The festival is in its fourth year, and the organisers hope that the match could become an annual fixture.
Liam Browne, deputy artistic director of the festival, said: "This cricket match is to reflect Beckett's own interest in the sport and the place it had in his life. We wanted to connect it with Pinter as they both shared this great love and were good friends."
Ashes Second Test in pictures
Ashes Second Test in pictures
1/39 Day Four

Michael Clarke leads the celebrations as Australia win the Second Test

PA

2/39 Day Four

Mitchell Johson celebrates taking the wicket of Moeen Ali

PA

3/39 Day Four

Moeen Ali trudges off after going for a duck

PA

4/39 Day Four

Ben Stokes reacts after being run out by Mitchell Johnson for a duck

PA

5/39 Day Three

Adam Lyth reacts after dropping David Warner on 60

Getty Images

6/39 Day Three

Captain Alastair Cook (left) in discussion with James Anderson and Stuart Broad as Australia pile on the runs on a shirtfront track at Lord's

Getty Images

7/39 Day Three

Alastair Cook is bowled by Mitchell Marsh

Getty Images

8/39 Day Three

Alastair Cook is bowled by Mitchell Marsh

Getty Images

9/39 Day Three

Jos Buttler walks after Peter Nevill's catch

Reuters

10/39 Day Three

Mitchell Marsh bowls Ben Stokes after he drags onto his wickets

Getty Images

11/39 Day Three

Ben Stokes plays on to his stumps

Getty Images

12/39 Day Three

Ben Stokes celebrates reaching his 50

Getty Images

13/39 Day Two

Mitchell Johnson of Australia celebrates after taking the wicket of Joe Root

GETTY IMAGES

14/39 Day Two

Ian Bell walks back to the pavilion after losing his wicket for 1 run

GETTY IMAGES

15/39 Day Two

Bails fly as Englands Gary Ballance is bowled out by Australias Mitchell Johnson for 23 runs

GETTY IMAGES

16/39 Day Two

David Warner and Peter Nevill celebrate the wicket of Adam Lyth

Getty Images

17/39 Day Two

Mitchell Star celebrates the wicket of Adam Lyth with the second ball of the innings

Getty Images

18/39 Day Two

Alastair Cook takes to the field for the start of England's first innings

Getty Images

19/39 Day Two

Mitchell Johnson was the last man out before the declaration for 566-8

Getty Images

20/39 Day Two

Peter Nevill hit an impressive 44 on his Ashes debut

Getty Images

21/39 Day Two

Steve Smith hit a magnificent 215

Getty Images

22/39 Day Two

Steve Smith celebrates his double-century in the second Ashes Test

Getty Images

23/39 Day Two

Steve Smith saw out the morning session to reach his 150

Getty Images

24/39 Day Two

Michael Clarke walks off after making just 7 runs

Getty Images

25/39 Day Two

Michael Clarke never looked comfortable at the crease

Getty Images

26/39 Day Two

Chris Rogers walks off as Stuart Broad celebrates taking his wicket

Getty Images

27/39 Day Two

Stuart Broad celebrates the early wicket of Chris Rogers for a brilliant 173

Getty Images

28/39 Day Two

Chris Rogers attempts to duck out of the way before being hit on the head by the first ball of the day

Getty Images

29/39 Day One

Chris Rogers reached his century shortly after Smith

Getty Images

30/39 Day One

Steve Smith salutes his Australian team-mates and the crowd after reaching his century

Getty Images

31/39 Day One

Steve Smith passes his century to frustrate England

Getty Images

32/39 Day One

Ben Stokes reacts to a dropped catch by Ian Bell

Getty Images

33/39 Day One

Ian Bell looks on after dropping a chance to dismiss Steve Smith

Getty Images

34/39 Day One

Steve Smith formed a strong partnership with Chris Rogers

Getty Images

35/39 Day One

Alastair Cook reacts after Joe Root misses a chance in the slips

Getty Images

36/39 Day One

Moeen Ali and Alastair Cook celebrate the wicket of David Warner

Getty Images

37/39 Day One

David Warner walks off after being dismissed by Moeen Ali

Getty Images

38/39 Day One

The start of play at Lord's on day one of the second Test

Getty Images

39/39 Day One

A shot of Lord's Cricket Ground ahead of the Second Ashes Test

Getty Images
Playwrights from Tom Stoppard and Terence Rattigan to Alan Ayckbourn and David Hare have been drawn to the summer game but Beckett and Pinter were perhaps the greatest writers known for their love for leather on willow. Lawrence Booth, editor of Wisden, said: "Playwrights are probably drawn to cricket as there is a lot of time to think about things.  The sheer length of it allows subplots to develop." 
Representing Pinter in the forthcoming match is the Gaieties Cricket Club. The playwright made his debut for the club in the 1960s, and went on to be captain and then chairman until his death in 2008.
Other literary fans
Tom Stoppard Cricket is central to his play The Real Thing including the famous "cricket bat" speech.
Alan Ayckbourn Intimate Exchanges is a series of stories, including A Cricket Match, where someone gets a bloody nose over an LBW decision.
Terence Rattigan The Winslow Boy playwright was a keen follower and played in Harrow's first XI.
Richard Bean The author of One Man Two Guvnors played cricket for three decades and wrote The English Game in 2008 about an amateur London cricket team.
Reuse content