Joe Root, the fresh-faced, twinkly-eyed England batsman, spoke on Monday about his century in yet another losing cause in this World Cup. For all the excellence of his own endeavours, his presence was a mystery.
Indeed, it seemed deliberately to be missing the point or avoiding the issue which is fast becoming the default position of the England and Wales Cricket Board, or Cricket England and Wales as it is apparently keen on rebranding itself. As if that would make it all tickety-boo again.
There were plenty of topics to address. The team had suffered their third heavy defeat in the competition. All hell was being let loose at home because the organisation's new chairman, Colin Graves, had seemingly paved the way for the return of the prodigal son, Kevin Pietersen, which  was the last distraction needed by the struggling players he left behind. Late night conference calls ensued between ECB bods in New Zealand and England: they came up with Root.
Before the squad left Wellington for Adelaide, where they have a week to prepare, starting with three days off, to avoid further ignominy against Bangladesh, there was an opportunity to offer explanations, perhaps provide some insight into what was going wrong and what might go right again some time. Peter Moores, the beleaguered, often misunderstood coach, might have given his views on an underperforming team and of the slim possibility of Pietersen returning.
Cricket World Cup 2015: 10 young players to watch
Cricket World Cup 2015: 10 young players to watch
1/10 Usman Ghani, 18, Afghanistan

At just over 18 years old, Ghani is the youngest player at the tournament, but the attacking opener already has an ODI century to his name. If the Aghans are to spring a shock, much will depend on him getting them off to a good start.

AFP/Getty Images

2/10 Pat Cummins, 21, Australia

With his wonderful action and searing pace, Cummins burst onto the scene when he took seven wickets as an 18-year-old Test debutant against South Africa. Terrible injuries have prevented him from adding to his solitary Test cap, but now the stage is set for Cummins to re-establish himself as one of cricket's hottest talents.

Getty Images

3/10 Mominul Haque, 23, Bangladesh

A compact left-handed batsman, Haque will occupy the No.3 spot in the Bangladeshi batting order. He has already made 24 ODI appearances, but thus far has enjoyed more success in the longer format - in 12 Test appearances he has plundered almost 1200 runs at 63.05, with four centuries.

AFP/Getty Images

4/10 Jos Buttler, 24, England

One of the genuine box-office talents in the England squad, Buttler's 121 against Sri Lanka last summer was the most eye-catching innings of the season. His keeping needs work, but as a mid- to lower-order batsman he has the talent to change the course of a game in the blink of the eye.

Getty Images

5/10 Akshar Patel, 21, India

One of the few positives of India's disastrous recent Tri-Series with Australia and England was the consistency of Patel, who was miserly and probing with his tight left-arm spin. He enjoyed a superb 2014 IPL season with 16 wickets and an economy rate of just 6.22 for Kings XI Punjab.

AFP/Getty Images

6/10 George Dockrell, 22, Ireland

Despite having been a mainstay of the Ireland side since his debut in 2010, and with four county seasons at Somerset under his belt, Dockrell is still only 22. The canny spinner was named the ICC Associate Player of the Year in 2012, and he has been touted to follow Eoin Morgan into England colours.

AFP/Getty Images

7/10 Kane Williamson, 24, New Zealand

Williamson is the most consistent performer in a dangerous New Zealand batting line-up, his devastating recent form in all forms of cricket cementing his reputation as one of the most exciting, talented batsmen in world cricket. Having recently had his action cleared, he can now resume bowling his useful off-spin.

Getty Images

8/10 Ahmed Shehzad, 23, Pakistan

Despite his tender age, Shehzad boasts a wealth of experience, with over 50 ODI appearances and six centuries to his name. More of a classical, patient opener than a David Warner-esque pinch-hitter, he will lay the foundation from which Pakistan's big-hitting middle order can tee off.

AFP/Getty Images

9/10 Quinton de Kock, 22, South Africa

Since making his debut just after his 20th birthday, De Kock has been an aggressive, punchy performer at the top of the South African order, plundering six hundreds in just 36 matches. A tidy gloveman, who by taking over keeping duties has allowed AB De Villiers to focus on his batting, to devastating effect.

AFP/Getty Images

10/10 Tendai Chatara, 23, Zimbabwe

An athletic opening bowler with a curious, idiosyncratic action, Chatara takes the ball away from the right-hander at decent pace and is Zimbabwe's key strike bowler. His maiden Test five-wicket haul set up a famous victory over Pakistan in 2013.

AFP/Getty Images
Paul Downton, Moores' boss, the managing director of England cricket, has been travelling with the team for a fortnight. He has been an affable presence but here was an occasion when he might have liked to defend (or indeed attack) the failing team and, since he was the man who sacked Pietersen, provide an updated bulletin.
Failing those two, there is a well-stocked staff in the back room, many of whom with niche skills are employed to ensure that half a percentage point here and half a percentage point there is added in skill or awareness to England's game. Unfortunately, this sort of arrangement is of little use when the team are around 10 per cent off the pace in the areas that initially matter, like batting and bowling.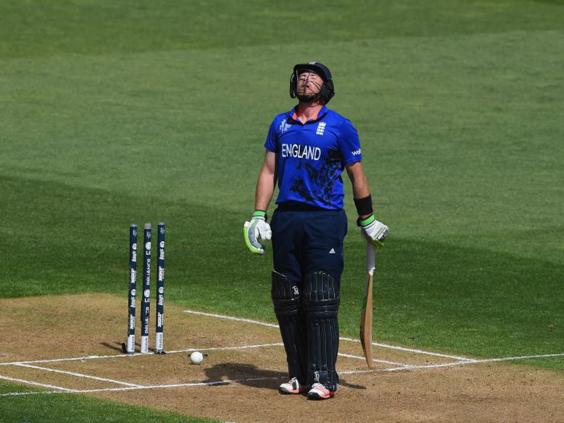 Instead, a 24-year-old cricketer was charged with trying to discuss where England were going wrong, and what they might do to put it right. Root defended England's batting, observed that his dropped catch at slip early in Sri Lanka's innings was costly, delivered the platitudes on cue.
He had clearly been told that the Pietersen question had to be dodged at all costs. When it came, he asked what Graves had said. Root was not actually aware that Graves was the new chairman, just that he had been elected or appointed to some position or other.
But then his job is to score centuries, which he had done the previous afternoon with considerable style. It was simply that at this moment it was not what was exercising minds.
England are in a mess. This extends from the team, who oddly are still in a position where they can win the World Cup despite the blatant paucity of their displays so far, to the administration, which is in the throes of reorganisation.
From several thousand miles away, it is possible to discern that the public at large are either agitated, which is understandable, or apathetic, which is worse. England cricket teams have lost loads of times before. They seemed to spend large swathes of the Eighties and Nineties being kicked from pillar to post and how we used to laugh.
Teams and form go in cycles, although England's history in the World Cup is wretched. But the squad came to this tournament promising that this time it would be different because they had concentrated exclusively on one-day cricket for months on end. The trouble appears to be that they have been concentrating on a version that was played a year or two ago, other teams have been working on something that they want to play now. The upshot has been humiliation.
Forget the match against Australia. Australia usually beat England at cricket, they have done for most of the past 120 years, which is why when the tables are briefly turned unbridled joy abounds.
England had two matches at the Cake Tin stadium in Wellington, against New Zealand and Sri Lanka. In the first they batted woefully and were hammered, in the second they bowled dreadfully and went a similar way.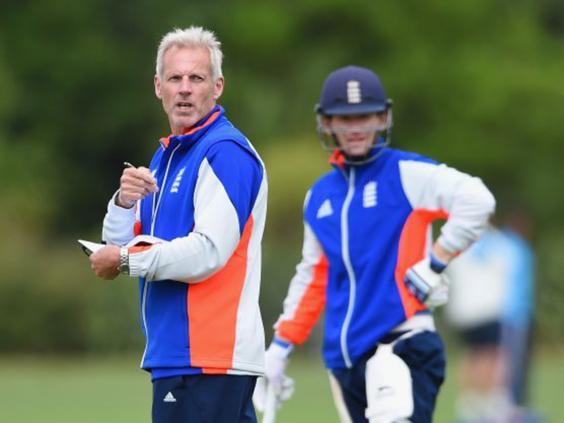 Their No 3 batsman, Gary Ballance, is completely bereft of form but has been retained. Their two senior fast bowlers, Jimmy Anderson and Stuart Broad, whose return for this competition after injury was meant to pave the path to glory, have taken four wickets between them in four matches. Moores or Downton, who was largely instrumental in appointing him, might have been expected to let the public know a little.
The Pietersen issue is destined never to fade. Graves made some unfortunate comments on the radio, which he later embellished in another interview when he could have retracted them. The reason, it was quickly said by a deeply embarrassed organisation, was that Graves had not had any media training.
Not that it seemed much to help his predecessor, Giles Clarke, who is officially still in office for another month or so and usually managed to sneer down a microphone when one was presented, to the befuddlement of cricket followers. But Clarke would not have been led down the Graves route.
Ultimately, if Graves is honest and open in his dealings with the press at large, he will find that has its own reward. 
Graves is a bluff, warm millionaire Yorkshireman who transformed his home county club, into which he poured a chunk of his fortune. He is nobody's fool. What it is said that he intended to convey was that if Pietersen were serious about wishing to play for England again he might at least be playing county cricket.
It emerged as Graves suggesting that if Pietersen played for a county and scored runs then the selectors might well wish to pick him. If Pietersen were now to be snapped up by Yorkshire the wind would be blowing only one way.
Pietersen is probably still a red herring but he continues to haunt England. Had they been winning, of course, his name would not have been raised.
Moores and Downton are under close scrutiny and in some ways they are already fighting for their jobs. England winning the World Cup would stifle all that talk, but talk was what one or both of them should have done yesterday instead of hiding behind the batting class of an innocent young man from Sheffield.
Reuse content