If the World Cup was in need of a truly epic match, there could have been none finer, more engrossing or heart-stopping. Its major narrative, perversely in a tournament of ever more gigantic hitting, concerned wonderful bowling exhibitions, comprising high pace, masterful swing and guileful spin, which frequently reduced batting to anxious guesswork.
From start to early finish, it was a nerve-shredding delight. New Zealand defeated their joint hosts, Australia by one wicket. Australia were bowled out in 32.2 overs for 151, New Zealand responded with 152 for 9 in 23.1.
With six still needed for victory and the Kiwi crowd in a jam-packed Eden Park fraught with tension after five wickets had gone down for 15 runs, it seemed that Australia, because they were Australia and never give up, were on the verge of a most improbable victory. But as if he were playing in the back garden and not in this unbearable cauldron, Kane Williamson, the admirable New Zealand batsman, stepped forward and launched a sweet, orthodox six over long on. And it was done.
Cricket World Cup 2015: 10 young players to watch
Cricket World Cup 2015: 10 young players to watch
1/10 Usman Ghani, 18, Afghanistan

At just over 18 years old, Ghani is the youngest player at the tournament, but the attacking opener already has an ODI century to his name. If the Aghans are to spring a shock, much will depend on him getting them off to a good start.

AFP/Getty Images

2/10 Pat Cummins, 21, Australia

With his wonderful action and searing pace, Cummins burst onto the scene when he took seven wickets as an 18-year-old Test debutant against South Africa. Terrible injuries have prevented him from adding to his solitary Test cap, but now the stage is set for Cummins to re-establish himself as one of cricket's hottest talents.

Getty Images

3/10 Mominul Haque, 23, Bangladesh

A compact left-handed batsman, Haque will occupy the No.3 spot in the Bangladeshi batting order. He has already made 24 ODI appearances, but thus far has enjoyed more success in the longer format - in 12 Test appearances he has plundered almost 1200 runs at 63.05, with four centuries.

AFP/Getty Images

4/10 Jos Buttler, 24, England

One of the genuine box-office talents in the England squad, Buttler's 121 against Sri Lanka last summer was the most eye-catching innings of the season. His keeping needs work, but as a mid- to lower-order batsman he has the talent to change the course of a game in the blink of the eye.

Getty Images

5/10 Akshar Patel, 21, India

One of the few positives of India's disastrous recent Tri-Series with Australia and England was the consistency of Patel, who was miserly and probing with his tight left-arm spin. He enjoyed a superb 2014 IPL season with 16 wickets and an economy rate of just 6.22 for Kings XI Punjab.

AFP/Getty Images

6/10 George Dockrell, 22, Ireland

Despite having been a mainstay of the Ireland side since his debut in 2010, and with four county seasons at Somerset under his belt, Dockrell is still only 22. The canny spinner was named the ICC Associate Player of the Year in 2012, and he has been touted to follow Eoin Morgan into England colours.

AFP/Getty Images

7/10 Kane Williamson, 24, New Zealand

Williamson is the most consistent performer in a dangerous New Zealand batting line-up, his devastating recent form in all forms of cricket cementing his reputation as one of the most exciting, talented batsmen in world cricket. Having recently had his action cleared, he can now resume bowling his useful off-spin.

Getty Images

8/10 Ahmed Shehzad, 23, Pakistan

Despite his tender age, Shehzad boasts a wealth of experience, with over 50 ODI appearances and six centuries to his name. More of a classical, patient opener than a David Warner-esque pinch-hitter, he will lay the foundation from which Pakistan's big-hitting middle order can tee off.

AFP/Getty Images

9/10 Quinton de Kock, 22, South Africa

Since making his debut just after his 20th birthday, De Kock has been an aggressive, punchy performer at the top of the South African order, plundering six hundreds in just 36 matches. A tidy gloveman, who by taking over keeping duties has allowed AB De Villiers to focus on his batting, to devastating effect.

AFP/Getty Images

10/10 Tendai Chatara, 23, Zimbabwe

An athletic opening bowler with a curious, idiosyncratic action, Chatara takes the ball away from the right-hander at decent pace and is Zimbabwe's key strike bowler. His maiden Test five-wicket haul set up a famous victory over Pakistan in 2013.

AFP/Getty Images
Ultimately, New Zealand deserved their victory but had Australia created an upset at the last, they could not have been begrudged. It was a match in which both sides exposed their vulnerabilities, created largely by the expectations fomented by playing in a World Cup at home, but in which both doggedly refused to surrender.
Michael Clarke, the returning Australian captain, was hugely generous in defeat. "It was hugely entertaining game which we'd have liked to have won," he said. "Our batting was horrendous to put it politely, but credit has to go as well to New Zealand's bowlers. It was a really good wicket and the crowd were fantastic."
The truth was that the crowd were on Australia's case throughout. Only in the final moments were they briefly stilled, stunned into silence. They loathed and feared Clarke then in equal measure, the man known as Pup then, but they could not give voice to it. But they made a difference at the height of the affair when Australian wickets were tumbling.
Brendon McCullum, the winning captain, said: "I was just saying to Pup that we should go and that again. It was one hell of a game. It was an amazing atmosphere and a great game to be a part of."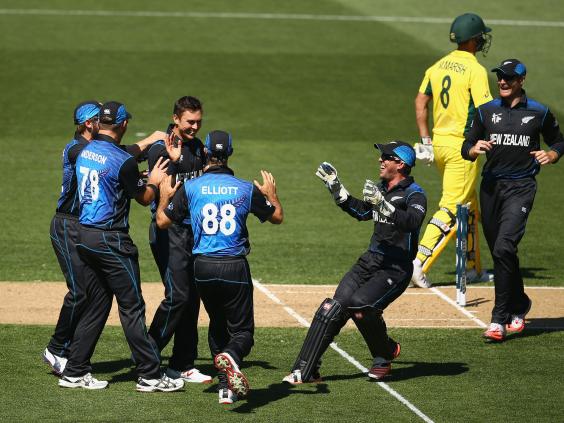 There were outstanding individual performances on both sides. Trent Boult took 5 for 27 for New Zealand with fast, accurate swing bowling designed to elicit error in leaden footed batsmen. But he was helped to expose those frailties by the veteran left arm spin bowler, Daniel Vetorri, whose calm, understated entry changed the course of the match.
Vettori was called on after only six overs when Australia were threatening mayhem. True they had lost an early wicket but under David Warner's belligerent countenance, they were cutting a dash so swaggering that totals of 400 were being estimated. Vettori made them think again.
At the end of Australia's innings when they had tottered to 106 for nine they were given something worth defending by the old hand of Brad Haddin, a man who typifies the way his country play cricket, which is to say that they not only believe they are never beaten but have a divine right not to be beaten. In a last wicket stand of 45, Haddin gave Australia faint hope.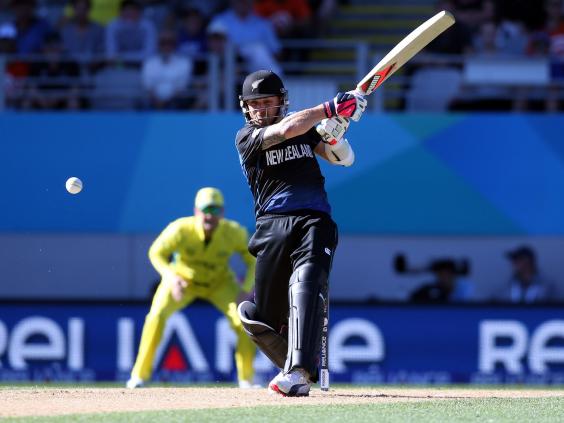 And then came Brendon McCullum. This World Cup already knows all about McCullum. He had carved, pulled, driven and generally smashed England to distracted defeat. Now he threatened to do the same to Australia. He scored 50 from 28 balls, New Zealand were 78 for 1.
It was time for Mitchell Starc to make his entrance. Starc is a bowler at his zenith. Think Mitchell Johnsomn with slightly more control and a readier smile, but with similar pace and the ability to cause destruction.
Starc removed McCullum who flat-batted to mid-off and either side of the break, with probing yorkers, Ross Taylor and Grant Elliott. New Zealand rebuilt. They had to. But they were beset by anxieties. Starc was taken off after six overs. Suddenly, briefly, crucially, runs flowed off Johnson. They made their way to 131, 21 short.
The finishing line was too close for New Zealand. They could see it and it meant too much. Starc was brought back. He was quite irresistible. He produced an unplayably accurate short ball to Luke Ronchi and two short balls in a similar category to Adam Milne and Tim Southee, which would have accounted for more authentic batsmen.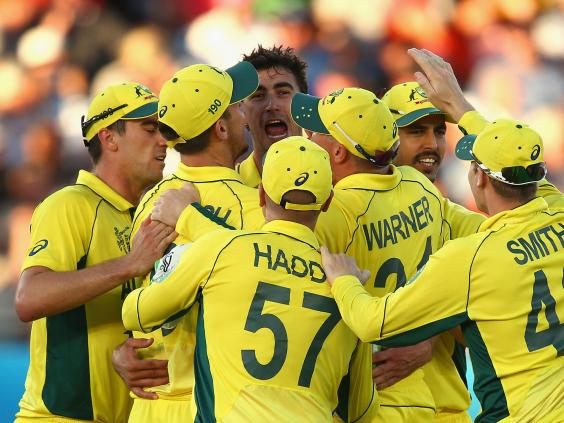 Williamson was surveying all this. Importantly, he was never troubled. Perhaps he will rue taking the single that put young Milne on strike but what else was he to do at that stage?
Clarke said simply and accurately: "Mitchell Starc was a genius." McCullum had another important point. "Trent Boult was outstanding, Mitchell Starc was outstanding and the support acts were brilliant as well. Some of the batting wasn't as good as it should have been but when you're up against high class swing bowling at pace as well that can happen." It is not always a batsman's game. It was marvellous.
Reuse content