This World Cup was the one where it would be different. Instead of coming directly from a gruelling Ashes campaign, as the calendar has previously dictated, England would specialise in one-day cricket for months on end, honing skills, improving methods, carefully plotting. That would show everyone.
What the first match of their campaign showed was that they trail Australia, for one, by the length of the Murray-Darling river. England's defeat by 111 runs demonstrated that they were inferior in batting, bowling and fielding, as well as simple readiness for a big match in a major tournament.
At least Peter Moores, the coach, did not try to conceal the depth of England's woebegone exhibition in Melbourne on Saturday and the shortcomings both collective and individual. England wilted before Australian might, the poverty of their performance mitigated only by James Taylor's unbeaten 98.
"Each individual has to look at himself and ask: did he get the best out of himself?" Moores said. "We know it's a tough place to play – big crowd, big occasion, the opening of the World Cup – but all players went in knowing that.
"We didn't go in saying 'it's just another game' at all. We knew it was a special occasion. It was going to have a level of pressure that, for some players, was different and you have to respond to that. They've been through it now and they've been through it early. If people didn't feel they got the best of themselves, they have to look at how they do next time.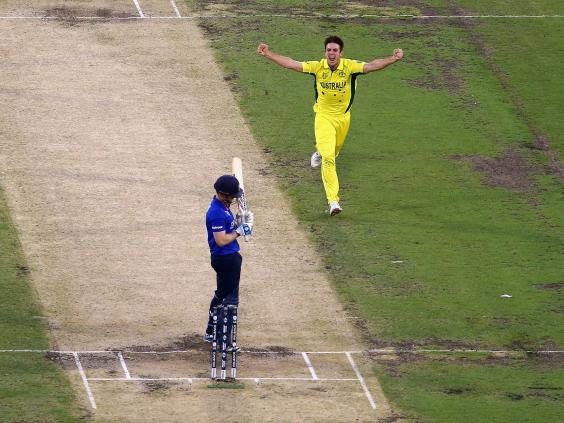 "Because to win things and do well you actually want to get into pressure games. By the end of these tournaments, they're all pressure games. So, we'll speak honestly about it. The lads spoke yesterday in the dressing room. As a coaching team we'll work together to start to address areas where we think we have to get better. We won't hide from anything."
There is plenty not to hide from. England were exposed in every department and their captain, Eoin Morgan, made his third duck in four innings, form which is beginning to make his predecessor, Alastair Cook, who was sacked on the eve of the tournament, seem like a run machine.
While Australia may be the competition's outstanding team, New Zealand, who are England's next opponents here on Friday looked ominously accomplished in their opening match. They crushed Sri Lanka a few hours before Australia crushed England. A few weeks ago, Sri Lanka, albeit at home, also crushed England. The auguries are hardly bright.
Moores defended his decision to go into the event with an XI which had never before represented England. Having laid such careful plans over so long a period it seemed odd at best, panic-stricken at worst.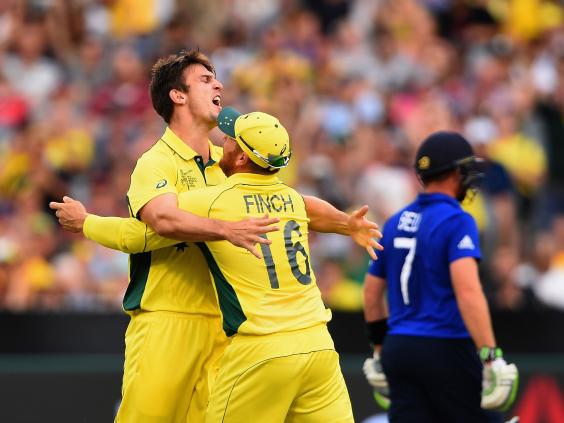 Gary Ballance was brought into the side at No 3 with James Taylor dropping down to No 6, a position where he had never before batted. Chris Woakes, who had taken the new ball for 13 consecutive matches, suddenly found himself bowling first change.
It probably had nothing to do with Woakes dropping a straightforward catch in the first over but it invited the question. Aaron Finch, the reprieved batsman, was on 0 and went on to make 135.
Cricket World Cup 2015: 10 young players to watch
Cricket World Cup 2015: 10 young players to watch
1/10 Usman Ghani, 18, Afghanistan

At just over 18 years old, Ghani is the youngest player at the tournament, but the attacking opener already has an ODI century to his name. If the Aghans are to spring a shock, much will depend on him getting them off to a good start.

AFP/Getty Images

2/10 Pat Cummins, 21, Australia

With his wonderful action and searing pace, Cummins burst onto the scene when he took seven wickets as an 18-year-old Test debutant against South Africa. Terrible injuries have prevented him from adding to his solitary Test cap, but now the stage is set for Cummins to re-establish himself as one of cricket's hottest talents.

Getty Images

3/10 Mominul Haque, 23, Bangladesh

A compact left-handed batsman, Haque will occupy the No.3 spot in the Bangladeshi batting order. He has already made 24 ODI appearances, but thus far has enjoyed more success in the longer format - in 12 Test appearances he has plundered almost 1200 runs at 63.05, with four centuries.

AFP/Getty Images

4/10 Jos Buttler, 24, England

One of the genuine box-office talents in the England squad, Buttler's 121 against Sri Lanka last summer was the most eye-catching innings of the season. His keeping needs work, but as a mid- to lower-order batsman he has the talent to change the course of a game in the blink of the eye.

Getty Images

5/10 Akshar Patel, 21, India

One of the few positives of India's disastrous recent Tri-Series with Australia and England was the consistency of Patel, who was miserly and probing with his tight left-arm spin. He enjoyed a superb 2014 IPL season with 16 wickets and an economy rate of just 6.22 for Kings XI Punjab.

AFP/Getty Images

6/10 George Dockrell, 22, Ireland

Despite having been a mainstay of the Ireland side since his debut in 2010, and with four county seasons at Somerset under his belt, Dockrell is still only 22. The canny spinner was named the ICC Associate Player of the Year in 2012, and he has been touted to follow Eoin Morgan into England colours.

AFP/Getty Images

7/10 Kane Williamson, 24, New Zealand

Williamson is the most consistent performer in a dangerous New Zealand batting line-up, his devastating recent form in all forms of cricket cementing his reputation as one of the most exciting, talented batsmen in world cricket. Having recently had his action cleared, he can now resume bowling his useful off-spin.

Getty Images

8/10 Ahmed Shehzad, 23, Pakistan

Despite his tender age, Shehzad boasts a wealth of experience, with over 50 ODI appearances and six centuries to his name. More of a classical, patient opener than a David Warner-esque pinch-hitter, he will lay the foundation from which Pakistan's big-hitting middle order can tee off.

AFP/Getty Images

9/10 Quinton de Kock, 22, South Africa

Since making his debut just after his 20th birthday, De Kock has been an aggressive, punchy performer at the top of the South African order, plundering six hundreds in just 36 matches. A tidy gloveman, who by taking over keeping duties has allowed AB De Villiers to focus on his batting, to devastating effect.

AFP/Getty Images

10/10 Tendai Chatara, 23, Zimbabwe

An athletic opening bowler with a curious, idiosyncratic action, Chatara takes the ball away from the right-hander at decent pace and is Zimbabwe's key strike bowler. His maiden Test five-wicket haul set up a famous victory over Pakistan in 2013.

AFP/Getty Images
"The idea that we would make any decision out of panic is, I can only say..." said Moores, and failed to complete the sentence. "One of the good things about us at the moment under Eoin is we know where we're going, we know we have to get better, we're playing against a team that are playing at the top of their game. They've beaten several sides before us and we know we've got to close that gap because, the next time we meet them, it'll probably be in the latter knockout stages."
Moores offered the judgement that England had three areas of concern – the death bowling, taking wickets in the middle and the middle-order batting. To which he might have added the opening batting, considering they lost their first wicket for 25, the fourth time they have done so for that score or less in six competitive matches this year.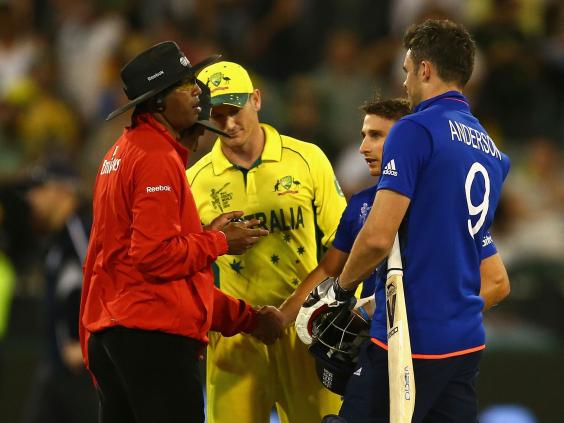 England are not out of the World Cup. Far from it, considering its length. But their constant refrain that they were here to surprise a few people looked emptier than a swagman's pockets. Another defeat against New Zealand, or certainly one of similar proportions, would render the fixture against Scotland a nerve-racking event.
Taylor's perky defiance in a lost cause might, just, have justified the decision to lower his place in the order. He deserved a hundred which he was finally denied in strange circumstances. Having been given out lbw, he was spared by the decision review system, but he and Jimmy Anderson chose to try to steal a leg bye which ended with Anderson being run out, bringing an end to England's innings.
It transpired that the ICC had misinterpreted its own regulations and the ball should have been dead. As, long before, however, were England's prospects.
Reuse content