When the West Indies' score reached 111 – nelson at Nelson – the crowd were implored to stand on one leg "unless you want the batsman to get out". This prompted wry amusement around the ground.  Virtually every spectator, even if they were not draped in green, was urging Ireland on, 12,000 miles away from the Emerald Isle.
Small-town Nelson is also a long way from the glamour of the Melbourne Cricket Ground or the Adelaide Oval. Indeed, the entire population of Nelson would occupy only half of the MCG. But this charming boutique ground, on the north coast of New Zealand's South Island, was witness to the most significant of the World Cup's five games so far yesterday. The template that had prevailed – the stronger side bats first, scores over 300 and wins – was broken as a chasing side triumphed for the first time. More importantly, Ireland's emphatic victory adds spice to the group stages.
Just don't go call it a shock. That much the Ireland captain, William Porterfield, was clear on. "I don't see it as an upset," he said. "I actually hate the term upsets."
So a moment of Irish triumph, a victory far more resounding than the three-wicket wins over Pakistan in the 2007 World Cup and England in 2011, became a chance for them to highlight the unjust hand they are dealt. Because of cricket's archaic way of dividing up countries – there are full members who enjoy copious funding and playing opportunities, and then associate and affiliate members who are not invited to the Test-playing club – Ireland are left to fight over scraps.
Cricket World Cup 2015: 10 young players to watch
Cricket World Cup 2015: 10 young players to watch
1/10 Usman Ghani, 18, Afghanistan

At just over 18 years old, Ghani is the youngest player at the tournament, but the attacking opener already has an ODI century to his name. If the Aghans are to spring a shock, much will depend on him getting them off to a good start.

AFP/Getty Images

2/10 Pat Cummins, 21, Australia

With his wonderful action and searing pace, Cummins burst onto the scene when he took seven wickets as an 18-year-old Test debutant against South Africa. Terrible injuries have prevented him from adding to his solitary Test cap, but now the stage is set for Cummins to re-establish himself as one of cricket's hottest talents.

Getty Images

3/10 Mominul Haque, 23, Bangladesh

A compact left-handed batsman, Haque will occupy the No.3 spot in the Bangladeshi batting order. He has already made 24 ODI appearances, but thus far has enjoyed more success in the longer format - in 12 Test appearances he has plundered almost 1200 runs at 63.05, with four centuries.

AFP/Getty Images

4/10 Jos Buttler, 24, England

One of the genuine box-office talents in the England squad, Buttler's 121 against Sri Lanka last summer was the most eye-catching innings of the season. His keeping needs work, but as a mid- to lower-order batsman he has the talent to change the course of a game in the blink of the eye.

Getty Images

5/10 Akshar Patel, 21, India

One of the few positives of India's disastrous recent Tri-Series with Australia and England was the consistency of Patel, who was miserly and probing with his tight left-arm spin. He enjoyed a superb 2014 IPL season with 16 wickets and an economy rate of just 6.22 for Kings XI Punjab.

AFP/Getty Images

6/10 George Dockrell, 22, Ireland

Despite having been a mainstay of the Ireland side since his debut in 2010, and with four county seasons at Somerset under his belt, Dockrell is still only 22. The canny spinner was named the ICC Associate Player of the Year in 2012, and he has been touted to follow Eoin Morgan into England colours.

AFP/Getty Images

7/10 Kane Williamson, 24, New Zealand

Williamson is the most consistent performer in a dangerous New Zealand batting line-up, his devastating recent form in all forms of cricket cementing his reputation as one of the most exciting, talented batsmen in world cricket. Having recently had his action cleared, he can now resume bowling his useful off-spin.

Getty Images

8/10 Ahmed Shehzad, 23, Pakistan

Despite his tender age, Shehzad boasts a wealth of experience, with over 50 ODI appearances and six centuries to his name. More of a classical, patient opener than a David Warner-esque pinch-hitter, he will lay the foundation from which Pakistan's big-hitting middle order can tee off.

AFP/Getty Images

9/10 Quinton de Kock, 22, South Africa

Since making his debut just after his 20th birthday, De Kock has been an aggressive, punchy performer at the top of the South African order, plundering six hundreds in just 36 matches. A tidy gloveman, who by taking over keeping duties has allowed AB De Villiers to focus on his batting, to devastating effect.

AFP/Getty Images

10/10 Tendai Chatara, 23, Zimbabwe

An athletic opening bowler with a curious, idiosyncratic action, Chatara takes the ball away from the right-hander at decent pace and is Zimbabwe's key strike bowler. His maiden Test five-wicket haul set up a famous victory over Pakistan in 2013.

AFP/Getty Images
"It would be nice to have more fixtures in the four years outside of the World Cups," Porterfield said. "We've played nine ODIs against top-eight teams in the last four years, which is frustrating, and then we come here and show what we can do."
West Indies' Darren Sammy, who added to his reputation as one of the game's nicest men by his congratulations to Porterfield, also backed Ireland's cause. "They could go far in this tournament," he said. "I don't tend to get involved with things that are above my head but if they continue to play like this they will get what they finally deserve."
There have now been five successful chases of over 300 in World Cup history and three have been by Ireland, the team that cricket's ruling elite ignores. For as long as Ireland are denied Test status and a decent fixture list, England will be able to cherry-pick the best Irish talent, like Eoin Morgan and Boyd Rankin.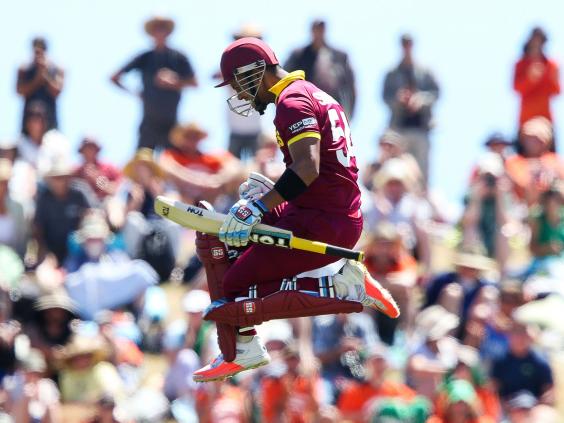 The chief executive of the International Cricket Council, Dave Richardson, recently said that only eight teams in the world are "competitive", which he used as justification for the plan for the 2019 World Cup to be reduced to 10 teams. According to an ICC source, Giles Clarke, who would like to become president next year, is "hell-bent" on a 10-team competition, on the grounds that it would guarantee India nine matches.
Yet, on this sumptuous day at Nelson, Ireland made a mockery of such sporting injustice. After Porterfield won the toss, his side produced a typically zestful performance in the field, embodied by the World Cup debutant Andy McBrine's direct hit from point to remove Darren Bravo before he had faced a ball. The off-spinner was a surprise selection, but he displayed remarkable chutzpah to begin his World Cup career with a maiden to Chris Gayle in the Powerplay.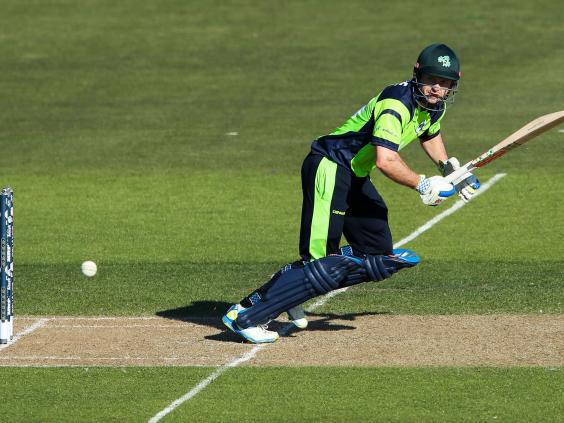 Ireland's left-arm spinner George Dockrell, a veteran of a World Cup and three World T20s at the age of 22, bowled with wonderful control and nerve in a performance  worthy of comparison with Daniel Vettori.
But Ireland's spin twins could have done with more assistance. Max Sorensen, John Mooney and Kevin O'Brien make for a samey attack of right-arm medium pace, highlighting the loss of Rankin to England, and the last 15 overs brought 167 as full tosses were clubbed to and over the short boundaries.
Not that Ireland were perturbed. They had chased down 327 in Bangalore against England, after all. On that occasion Porterfield dragged on to the very first ball of the innings; this time he left a delivery well alone, and it went for five wides.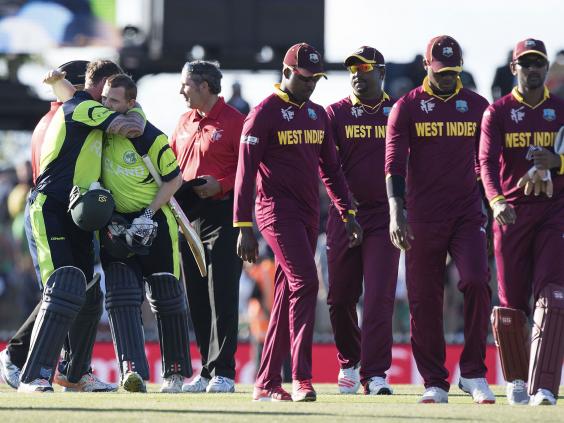 Until a late wobble of three wickets for six runs, Ireland cruised home with the air of a side so assured of victory that they were focused on boosting their net run rate. Three players – Paul Stirling, Ed Joyce and Niall O'Brien – played outstanding innings that would ordinarily have been worthy of the man-of-the-match award. As it was, the honour went to Stirling for an innings brimming with high-class intent; one six clattered over midwicket off Kemar Roach almost invoked the arrogance of Caribbean masters of yore.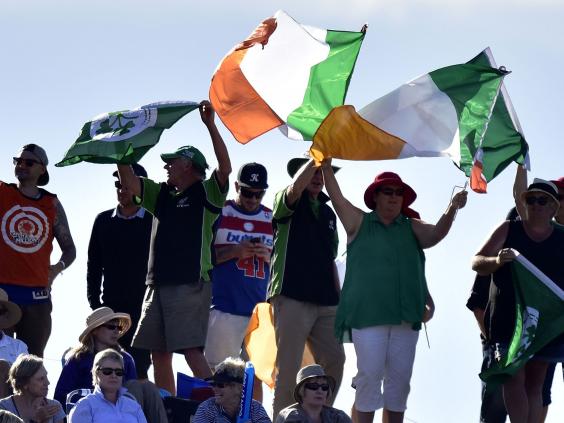 For all the thrill brought by Ireland's victory, there was an elegiac element to watching a West Indies team with such a singular lack of focus and  discipline. Yet nostalgia is no reason to maintain a status quo that shows such contempt for cricket's emerging nations.
"They pump all this money into the West Indies who aren't bothered," Ireland's biggest fan, Larry the  Leprechaun, lamented here on the grassy bank. "Why can't they at least give us half as much?"
Reuse content