England refused yesterday to buckle to the demands of the mob. In many ways, it was an admirable stance, which did not exactly ignore the  evidence but tried to lend it balance and perspective.
In short, it seems that as nobody expected much from the World Cup campaign and despite the fact that it has gone much worse than anybody could possibly have imagined in their most horrific nightmare, everybody can carry on regardless.  No one will be sacked, or asked to resign or pushed conveniently aside.
A review is being launched as soon as England return home next week after completing their programme with a fixture against Afghanistan on Friday. But it is seeking reasons for the failure so they will not be repeated – a mantra heard often before – not heads that should roll.
The loss of four matches from five in the tournament, which has led to England's elimination, is a matter for grave disappointment, but no more. Peter Moores was the right man when he was re-appointed as head coach 10 months ago and he remains the right man now.
Whether the public will be appeased by that, or whether they expected precisely this sort of return and will put up with anything, will gradually become clear as the summer unfolds. It would seem certain that England cannot go on losing after performing so poorly in a tournament for which they specifically prepared over a period of five months.
Paul Downton, the managing director of England cricket, who calls the shots, was calm and unflustered yesterday when he dealt with a string of questions in a  conference call.
He was in London, his interrogators were in Sydney. For all we knew he might have been pulling faces into the telephone but much as he might have felt like it, that is not his style.
"I'm not saying everybody's job is safe and I'm not saying that everybody is going to be sacked," he said. "It feels as though, from your perspective, there needs to be a scapegoat. There needs to be a target.
"All I'm saying is we're in a position where we're a transitioning side and that will take time. We have to take the right decisions to ensure we do that as quickly and smoothly as we can. But it's too early to say yet in terms of any definitives: he's going or he's not going."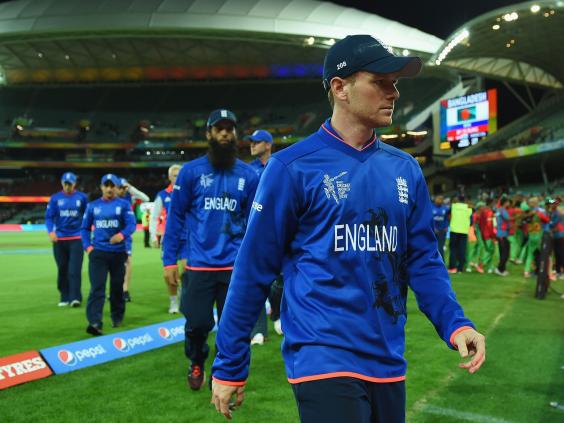 Downton backed Moores continuing in his role. It would be easy to say that he had to do so considering he was instrumental in his reappointment 10 months ago. But there was something oddly reassuring in his comforting words. This was not a man who would be easily swayed from his course, whatever the accusations of misguidedness.
"The first thing to say is that whilst we're hugely disappointed with our performance let's put it into context again," Downton said. "Peter was appointed only 10 months ago and as I said on TV yesterday whoever was appointed to that position was always going to have a bit of a job.
"We're in the middle of a very significant rebuilding phase. We offered six new central contracts during the summer. My first job when I came in here was to try to re-establish a Test side which we made progress with in the summer. The next job was to get to the World Cup with as competitive a side as we could. We always knew we were coming from behind, we haven't won back-to-back one-day internationals for well over a year now. All I will tell you is that there are no quick fixes in this situation. Look through  history, look at any very  successful side which has broken up, how long it takes sometimes to rebuild again.
"I am very confident that in a year's time, in two years' time this group of players will be battle hardened and will be more competitive."
Downton is seeking to buy time. The trouble is that sport demands results and this is the sixth World Cup in succession in which England have played badly.
For this one, they moved Ashes series, to ensure players were not turning up drained after a tough series against Australia, and concentrated solely on one-day cricket for almost six months. The result was still calamity and worse a side that did not lack skill but was intimidated by the event.
If Downton is supported by his own bosses at the England and Wales Cricket Board, and all the indications suggest he has their faith that corners will be turned, it would be presumptuous of him to expect two years. That is an eternity in any walk of life and he should know from his former career in the City  that fortunes can be won and lost five times over in that sort of period.
The Ashes this summer will take on a different hue.  England were a laughing stock in Australia and New Zealand yesterday – and more. In two separate appearances on radio programmes in both countries, trying to offer some excuse for the poor beleaguered Poms, the presenters in both cases called England spineless.
Moores wants desperately to prove himself as a capable international coach. He would regret it forever if he left now with not only business unfinished but also because he has never quite yet shown he can cut it internationally as he so patently has at county level.
"Clearly he said yesterday that as head coach he feels responsible," Downton said. "We all feel responsible frankly because we feel we have let the country down and nobody wants to do that.
"As far as his ability is concerned I still feel he is a very high quality coach, so, no nothing has changed since we appointed him 10 months ago. You don't become a bad coach overnight but the scale of the issues we have got to deal with are significant as everybody has seen."
Downton somehow brought to mind the daft wisecrack  in a Carry On film from 50 years ago. "You've stood on my Indian dress," said Barbara Windsor. "Sari," said Kenneth Williams. "Don't  mention it." Everybody's sari and that makes everything  all right.
Reuse content