On a Sunday afternoon in Johannesburg last month the art of the possible in batting changed for ever. AB de Villiers, sporting a pink ensemble which seemed like a contradiction, drove, pulled and generally smashed his way to 149 from 44 balls.
His innings contained 16 sixes, most of them breathtaking in their design, and nine fours, which were almost mundane by comparison. Fifty years ago the Lord's Day Observance Society would have called for immediate action, on the outfit alone.
The timing of De Villiers' spectacular intervention, in every sense, has created a fever pitch of anticipation that the 11th World Cup, which begins on Saturday, will be a festival of runs, a bonanza of rapid high-scoring.
If this seems a rosy prospect, which will make the 49-day tournament seem less interminable, the concern that there will be too great an imbalance between bat and ball has in turn led to misplaced angst about bat sizes and more understandable debate about boundary sizes.
Cricket World Cup 2015: 10 young players to watch
Cricket World Cup 2015: 10 young players to watch
1/10 Usman Ghani, 18, Afghanistan

At just over 18 years old, Ghani is the youngest player at the tournament, but the attacking opener already has an ODI century to his name. If the Aghans are to spring a shock, much will depend on him getting them off to a good start.

AFP/Getty Images

2/10 Pat Cummins, 21, Australia

With his wonderful action and searing pace, Cummins burst onto the scene when he took seven wickets as an 18-year-old Test debutant against South Africa. Terrible injuries have prevented him from adding to his solitary Test cap, but now the stage is set for Cummins to re-establish himself as one of cricket's hottest talents.

Getty Images

3/10 Mominul Haque, 23, Bangladesh

A compact left-handed batsman, Haque will occupy the No.3 spot in the Bangladeshi batting order. He has already made 24 ODI appearances, but thus far has enjoyed more success in the longer format - in 12 Test appearances he has plundered almost 1200 runs at 63.05, with four centuries.

AFP/Getty Images

4/10 Jos Buttler, 24, England

One of the genuine box-office talents in the England squad, Buttler's 121 against Sri Lanka last summer was the most eye-catching innings of the season. His keeping needs work, but as a mid- to lower-order batsman he has the talent to change the course of a game in the blink of the eye.

Getty Images

5/10 Akshar Patel, 21, India

One of the few positives of India's disastrous recent Tri-Series with Australia and England was the consistency of Patel, who was miserly and probing with his tight left-arm spin. He enjoyed a superb 2014 IPL season with 16 wickets and an economy rate of just 6.22 for Kings XI Punjab.

AFP/Getty Images

6/10 George Dockrell, 22, Ireland

Despite having been a mainstay of the Ireland side since his debut in 2010, and with four county seasons at Somerset under his belt, Dockrell is still only 22. The canny spinner was named the ICC Associate Player of the Year in 2012, and he has been touted to follow Eoin Morgan into England colours.

AFP/Getty Images

7/10 Kane Williamson, 24, New Zealand

Williamson is the most consistent performer in a dangerous New Zealand batting line-up, his devastating recent form in all forms of cricket cementing his reputation as one of the most exciting, talented batsmen in world cricket. Having recently had his action cleared, he can now resume bowling his useful off-spin.

Getty Images

8/10 Ahmed Shehzad, 23, Pakistan

Despite his tender age, Shehzad boasts a wealth of experience, with over 50 ODI appearances and six centuries to his name. More of a classical, patient opener than a David Warner-esque pinch-hitter, he will lay the foundation from which Pakistan's big-hitting middle order can tee off.

AFP/Getty Images

9/10 Quinton de Kock, 22, South Africa

Since making his debut just after his 20th birthday, De Kock has been an aggressive, punchy performer at the top of the South African order, plundering six hundreds in just 36 matches. A tidy gloveman, who by taking over keeping duties has allowed AB De Villiers to focus on his batting, to devastating effect.

AFP/Getty Images

10/10 Tendai Chatara, 23, Zimbabwe

An athletic opening bowler with a curious, idiosyncratic action, Chatara takes the ball away from the right-hander at decent pace and is Zimbabwe's key strike bowler. His maiden Test five-wicket haul set up a famous victory over Pakistan in 2013.

AFP/Getty Images
For most of its existence the World Cup, despite perpetual tinkering with the rules of one-day cricket, has tootled along at much the same rate. In the wonderful inaugural tournament of 1975, still the best in many eyes, the average score of the team batting first – admittedly over 60 overs – was 238.
In the most recent version, in India four years ago, the average was 244. The highest, achieved in the 1987 competition also on the subcontinent, was 248. But everything has now changed. If what De Villiers did at the Wanderers last month embodied that, the revolution has been progressing for two years.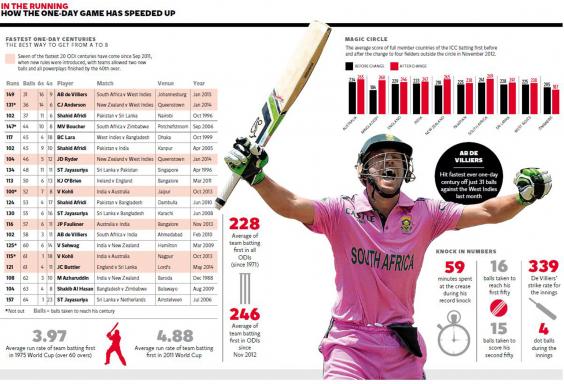 Paul Collingwood, England's most capped one-day player, who is helping to coach Scotland at this World Cup, is typically excited about what is afoot. "The game is moving so fast that you have to somehow try to be ahead of the game," he said. "The guys aren't doing anything technically different. What is different is the mental side, the belief in what they can do now.
"It is a complete fearlessness. I don't think I have ever played in my career where you walk in from ball one with no worry about the consequences. These guys are just ... 11 overs to go and you score 149, that's just..." Collingwood, one of the most enthusiastically articulate of cricketers, found beyond him a description of what De Villiers did at the Wanderers between the fourth ball of the 39th over and the fourth ball of the 50th, when the batsman failed to score off only five balls – including the one that dismissed him – with leg byes coming from another two.
The average score of the team batting first in all one-day internationals played since the first match in 1971 is 228. But since November 2012 that has increased to 246. South Africa average 271, Australia 269, New Zealand 265. It is no mistake that they are the leading contenders for this World Cup. India are on 247 (though at home it is a befuddling 294), England on 243.
There are several reasons: the changes in bats, regulations and approach, some of which are more significant than others. But all of them together are making bowlers seem more than ever like the poor bloody infantry. Bats have come in for some misplaced criticism as being simply too efficient.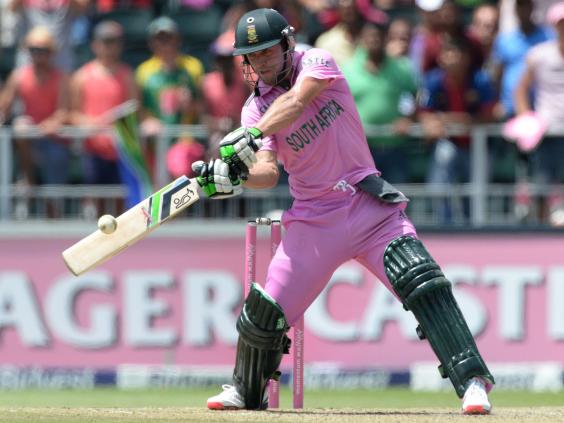 It is true that the design of bats is now highly sophisticated, that they are being pressed more lightly, have larger sweet spots, thicker edges and weigh a little less than the railway sleepers that were the vogue in the 1970s and 1980s.
But as Mark Butcher, the former England Test batsman and engaging pundit, said: "As far as bats are concerned, I have heard some extraordinary twaddle about how the sheer size of the new designs is making the game unfair. Firstly, the ball is not being hit harder or further now than it has been possible to strike it in the past. The difference is that all modern batsmen go out there with the intent to hit more sixes."
It has not prevented the Intenational Cricket Council scrutinising bat sizes in the days before this tournament. But its cricket committee has already decided that the regulations do not need to change. Under the laws of the game, bats are limited to 4.25 inches in width, 38 inches in length. There is no limit to the thickness of the edges.
The other two features are much more pertinent to increased scoring. First, the introduction in 2011 of two new balls, one at each end, from the start of the innings meant that no ball would be older than 25 overs. If it was to give bowlers a harder ball it also did the same for batsmen, which meant it travelled to the fence with more alacrity.
Then in 2012, the ICC amended the number of fielders allowed outside the circle, which since 1992 had been five for 35 overs of an innings. It is now four, with only two in the first 10 and three in the batting powerplay (the ICC should offer prizes to spectators who can recite these without checking).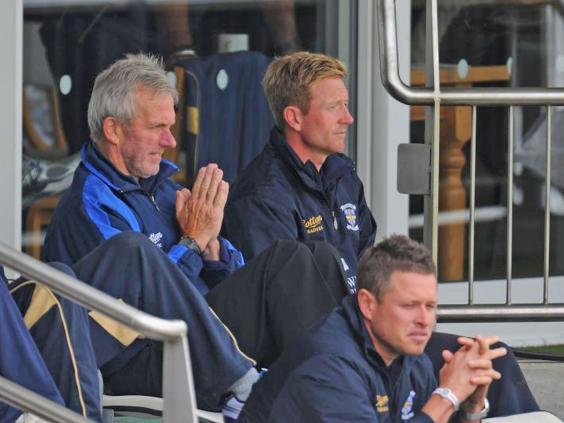 Chris Taylor, England's fielding coach, said: "It has completely changed everything. It is nigh on impossible to defend the whole ground so we have got to be a lot more astute and we make a big play of having the right players in the right positions, the guys who are quicker and with stronger arms, it is so much more important us.
"The bowlers are not struggling exactly but it's a challenge. As a coach you try to add as much value as possible. A field change, only five, 10 metres from the boundary, can make a huge difference."
But the overwhelming factor, the one that De Villiers personified in all his pink glory while raising thousands of rand for cancer research, is what the batsmen expect of themselves. As Collingwood emphasised, there is a new generation brought up on Twenty20 and adapting its improvised stroke play.
"Twenty20 was brought in in 2003 and what you had for the first five years was all these cricketers trying to progress their games while they were playing international cricket," he said. "Now you're seeing the next generation coming through who have been practising from being kids."
But there is another point which means that the balance between bat and ball may continue to shift, so that the average innings score will creep up to 300, and totals of 400, if not commonplace, will no longer be a rarity. It is simply easier to practise batting than bowling.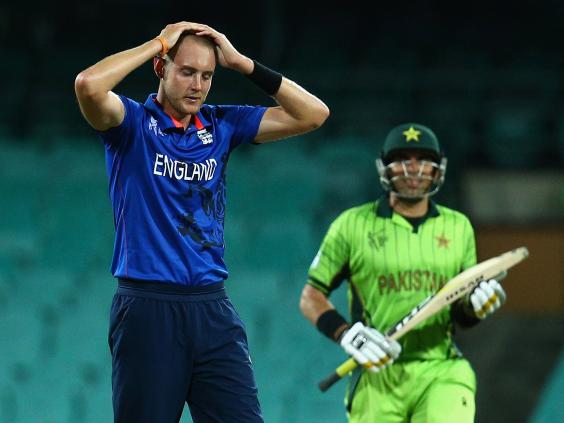 "The physicality of practising bowling is tough," said Collingwood. "The amount of hours you can physically practise your bowling, running in with slower-ball bouncers, yorkers, all that kind of stuff, is limited whereas the amount of time you can stand on a bowling machine and practise your shots is far greater. Are we seeing the difference because of that, the physicality of it?"
The ICC is so concerned that it has come up with a wizard wheeze for this tournament: extend the boundaries. This is possible on Australian grounds, which are almost all huge ovals the size of the average outback ranch. But equally, the longer the distance to the boundary, the more area there is for the four men outside the circle to patrol, and so the more scope for twos and threes there is, and the more strain on throwing arms.
De Villiers has started something and we ain't seen nothin' yet. But in the next two months do spare a thought for the poor bloody infantry.
--
Safety measure - Masuri reveal new helmet
Masuri, the helmet manufacturer whose equipment Phillip Hughes was wearing when he was fatally struck by a bouncer, has revealed a clip-on application that provides additional protection for a batsman's vulnerable neck.
Following the death of the Australian batsman in November, Masuri has invested more than 240 hours of research and development time into the design of the StemGuard.
The attachment, made of foam and a rubber-like compound, can be fitted to existing Masuri helmets with moulded clips, giving batsmen free movement, while offering new protection to the region where Hughes was hit.
Reuse content