There are many contenders but by this time next week the unofficial title of England's most unsuccessful team may change hands. It will be bestowed on the 2013-14 vintage in Australia who are on a losing streak that shows no signs of abating.
Defeat on Friday – and the resignation in the air is darkening the clear Perth skies – and it will be nine internationals in a row on tour, 10 in all counting the loss in the final one-dayer at home last September. That is a record sequence matched only twice before in England's history.
To judge this group, which has comprised 24 players across all matches, as the worst in history may be harsh, but it is also a measure of how badly this expedition has gone. Anybody who has seen England in the one-day series will be astonished if they manage to prise one of the next two games from Australia's grasp. They are resting several players, including the captain Alastair Cook, from the fourth ODI.
The main hope now is that England will win at least one of the three Twenty20 matches which bring the tour to a close next week. But such is the one-sided nature of proceedings that everyone thinks 13-0 on tour is at least possible.
There was almost a plaintive note in the voice of the off-spinner, James Tredwell, the last player to join the motley band. "That's the Aussies," he said. "When they are going well they can batter you to a degree and, if we're honest, that's what they've done over the course of this winter and it's finding a way to push back against that. We've had periods when we've done that and if we can try and push them back a bit we've the skills to do the job. We have to believe, don't we? And if we don't we're just going to roll over again."
In 1993, England lost 10 Tests and ODIs before drawing a Test match at Nottingham against Australia. Eight years later at home, they lost 10 before beating the Australians in a Test at Leeds.
The difference this time is that all the defeats have been against the same opponents, who are relishing each day as it arrives. That much was evident when Mitchell Johnson came back home to Perth from Sydney, where on Monday night he received the Allan Border Medal for the Australian player of the year.
It was like the return of the conquering hero as he charmed an audience full of adulation at the airport. Johnson has put the frighteners on England for months and he traced the beginning of his ascendancy back to the one-day series in England late last summer. "It felt that there was something going on," he said. "I felt like everything was coming together – all the hard work and the change of my run-up, the lengthening of that through the IPL.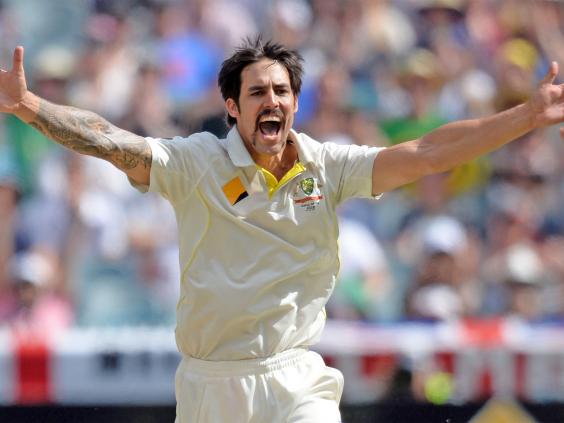 "That was my first real sort of tournament after my injury. I felt good through that tournament, but not quite right. And then playing at international level again in the one-day series, I definitely felt something there. And it went on from there."
Johnson took 37 wickets in the Ashes series and threatens to be a handful at his home ground, the Waca, on Friday, when he will probably bowl three short, rapid bursts.
England practised hard at the University of Western Australian campus. There is a desperation to get a win from somewhere, anywhere, a closing of the ranks round Cook. But all that cannot conceal the fact Australia are in swagger mode, playing irrepressible cricket that will, as Tredwell put it, ultimately batter England.
England on the run: Longest losing streaks
10 matches (Mar-June 1993)
Two ODIs in India
Two ODIs in Sri Lanka
One Test in Sri Lanka
Three ODIs vs Australia
Two Tests vs Australia
10 matches (May-Aug 2001)
One Test vs Pakistan
Three ODIs vs Pakistan
Three ODIs vs Australia
Three Tests vs Australia
The current run is 9 matches Reuse content