It took Moeen Ali one over to establish his credentials as England's latest opening batsman today. He struck it, his first as Alastair Cook's new partner, for six successive fours.
True, the sequence was interrupted by a wide after four of them, but that was possibly because the hapless Sri Lanka A bowler, Vishwa Fernando, needed to do something to avoid the inevitable. Four of the strokes went through the covers, one was an on-drive and Moeen finished it with a flick through backward square leg.
For the man whom he replaced, Alex Hales, it was already taking on an air of finality. "Alex Who?" said the wags, as they suggested that the future might lie in a role on Saturday evening TV alongside the Doctor. Hales would do well to remember that a long winter lies ahead and England are only one match into it.
It was nonetheless a blazing start for Moeen, who secured the berth largely on the basis that England felt they needed another bowler in the top six. This too was all tickety-boo for the selectors as Moeen took  3 for 29 in eight overs of searching off spin, which induced error.
England won their first warm-up match of the tour by 56 runs under Duckworth-Lewis at the Sinhalese Sports Club. Already reduced to 43 overs a side by overnight rain, the England innings was terminated by bad light, followed by more rain, when they were on 145 for 2 after 25 overs, in pursuit of their opponents' 198 for 6.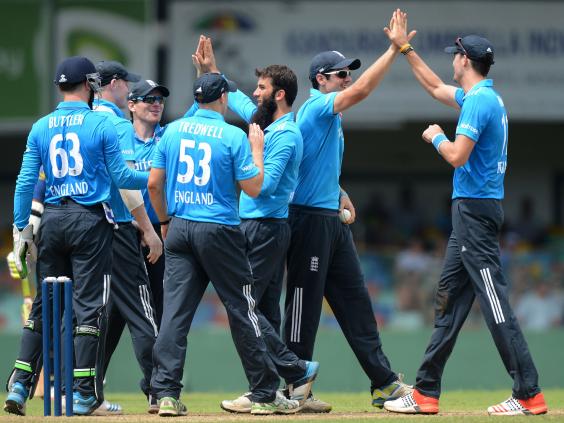 Although it was an authentic Sri Lanka A team, with nine of the side having played international cricket at Test, one-day or Twenty20 level, the tourists can expect far more concerted opposition in the next month. Moeen vindicated the faith of the England coaching staff who told him of their bold intention on Thursday.
"I have never done that before, obviously there are days when it doesn't come off," said Moeen. "I said to Cooky that I didn't mean to hit six fours. He did bowl three half-volleys but in general that's the way I play. I have batted in this position for the last four or five years for Worcestershire and I'm very comfortable there."
He will be difficult to dislodge in the immediate future and will clearly have to start as Cook's partner in the one-day series next week. Cook also scored a half century after Moeen's dismissal for 56 from 37 balls. Not quite as fluent, the captain will have been pleased simply to ensure that he spent time at the crease. Insisting that things are going well in the nets is never a substitute for time in the middle, as any batsman knows.
This turned out to be little more than a gentle canter for England. Steve Finn took two wickets, one in each spell, and although he never conveyed the impression that he might be back to his top form, he produced a couple of snaking, lifting deliveries on a slow pitch which reminded observers of his capabilities.
The most impressive of England's faster bowlers was Chris Woakes, who was accurate and controlled, while Chris Jordan who was the opposite in both. James Tredwell's off spin was reliable as it usually is. As the winter unfolds it will be fascinating to see how England make use of their off-spinning duo of Moeen and Tredwell.
There was scant impetus in Sri Lanka A's innings after early inroads and they did well to recover from 122 for 6, partly helped by England's need to give bowlers some overs. A diligent, effective start but the World Cup final in March still looks a galaxy away.
Reuse content