It is advisable to avoid messing with the cricketing gods, wherever they might be. Alastair Cook, the England captain, was no doubt feeling pretty pleased with life when he won the toss under overcast skies.
Perhaps they induced the coin to swing as it came down, fooling Michael Clarke of Australia into calling tails for the last time. It was heads and Cook immediately opted to bowl. At 3-1 up in the series, the Ashes secured, the pitch green, some grey clouds circling and the tourists' batting in disarray it probably seemed obvious.
A little more than eight hours later, with the greyness returned to shorten the play, Australia were 287 for 3 in the fifth Investec Test by which time it seemed obvious that Cook should have batted. At last, a hapless, derided team played with a discipline and rigour that has eluded them this past crucial few weeks as if leaving the ball in Test matches were one of the mysteries of life.
The captain elect, Steve Smith, whose batting remains as defiantly idiosyncratic as his third name, Deveraux, was unbeaten on 78 and had shared a fourth wicket partnership of 101 with Adam Voges. Smith has an uncanny ability to look ridiculously unconvincing but he was largely untroubled.
His departing predecessor, Michael Clarke, given a guard of honour and standing ovation, which may be Smith's due one day, was sadly the only outright failure of the innings. How Clarke must want it all to end now, how Smith must crave the start of his tenure.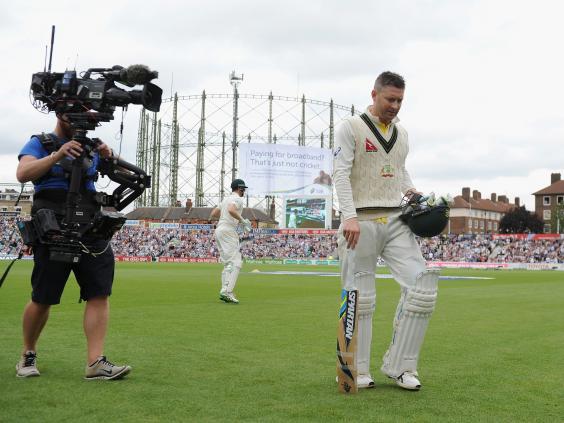 As a loose rule – perhaps it is an appendix to law 43 of cricket, common sense – captains who bowl must expect to dismiss their opponents for nothing much beyond 250. In that, England clearly failed.
This was the 98th Test at The Oval and only 12 times previously had sides not batted. England have won twice and lost once and Cook was probably influenced by the result last year when India made 148 and 94. In no guise whatever could Australia be as supine as India were then.
Batting is the default position and had the Ashes still been at stake, Cook would presumably have acted differently. Even now, had England made inroads with the new ball it might have turned out differently. But the opening pair denied them. Chris Rogers and David Warner refused to push at the ball.
In the last two Tests, Australia have treated the leave as if it were a crime against nature, instead of recognising its hallowed place in long form cricket, especially when the batting going is tough. The other crucial difference was that they played and missed occasionally whereas in Nottingham in the fourth Test, they invariably played and hit, or at least edged, behind the wicket. Once, Rogers edged slightly short of slip as did Warner a little later. England could have no complaints
The initial upshot was that Australia scored only 19 runs in the 14 overs that were bowled in the first hour. The first boundary did not come until the 15th over which was, as revealed by Andrew Sansom, the inestimable statistician on BBC Test Match Special, the longest wait for a four in an Ashes match since the Test at Perth in 1979.
By lunch, with Warner becoming more expansive, they had reached 82, the first time since 2009 that no wicket had fallen in the first session. These were records of a different kind from those that had been set previously in the series.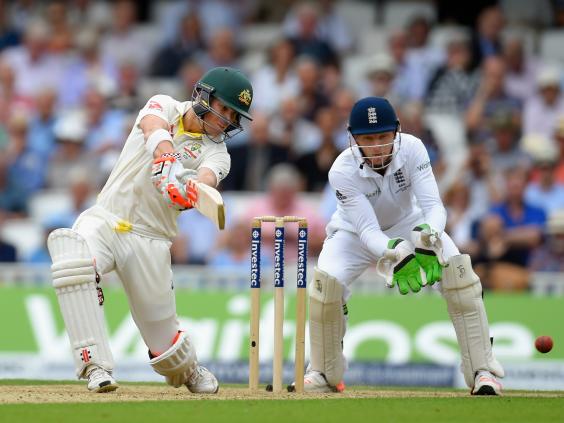 Rogers was eventually out in the usual way. He was lured into playing at a ball outside off by its bounce and fended to Cook at first slip who juggled it successfully above his head. He and Warner make for an odd opening pair but it has been effective. Only two other pairs, both together much longer, have compiled more than their nine century partnerships.
Warner was violently proficient as his innings wore on but he was out in sight of his first Test hundred in England, pushing too casually at Moeen Ali as the ball turned a fraction.
In came Clarke to a hero's ovation, one to bring a tear to the eye. Cook, breaking away from the guard of honour, shook his hand the crowd stood and applauded. Clarke tried to be assertive and quickly came down to hit Moeen over long on. 
But his time has gone now and Ben Stokes took the edge of his bat with a rising ball. Clarke decided to review the decision, perhaps thinking that sentiment might play its part. But technology is not aware of such niceties and one of its components decreed that he had indeed made contact.
There were to be no alarms for Australia afterwards and if there were demons in the pitch, as most pitch gurus had predicted, they were in hiding. Smith pulled and drove with conviction, Voges was compact.
England's bowlers did little wrong but they were being reminded that not everything can go right all the time. It looks as if the match might go beyond a fourth day for the first time in the series but the big question is whether the handing over of the urn might be slightly overshadowed.
The Ashes - Fifth Test
The Ashes - Fifth Test
1/15 Day 2

Steve Smith of Australia walks from the ground at stumps during day two

GETTY IMAGES

2/15 Day 2

Mitch Marsh of Australia and team mates celebrates after taking the wicket of Joe Root

GETTY IMAGES

3/15 Day 2

England batsman Jonathan Bairstow reacts after being dismissed

GETTY IMAGES

4/15 Day 2

Alastair Cook walks after losing his wicket on the second day

GETTY IMAGES

5/15 Day 2

Ben Stokes successfully appeals for the wicket of Adam Voges on day two

Getty Images

6/15 Day 2

Adam Voges passed his half-century early on Friday morning

Getty Images

7/15 Day 2

Steve Smith resumed day two on 78 not out

Getty Images

8/15 Day 1

Michael Clarke following his dismissal in the Fifth Test

GETTY IMAGES

9/15 Day 1

England give Australia captain Michael Clarke a guard of honour as he walks out for his first innings

Getty Images

10/15 Day 1

Ben Stokes acrobatically stops a ball from running past him

Getty Images

11/15 Day 1

Mark Wood celebrates the wicket of Chris Rogers (right)

Getty Images

12/15 Day 1

David Warner on his way to a half-century in the first innings

Getty Images

13/15 Day 1

England bowler Mark Wood unsuccessfully appeals for the wicket of Chris Rogers

Getty Images

14/15 Day 1

Australia batsman David Warner avoids a short ball during day one

GETTY IMAGES

15/15 Day 1

Australia captain Michael Clarke

Getty Images
There is no reason that England should not mount a decent first innings reply but they have left themselves the tricky task of batting fourth. All in all, it left you with the feeling that Test cricket and the game generally are in rude health.
They are not, of course, as a band of protesters campaigning against the despotic rule of the International Cricket Council reminded us in the morning with a silent protest at the Hobbs Gates. This group #ChangeCricket want the game run differently and on behalf of all countries, not simply the so-called Big Three of India, England and Australia.
In calling for the resignation of Giles Clarke, the president of the England and Wales Cricket Board, who has been influential at the ICC, they may have to wait awhile. But Clarke and the ECB, who created the position especially for him, will come under close scrutiny which the winning of the Ashes cannot and should not dispel. The cricketing gods will know.
Reuse content