For reasons seemingly beyond rational explanation, England have played superbly this week. Like something resembling an authentic international team. A few days ago, they looked a ragtag bunch of ne'er do wells, incapable of winning or of intelligent tactical thought.
The transformation is hardly complete but if they can secure victory tomorrow in the third Investec Test and level the series at 1-1 it will feed their conviction and belief. Much has gone their way in this match, they have had slices of luck but they have batted, bowled and fielded with a skill and gusto that looked beyond them at Lord's.
There is still some work to be done but with the first four batsmen dismissed even a long Indian batting order must have surrendered all hope of winning and going 2-0 up in the series. To do so would require the largest fourth innings chase in Test history.
At the close of the fourth day, the tourists were 112 for 4, undermined largely and doubtless to their grave embarrassment by England's vaguely ramshackle spin attack of Moeen Ali and Joe Root. Somehow, with every spell that he bowls, Moeen is defying the sceptics. He may look innocuous, he may very well be innocuous but he continues to take wickets against batsmen who are supposedly the most accomplished players of slow bowlers around.
On a lovely sun-kissed evening, Ali dismissed two of them with balls that went straight on – and was rewarded with two outstanding catches at slip and wicketkeeper respectively. Root snaffled another with a conventionally turning off break, followed by an edge. The run out of Murali Vijay, responding too slowly to a call for a quick single and beaten by Stuart Broad's underarm throw, prompted what followed.
England have made the running throughout this contest. The runs of their captain, Alastair Cook, on the first day after he should have been caught on 15, may have been the catalyst for everything that followed. He and his team might suddenly have felt a sense of relief and freedom instead of being shackled, contained and prone to silly errors. What they have to do now is finish the job.
Cook made his second fifty of the match today as England went in pursuit of quick runs for a declaration. He did not score as quickly as he might have done but the efforts of his colleagues compensated for that. His unbeaten 70 will still the doubters a little more and the win a little more after that.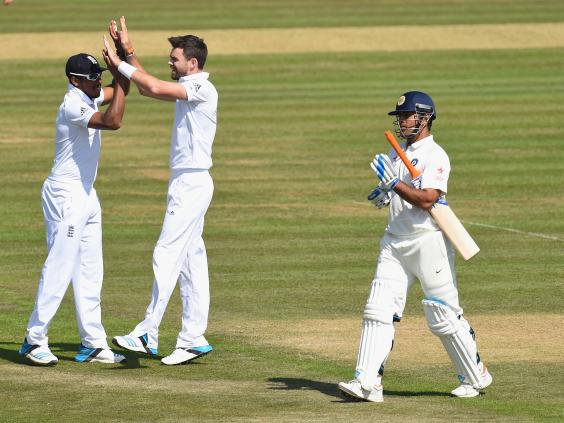 The form of Jimmy Anderson may be crucial to tomorrow's proceedings. It may not, of course, if Ali and Root continue to run rampant. In the past few days Anderson has rediscovered a zip and length to complement his masterful manipulation of a cricket ball. It was his 32nd birthday today and he took the two crucial remaining wickets in the morning to ensure that India's tail did not detain England too long.
Both were captured with judicious use of the short ball to give England a lead of 239, the fifth time in five Tests this summer they have been ahead on first innings, so far without a solitary win to show for it.
Anderson, who has not often seemed happy lately, has much on his shoulders and probably on his mind at present.
On Friday, he faces a serious level three charge under the ICC code of conduct which could lead to his being banned for four Test matches. While Anderson will vigorously deny any wrongdoing, or at least any wrongdoing that was not in self defence during a lunchtime spat with the Indian spinner, Ravindra Jadeja in the first Test at Trent Bridge, it is known that India will prosecute their case robustly.
Were Anderson to be convicted, England would doubtless appeal. There is a distinct feeling, reinforced by his performances here, that they cannot do without him. They would be wise to use him sparingly. Evidence of the recent past indicates that Anderson is always a spell away from being jaded.
It was with giving rest to their bowlers in mind that England declined to enforce the follow on despite needing only 31 balls to finish India off. The fashion seems to be bat again these days. Since 2000, England have had 24 opportunities of enforcing the follow on. They have done so 17 times, won 14 and drawn three and not done so seven times, winning six and drawing once when they were one wicket away from victory. Thus, the evidence is that they tend to win either way.
The prerequisite was for England to rattle along, to ensure they had enough overs on a gentle pitch to put constant pressure on their opponents. Cook and Sam Robson opened brightly. It was Robson's bad luck that he received a peach of an away swinger from Buvneshwar Kumar at which he had to play. Caught at first slip, however, it did nothing to allay the well-founded suspicion of his frailty outside off stump.
Cook was not for hurrying and when he tried to slog, it looked at odds with his usual style. But Gary Ballance, Ian Bell and Joe Root all did exactly as was necessary,
Ballance, going serenely and moving into top gear early for once to meet the demands of the match, was adjudged to be caught. For the second time in the match replays show that his bat was a long way from making contact with the ball. There have been several umpiring errors in the match, some more understandable than others. All could have been overturned had review system been place.
It is to Ballance's credit that in neither instance of his being wronged did he so much as glare imploringly at the umpire. He merely stood for a moment to register his disbelief, turned and went. What he might have done on his return to the dressing room is (as yet) unknown but it was a model way to react to a dodgy decision.
Bell and Root were both out sweeping but by then they had both themselves enjoyed hugely. Whisper it, but England seem to be enjoying life again.
Reuse content