There comes a point in the affairs of cricket when it becomes futile to resist change. That point will be reached sometime today when England lose the second Test to India.
Alastair Cook, their captain for the last 23 Test matches, has reached the end of this particular road in his glittering career. The combination of unfortunate facts which makes this unarguable is that England have played 10 Tests without a victory and he has batted 27 innings without a hundred.
It is academically still possible for England to contrive a win here (which they ought to have done considering the enormous advantage they were handed at the start) in which case Cook's job, despite his form, might still be safe. But it will require the most extreme change of fortune of a fluctuating match for that to happen.
Needing 319 runs to win, England were 105 for 4, still 214 short, at the close of the fourth day. Stranger things have happened in the game but rarely at Lord's where only once in 34 attempts has a team successfully chased a target of more than 300. Joe Root and Moeen Ali were hanging on for grim life on a gloomy evening. There was a scare every over. But hang on they did.
Cook's part in proceedings is already over, apart from the necessary angst of the presentation ceremony. He was out for 22, the third victim in a flurry of wickets, when he pushed at a ball outside off stump and was caught behind. He had fought obstinately for more than two hours, dourly defending most of his 93 balls.
The look of sadness behind the grille of the helmet as he trudged off was palpable. If he did not know the game was up then, someone might have the unenviable task of telling him in the next few days.
It is possible that the logistics alone might yet extend his tenure. The third Test begins on Sunday at Southampton, hardly giving time to draw breath let alone plan for a succession of leader. That the Investec series is still alive with three matches to play might also come into the reckoning. But it becomes ever more difficult to avoid the conclusion that England are not winning and Cook is not scoring.
This match has shifted almost as much as the ball would have done on the first morning had England bowled properly. They might have left India done for then, but perhaps that indicated how it would progress.
These are two moderate teams in transition. One of them has forgotten how to win away from home, the other has forgotten how to win anywhere. The advantage has changed course frequently. Intermittent accomplished batting has been studded by clusters of wickets.
It has made for a gripping sight. It was never more exciting than yesterday, unless today has something to say about that. The decisive shift appeared to take place before and after lunch.
In that period, Ravindra Jadeja rode his luck with the express intention of changing the course of events. Jadeja is a merry buccaneer with attitude who in the space of a week has become England's bête noire.His confrontation with Jimmy Anderson at Trent Bridge had already irrevocably altered the nature of the summer and the manner in which it is conducted. Jadeja has obviously decided that he is ready and able to take on his opponents where it really matters.
Charging down the pitch to Anderson, playing cavalier one-day shots in a highly tense Test match, Jadeja's contribution was breathtaking. He could not have done it without the help of Bhuvneshwar Kumar whose all-round abilities have made him the player of the series so far.
Had Root clung on to an eminently catchable chance at gully when Kumar was two and India were only 222 ahead, the direction of the match might have altered again. But this England are prone to error. Hence the sequence of results.
The engrossing morning was typical of the match. India began at a lick but Liam Plunkett dismissed a strangely distracted MS Dhoni with help from a smart slip catch by Ian Bell. Moeen defied critics once more by tempting Stuart Binny into an ill-advised heave.
When Anderson persuaded Murali Vijay to fence outside off stump for 95, the match was England's to lose if they could finish India's innings off. They could not.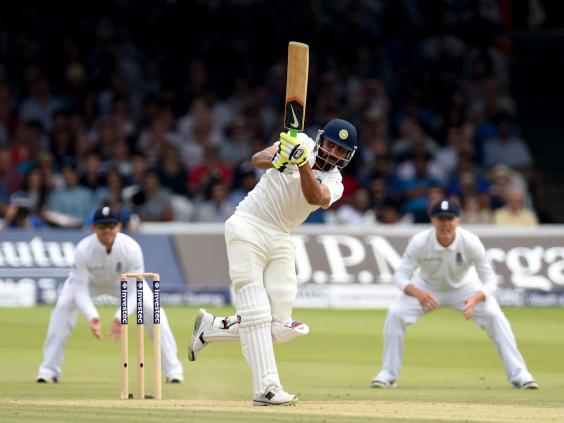 England lost Sam Robson early, lbw pushing forward to that man Jadeja's first ball. But the pursuit subsided with the loss of three wickets in 20 balls, Gary Ballance reaching for one, Bell undone by bounce and playing the wrong line, Cook because something, anything is always lying in wait.
Perhaps there are selectors out there who still wish to stick with this eminently likeable, resilient and stubborn man but if so they ought not to be picking the England team. The sweeping alterations that were made following the humiliating defeat to Australia last winter – new managing director, new coach, new chairman of selectors, sacking the most celebrated player – have patently failed to re-energise Cook.
His form, in a trough since the middle of last summer, has if anything slumped further. After the experience of losing the Ashes by such a margin, Cook deserved to be cut considerable slack.
The series loss to Sri Lanka was put into some context yesterday when Sri Lanka were swept aside at home by South Africa. When the selectors anointed Cook as the captain to take the team forward, in league with Paul Downton, the new managing director of England Cricket and with the reverential blessing of the England and Wales Cricket Board chairman Giles Clarke, they probably did not countenance this.
England should have won here in some comfort and after recklessly squandering the huge advantage that winning the toss offered them on the first morning they still created opportunities. They are not all that appear to have gone.
Reuse content