Off the field English cricket might crash from one blunder into another, like a drunk off the walls of a particularly narrow corridor, but on it there is a sense that – with the bat at least – this side is starting to find some stability.
A deep batting line up combined with a collection of bright new emerging talents, lends the middle and lower order a sense of real promise for the future.
Brightest of England's new stars has been their newly crowned player of the year, and captain in waiting, Joe Root, who has enjoyed a magnificent upturn in fortune since settling at number five in the order.
However in spite of Root's success lower down the order, and the phenomenal performances of Gary Ballance in the last 12 months – his 1036 runs at an average of 64.75 have given him one of the best starts to a Test career in history – events on Day Two at Lord's might suggest that the Yorkshireman's real future lies at number three.
For inspiration England need only look to New Zealand and Root's former county teammate Kane Williamson who shone once again for the Black Caps in the standout innings of the day.
There is much to compare between Root and Williamson, not just their blonde hair and allegiance to the white rose, the pair were born 144 days apart and at the age of just 24 both look like being among the standout batsmen of their generation.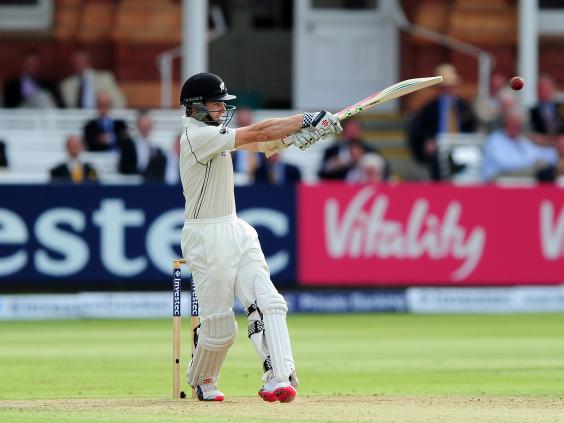 While the first day of this game belonged to Root and Ben Stokes, the second was undeniably Williamson's, ending with the right-hander undefeated on 92, New Zealand trailing by just 86 runs and with eight wickets in hand.
It was a classy knock, favouring the off side marginally more than the leg, the crisp drive through the covers proving his most productive shot – not unlike Root a day before – and it leaves Williamson averaging an unbelievable 226.66 in his last six innings.
Beginning his innings as New Zealand lost two wickets in the space of three balls, the pressure was on the 24-year-old to stop the rot and ensure his side didn't squander their excellent start.
It was a test Williamson passed with ease, the sort of thing he has done ever since settling at number three for New Zealand, his average shooting up from 33 to 51.66 since coming in at first drop.
It also gave England a glimpse of what they could have with Root moved up the order.
He, like Williamson has a seemingly bottomless desire to bat for a long time and amass big scores – you need only have witnessed his anger when James Anderson's soft dismissal denied him the chance to bat on two Tests ago in Grenada to see that.
Yet his energy and demeanour at the crease – part cocky, part carefree – also make him the perfect counterpuncher, a man for all occasions and the ideal fulcrum of any batting lineup.
Root will no doubt have a very good career wherever he bats for England but there is a sense that at number three he could have a truly great one.
Reuse content