There have been more significant encounters between England and Scotland down the years. But not in Christchurch and not at cricket. The fate of a coach and a managing director may hang on the outcome of today's World Cup pool match, an unimaginable turn of events which is matched by the equally improbable prospect of a Scottish victory.
England should prevail easily. It is one of those fixtures that was marked down months ago as a straightforward, unquestioned two group points on the way to the World Cup quarter-finals. All that has changed in the space of a week.
Now, England are on their knees and praying for a break after  defeats against Australia last weekend and on Friday night in Wellington, against New Zealand, who wiped the floor with them. Twice in six days, England have been woefully short of the necessary, unable to present any sort of credentials as modern  one-day cricketers, bewilderingly ill-prepared for the rigours of tournament play.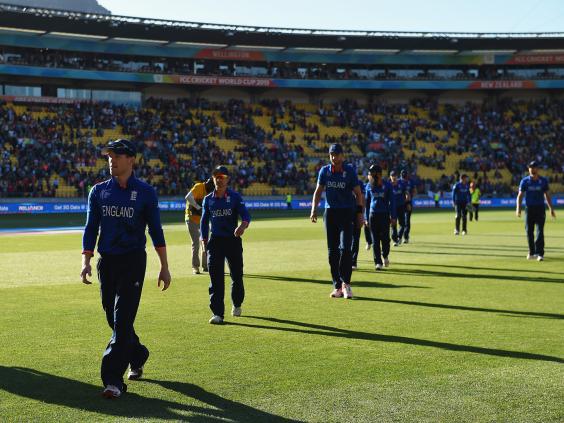 Scotland are lesser players individually but they have built gradually towards this competition as a team and in their first game acquitted themselves admirably against the Kiwis. England are besieged by doubt, Scotland have nothing to lose. This lovely city is still recovering from the earthquake which wrecked its centre four years ago today and killed 180 people. It is the sort of real tragedy that should inspire beleaguered sportsmen.
If the unthinkable happens, it will make the positions of the managing director of England cricket, Paul Downton, and the coach, Peter Moores, look decidedly tenuous. Downton was primarily responsible for appointing Moores to the job for the second time and announced him as the best coach of his generation.
The return of a coach to an international position from which he was previously sacked was a bold decision (and Downton had already sacked Kevin Pietersen, whose disagreements with Moores were behind the coach's initial dismissal). Moores had to design a winning strategy quickly but the team has doggedly declined to respond in a sustained fashion.
A comeback Test series victory against India last summer has been followed by months of fitful, hesitant preparation for this World Cup. England have never had such a concentrated span of one-day cricket and looking at them on Friday night it was as though they had learned nothing, had been pitched in after spending the last six months in a place where cricket was never played and thinking for oneself was banned. New Zealand, especially Tim Southee who took 7-33 and Brendon McCullum who scored 77 from 25 balls, were superb but England were simply dreadful.
Downton and Moores go together. While the former has responsibilities beyond the England team, it is also true that the results for the England women's team and  the disabled team have been less than wonderful lately. Downton's grand vision for the English game does not, in any shape or form, contain a World Cup defeat against Scotland. If at any point he thought Moores was no longer the man for the job he would presumably have to take a long hard look at himself, too.
The hitherto predictable victory against Scotland overnight tonight would at least cast a small shadow of light on the gloom. Moores was candid yesterday in recognising that England's display against the Kiwis was unacceptable.
"A defeat like that is not an easy one to shake off and shouldn't be, you would be disappointed if it were," he said. "Days like that should live with you for a while and you don't want to off- load any of it. My over-riding feeling was that it was a disappointment for the people who came to watch because it wasn't an acceptable performance.
"I don't think we're looking for excuses, I don't think anybody is looking for comfort. What we said is we have to accept it. The players' preparation was good but we didn't play in the style we wanted to play. We have got to address that we have to come back with something."
Somewhere it would seem Moores' message to his charges is getting mangled or misinterpreted or lost. After six months of focusing solely on one-day cricket this is no way to begin a World Cup. It is difficult, however, to think that England would dare go into the match against Scotland with another unchanged team. A glorious free-hitter like Alex Hales has been a drinks carrier, having had scant chance to establish himself as a one-day batsman. The decision to drop Ravi Bopara and play a combination which had never appeared together for England before is looking less than a stroke of genius.
A win in this proud city would hardly start England on the path to glory. But it would be a start.
Probable teams:
England: I R Bell, M M Ali, A D Hales, J E Root, E J G Morgan (capt), J W A Taylor, J C Buttler, C R Woakes, S C J Broad, S T Finn, J M Anderson.
Scotland: K J Coetzer, C S MacLeod, H J W Gardiner, M W Machan, P L Mommsen (capt), R D Berrington, M H Cross (wk), J H Davey, R M L Taylor, R M Haq, I Wardlaw.
Reuse content