South Africa captain Faf du Plessis "completely disagrees" with the International Cricket Council's decision to find him guilty of ball tampering, insisting he has done nothing wrong.
The 32-year-old was sanctioned by the sport's governing body after an incident in his side's win over Australia in the second Test at Hobart last week, where television footage appeared to show him "applying saliva and residue from a mint or sweet, an artificial substance, to the ball in an attempt to change its condition".
Although he was found guilty of the charge, he escaped a ban, instead receiving a fine for 100 per cent of his match fee and he will lead the Proteas in the third Test in Adelaide later this week, where his side are chasing a 3-0 series whitewash.
However, he remains irked by the ICC's decision, which was delivered by match referee Andy Pycroft.
"I still completely disagree with that," he told a press conference at the Adelaide Oval. "I feel like I've done nothing wrong....it's not like I was trying to cheat or anything.
"For me (ball tampering) is picking the ball, scratching the ball. Shining the ball, I think all cricketers would say, is not in the same place.
"I think it's such a grey area in the laws of cricket and I think it's something now will be looked at.
"I just think it's opened up a can of worms going forward.
"The term 'cheat' has been thrown around and that's something I don't take a liking too.
"I felt I've been nothing wrong. I was shining the cricket ball. I've done it my whole career. To make such a big thing of it, I think it was just blown out of proportion by everyone."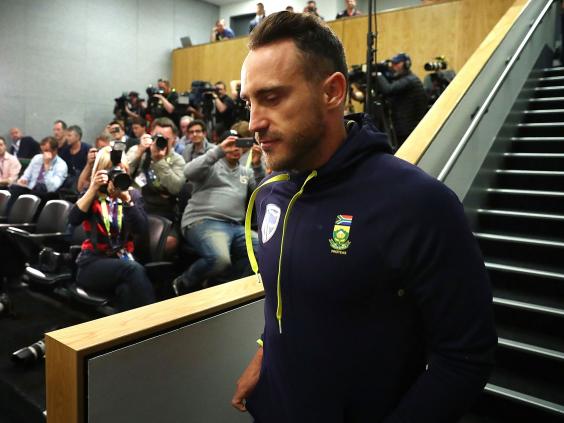 Cricket South Africa have stood by their captain, who is deputising for the injured AB De Villiers, and will await the written findings of Pycroft before deciding whether to appeal the verdict.
A statement by CSA chief executive Haroon Lorgat said: "At this stage we have advised Faf to reserve his position as regards the match referee's finding and wait for the full reasons of his decision before deciding his next step.
"Faf is obviously disappointed by the decision and I can understand that. In fairness to both him and the ICC, this is an unprecedented case involving unique issues of policy, science and performance that need to be carefully considered at the highest levels within the game.
"There are also other issues relating to fair and just process, interpretation of the rules and, importantly, the consistent application of the code of conduct that need to be considered."
PA
Reuse content