In 1478, at the village of Liettres in northern France, a young man called Estiavannet came across a group of disagreeable people playing an unusual game. It involved "boules" or balls and a wooden post or "criquet".
According to a letter of grievance to the king, which survives in the French national archives, an argument broke out. One of the players said: "Why are you staring at our ball game?" There was violence. Someone was killed.
This may be the first mention anywhere of the game of cricket, almost a century before the first written record of the game in England (although there are also suggestions that an early form of the game might have been mentioned in 1300). To pursue what some might see as a heretical claim, the village of Liettres in French Flanders will stage an "international cricket tournament" next month.
This will not – or not yet – be a rival to the Cricket World Cup. A cow pasture is being prepared. There will be a series of 20-over games on 26 and 27 September between the Lille Cricket Club and teams from Ghent in Belgium and Whitstable in Kent.
In the long run, however, the village and the region hope to make Liettres (population 360) a place of pilgrimage for cricket-lovers from all over the world. For the second staging of the "Liettres 1478 Challenge" in 2016, there are plans to equip the village with France's first dedicated cricket ground, including a proper field, batting square, pavilion and scoreboard.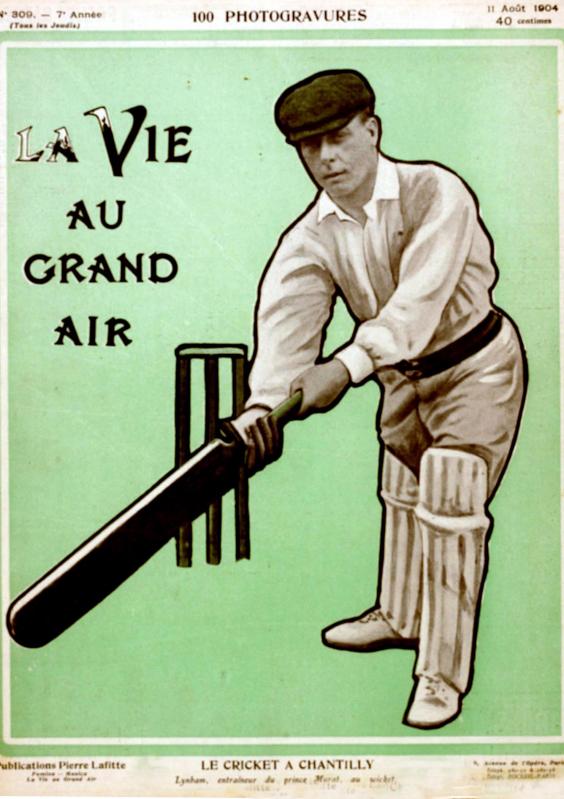 "Cricket is not well known in France but the interest is growing," said Anne Debosque, director of the tourist board for the region around Liettres, the Pays de la Lys Romane. "We hope that this tournament will attract people from England and elsewhere, and draw attention to the beauty and history of an area only a few kilometres away from the Channel tunnel."
Philippe Dethoor, 48, is president of Lille Cricket Club and describes himself as the "first wicket-keeper ever to be born in Roubaix" (an industrial town on the Franco-Belgian border). He has been playing cricket for only eight years but became a fan of the game when he lived in London as a young man.
"Cricket as we play it today is an English creation, that is undisputed – and that's why I love it. I am a great fan of British culture," said Mr Dethoor. "But the mention of cricket at Liettres in the 15th century is perfectly plausible. It is believed that the game originated in Kent or possibly Flanders. Maybe by the late 15th century some form of the game had crossed the Channel from England, or maybe it was the other way around."
From the tantalising reference in the French national archives, it is unclear precisely what game was being played at Liettres in October 1478. The old French text informs King Louis XI of a "supplication" made by a 22-year-old man called "Estiavannet" who arrived at Liettres about "one or two hours after dinner". He came to "a place where people were playing at boules" near to something attached to a "criquet" (the wooden post). Why the violent argument broke out is unclear.
Early histories of cricket suggest that the game may have begun as a pastime for shepherds in Kent and developed from bowls using a post, which had to be defended with a sheep crook.
This is compatible with the 1478 French account of what may be the first known cricket match – and the first cricket riot.
Mr Dethoor, one of the organisers of the Liettres tournament, admits that late September is a risky time to hold a two-day cricket event in the Pas de Calais. "The problem was fitting it into the French holiday schedule and the fixture list of the clubs," he said. "We are praying for fine weather."
Classic Ashes moments
Classic Ashes moments
1/15 1882

A newspaper obituary mourning 'the death' of English cricket appears after their 7-run defeat to Australia at the Oval, and the Ashes is born.

Hulton Archive/Getty Images

2/15 1932/33

Harold Larwood bowls at Bill Woodfull during the controversial 'Bodyline' series, which England won 4-1.

Hulton Archive/Getty Images

3/15 1938

Len Hutton scores 364, still the highest individual score in the Ashes, as England post a mammoth 903-7 declared at the Oval. They win by an innings and 579 runs.

Hulton Archive/Getty Images

4/15 1948

Don Bradman's 'Invincibles', who go a whole English summer unbeaten, chase down 404 for the loss of just three wickets to win the Leeds Test, with 'The Don' scoring 173 not out.

Hulton Archive/Getty Images

5/15 1956

Jim Laker bowls England to victory at Old Trafford with match figures of 19-90, still the best ever recorded in First Class cricket.

Hulton Archive/Getty Images

6/15 1977

On his return to the England side following a self-imposed exile, Geoff Boycott runs out the local hero Derek Randall at Trent Bridge on his way to 107.

Getty Images

7/15 1981

Ian Botham smashes 149 after England follow on at Headingley before an inspired Bob Willis takes 8-43 to win a famous, series-turning 18-run victory.

Getty Images

8/15 1981

Days after the miraculous display at Headingley Botham rides to England's rescue again at Edbgaston, taking the last five Australia wickets for just one run to clinch another unlikely win.

Getty Images

9/15 1993

Shane Warne announces himself on the world stage by dismissing a bemused Mike Gatting at Old Trafford with the 'ball of the century'.

Getty Images

10/15 1994/95

Shane Warne has Devon Malcolm caught by David Boon during the Boxing Day Test at the MCG to complete the first Ashes hat-trick in 90 years.

Getty Images

11/15 1997

Steve Waugh scores 108 and 116 in difficult conditions at Old Trafford, as Australia win by 268 runs to level a series they eventually clinch 3-2.

Getty Images

12/15 2005

Andrew Flintoff consoles Brett Lee after England won a classic encounter at Edgbaston by two runs to claw their way back into the series.

Getty Images

13/15 2005

Substitute fielder Gary Pratt becomes an unlikely folk hero as he runs out the Australia captain Ricky Ponting at Trent Bridge.

AFP/Getty Images

14/15 2009

Jimmy Anderson and Monty Panesar bat out 69 minutes in a last-wicket partnership that saves the first Test at Cardiff.

AFP/Getty Images

15/15 2010/11

Alastair Cook celebrates reaching his double century at Brisbane on his way to 235 not out in a drawn Test. He goes on to score 766 runs in the series.

AFP/Getty Images
France has been slow to appreciate the glories of cricket in recent centuries but interest is growing. There are 1,000 registered cricketers and 30 clubs in a national league with three divisions. The French national team's players are mostly of south Asian or English origin. Mr Dethoor points out, however, that almost half the players on his own Lille team are, as he is, French. There is also a handy book which gives official French translations of cricket terminology, Les Lois du Cricket.
Did you ever wonder what the French might be for deep backward square leg? The answer is "Barrière oblique côté fermé".  An off-spinner is "un tricoteur" or "knitter". A leg-spinner is a "tournicoteur" or "prowler". And a wicket maiden is "une vierge couronnée" (a crowned virgin).