England will leave the appointment of their Test vice-captain until next week. On the trusty principle which seems to have become the basis for filling the position, Buggins' Turn – the practice of appointing on the basis of seniority rather than merit – the nod is likely to be given to Ian Bell.
The job has already been filled in the past by Stuart Broad and Matt Prior, which leaves Bell and Jimmy Anderson as the two other senior players who could conceivably deputise for Alastair Cook in an emergency. Anderson, a shrewd judge of batsmen's weaknesses, has expressed leadership ambitions in the past but Bell has impressed most observers with his tactical acumen when leading his county, Warwickshire.
Still, if Anderson were to miss out this time his chance may well come. Neither Broad nor Prior is likely to be considered for the role when the selectors finally get round to deciding on it. Broad was quietly dropped from it after he kept being injured and then briefly lost his place.
Prior was made vice-captain for last winter's Ashes tour but was dropped from the side before the end of the series. He has been recalled for the match starting next Thursday at Lord's, but the selectors are unlikely to want to thrust too much responsibility on him.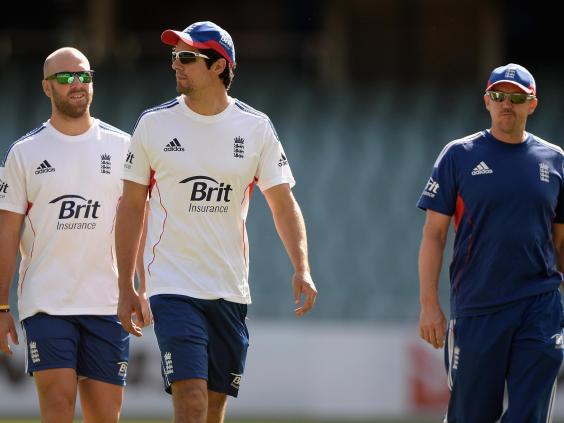 They give the impression that in their ideal world they would rather continue their steadfast loyalty to Cook as captain while expecting all the senior players to offer unconditional support and guidance. While they may be prepared to do this, they also need someone who can take charge if Cook is either injured or has to leave the field.
The position, as with the vice-presidency of the United States, has some trappings but almost no responsibility. Indeed, by saying they expect all the long-serving players to be prominent in advising the inexperienced rump of the side, the selectors have diminished its kudos further.
But they will have to make a call quickly. Other countries treat it more seriously. Brad Haddin does it for Australia and when South Africa made Hashim Amla their Test captain this week they made a point of stating that A B de Villiers remained vice-captain. England will anoint Bell some time before Thursday.
Sri Lanka reduced their hosts Northamptonshire to 146 for 5 on the second day of their tour match at Wantage Road, after declaring their first innings on 558 for 8. Opener Kaushal Silva had to retire hurt on his overnight score of 152. Richard Levi was the pick of the county batsmen, scoring 64 off 66 balls.
Reuse content