Kevin Pietersen reacted last night with a mixture of disdain and despair after his international career was ended because of a complete breakdown of trust. With utter predictability he unleashed venom on Andrew Strauss, his former captain and England's new director of cricket, who made it clear that Pietersen has no part in his plans as a player.
Strauss said at Lord's as he was publicly unveiled in his new role: "Kevin Pietersen is a fantastic cricketer, his record stands for itself, he should be very proud of his record but over the months and years trust between him and the ECB has eradicated. We are in a situation where trust is a massive issue, it's very much a two way process.
"I'm not apportioning blame, there are a number of issues. If you want to resolve a problem the first thing to do is to admit there is a problem in the first place. My view is that no team environment can sustain a lack of trust, it's the foundation."
Strauss told Pietersen that he would not be picked this season at a meeting on Monday night after the batsman had compiled a wonderful triple century for Surrey in the County Championship. He must have known his actions would provoke an angry reaction, which was confirmed last night when Pietersen's Daily Telegraph column was published. In it, Pietersen accused the ECB of double standards.
"I just find it incredibly deceitful what has happened to me and am frankly finding it difficult to understand right now. I have done everything I have been asked. I keep  asking myself, what more could I do?
"They have used the word trust to justify not selecting me, well, trust is a two-way thing. I couldn't believe just half an hour after I had my meeting, the result of it was on the internet and on the BBC airwaves. Now I certainly didn't tell anybody, so who did? They say they don't trust me but how can anybody  trust them...?"
Strauss insisted that he made the decision objectively with the backing of the England and Wales Cricket Board's new chief executive, Tom Harrison, and chairman, Colin Graves. Harrison also attended the meeting with Pietersen on Monday night. Strauss conceded that Pietersen was disappointed when he heard.
But at the same meeting he also offered Pietersen an advisory role to England's one-day side, which was rejected. "I can understand why but in time I hope he'll reconsider," said Strauss. "He's played a lot of limited-overs cricket around the world and I also thought it could be the start of a process of rebuilding trust."
The original decision to sack Pietersen was taken by their predecessors a year ago and it therefore seems clear that he has run out of friends in the high places that matter.
It seemed that Pietersen had been offered a chance to resurrect his career when Graves, who does not start officially until this week, seemed to suggest that he had a chance of being picked again if he made runs for Surrey. That Sunday morning radio interview has come to haunt the ECB.
As a result, Pietersen pulled out of his Indian Premier League contract with Sunrisers Hyderabad, although, he is now heading for India this weekend after Strauss told him that there would be no short-term comeback. In the minds of Pietersen and his supporters, he met Graves' demands.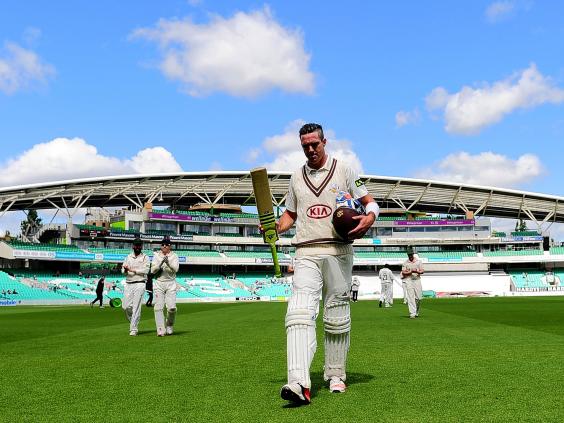 He came up with what appeared to be a definitive case on Monday by making his first triple hundred in a Second Division match against Leicestershire which he extended yesterday morning to 355 not out. It was the worst possible timing for Strauss although he reiterated several times that it was not about the runs.
"We have a unique situation here that has built up a long period of time," said Strauss. "I think trust is a pretty strong foundation. I think we need to move the England team forward and I believe we have the best chance of doing that by making this decision."
Neither Strauss nor Harrison quite dismissed an eventual return for Pietersen, who will be 36 next year, if trust between the parties could be rebuilt. But Strauss said: "I don't think we should rule it out. At the moment we're a long way apart let's be honest but if there is a way we can come together I think we should explore it."
During the last few months, since Graves appeared to push the door ajar, Pietersen has been on a charm offensive as well as a runs spree. But the damage was done long ago and it was compounded in Pietersen's autobiography last autumn, an orgy of self-righteous petulance, in which he claimed a culture of bullying had emerged in the dressing room when Strauss was captain.
Pietersen is known to have sent disparaging texts about Strauss to members of the South African team who were England's opponents at the time in 2012. That was also the summer when his grievances about not being allowed all his own way over playing in the IPL came to the fore.
It was clear that two of Strauss's demands for taking the job were that there would be no way back for Pietersen in the short term and that Peter Moores would have to be sacked as coach. Harrison and Graves were happy to go along with him on both, though Harrison apologised to Moores yesterday for the manner in which his departure was handled.
Reuse content