There was something oddly appropriate about the venue for Kevin Pietersen's first appearance before his reading public. He ended a day of heavy promotion for his astounding autobiography, KP, by conducting a question-and-answer session in a former church in a Manchester suburb: a deconsecrated player in a deconsecrated building.
Pietersen, who was infamously sacked by England earlier this year, revealed to his audience in Gorton that he simply had to tell his story for one reason alone. "My character has been assassinated for the last five or six years on a regular basis by the ECB publicity machine," he said. And that was his opening gambit.
If the England and Wales Cricket Board representatives (and their lawyer) who were in the audience grimaced, they did so inwardly. This was the culmination of a day-long tour of publicity. Symbolism was all around in the place now known as The Monastery.
Pietersen and his interlocutor chatted where the altar once would have been. Suspended above their heads was a sculpture of Christ on the cross. Pietersen conveys the impression in his book that he knows what it is like to be crucified.
For 45 minutes he repeated much of what was in the book, as he had done during his series of publicity interviews, which seemed like a day on the hustings. He was hard again on Andy Flower and Matt Prior but was adamant that he had received several texts from players in the previous 24 hours after so many segments of his book were revealed, saying that they were thrilled at what he had done. It had to be said, they claimed.
It was instructive when the session was thrown open to the floor. Every question concerned what the book hardly touched on – cricket. The audience wanted to know the usual stuff.
Who was the best player he played with or against? It was Jacques Kallis on both counts. Who would he pick in the England team if he was captain for the Ashes next year? Alastair Cook would open with Alex Hales and otherwise this summer's team would be retained.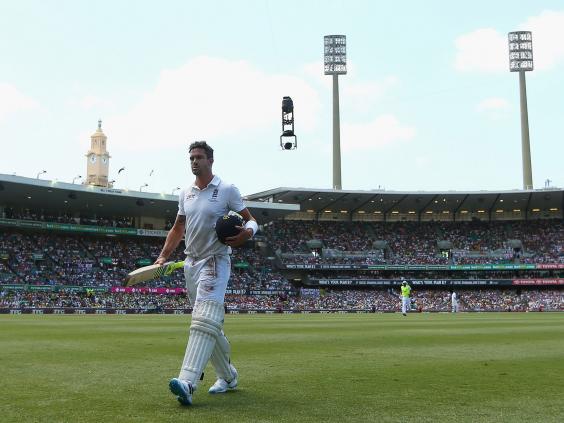 Should Graeme Swann have retired in the middle of the Ashes series last winter? "No, he should not, I think he let the England team down and the then coach called a meeting and said he had let the team down and lot of the players felt that way, too," he replied.
Who was the bowler who troubled him most? The answer was the Pakistan swing and seam bowler Mohammad Asif, whom Pietersen deemed unplayable.
He was at his most engaging in this period, almost as if it were a relief to talk about the subject he knows best, the subject which even his strongest critics would concede is closest to his heart. If it was a charm offensive in pursuit of sales it was mightily  effective.
Somehow it seemed more transparently genuine than when he been doing the rounds of the radio and telly microphones a few hours earlier. He was occasionally just a wee bit too smarmy, bordering on self-righteousness.
The social networking sites were alive with the stuff of Pietersen and while he barely had time himself to tweet, his staunch acolyte went into overdrive. The broadcaster Piers Morgan, who has the sort of thick skin that Pietersen likes to think he possesses, has been nothing if not loyal and utterly scathing of anybody who might suppose there is a case for Pietersen not playing for England.
Among the bits and pieces he wished to get off his chest were his call for the BBC to sack its cricket correspondent, Jonathan Agnew, for "his vicious personal agenda and abject cosiness to the ECB hierarchy." Not surprisingly, Agnew briefly signed off from his own Twitter account.
Morgan was particularly scornful of the poor journalist who helped to write Pietersen's first autobiography and also tweeted: "The spoof public Twitter account used by England players to ridicule @KP24 was 100 times worse than any private texts he sent to friends." Perhaps not quite. Morgan means well, of course, but sometimes he might care to reflect that these outpourings do more harm than good for his friend. Kevin might care to tell him that. Bile should not breed bile.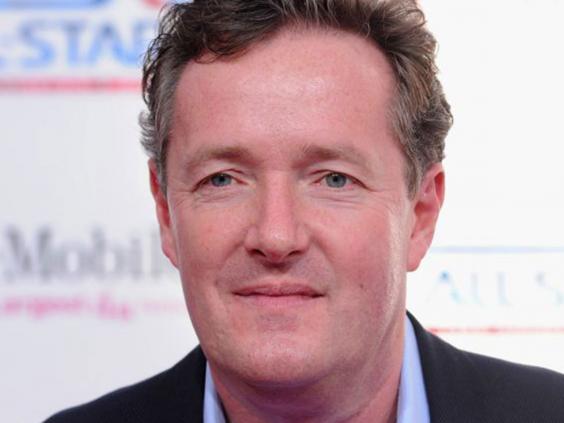 Back in The Monastery, the church was nicely packed but not to capacity, the sort of congregation that a vicar would crave these days. Pietersen said he did not play any four-day cricket this season for Surrey because his knee was still giving him too much trouble and had he broken every county record that ever existed he would still not have been picked by England. But if his knee was hurting – as it was in Australia last winter – he could not have played for England either.
He tantalised the audience about his future plans and said he would have to sit down with Surrey soon. It was not possible to be part of the team only by playing Twenty20 cricket as he had this season. But Surrey cancelled his registration last week.
Finally, he recalled his early days with England, in 2005 when the Ashes were, historically, regained after 16 years and Pietersen's life changed for ever. "I couldn't have had a better entrance to the England team than with those players. I loved it." Nine years later it is not love that he feels.
Leaked KP 'dossier': ECB's notes on Ashes tour
21-25 November 2013
Australia won by 381 runs in the first Test at The Gabba, Brisbane
"At the end of the Test, KP was awarded a present by the team in recognition of 100th Test (as is customary). During his acceptance speech KP stated "this is the best England dressing-room environment I've ever experienced."
29-30 November
Two-day warm-up match v Chairman's XI  at Traiger Park, Alice Springs
Upon arrival in Adelaide for the second Test, AF [Andy Flower] gave express instructions to players not to stay out late and not to give the scandal-voracious press any ammunition, which KP immediately disobeyed by taking out two young players drinking with him until late.
13-17 December
Australia won by 150 runs in the third Test  at the WACA Ground, Perth
Prior to the Test, an England team physiotherapist approached AF to inform AF that KP had told him KP was looking to do anything to go home after the Perth Test if England lost to go 3-0 down. KP allegedly told the physio that if England lost the match, his knee was "going to be really playing up"
26-30 December
Australia won by eight wickets in the fourth Test at the MCG, Melbourne
"Immediately following England's fourth-day defeat, AF encouraged Alastair Cook (AC) to lead a team meeting without management in attendance to try and rally the squad before the final Test. KP told Matt Prior (MP) he had no interest in going to the meeting. MP told KP it was "team time, not family time".
After playing a terrible shot to get out in one of his innings in the fourth Test, KP returned to the England dressing room and in front the younger England players, shouted, "You lot are a bunch of useless c**ts".
It riled the team and management that KP allowed Piers Morgan to belittle AC and the team on social media. When asked by some of his team-mates to get Piers Morgan to stop tweeting about the team, KP laughed at the players and told them to get a thicker skin.
KP made disparaging remarks about Michael Carberry in front of other England players and team management prior to the fourth Test, stating, "Aren't there any better players at county level? Carberry is useless."
Prior to the fifth Test
Meeting between AF and KP in AF's hotel room
KP stated AC was weak, tactically inept and latest effort to galvanise team was "pathetic".
KP ranted, saying GS [Graeme Swann] is a "c**t", the team was "s**t" and had a go at AF.
KP stated that, in order to build team spirit, AF needed to "let the players go out and get p***ed, especially the younger players".
3-7 January 2014
Australia won by 281 runs in the fifth Test  at the SCG, Sydney
During the Test, a player tried to galvanise the team on the field with a "call to arms" address. Back in dressing room, KP criticised the player, saying that the player was "sucking up to management". (AF stated it was incredibly damaging as KP was putting off other players from stepping up in this way.)
In team meetings during the tour, KP would often be deliberately disengaged (eg looking out of the window, looking at his watch etc whilst AF and others were talking to the team).
Reuse content