Kevin Pietersen has accused wicketkeeper Matt Prior of being a disruptive influence in the England dressing-room and former coach Andy Flower of ruling "by fear".
But Pietersen spoke positively about captain Alastair Cook in his first interview to promote his autobiography, which will be released for sale on Thursday but launched on Monday.
Prior is on the receiving end of Pietersen's strongest criticism in a wide-ranging interview with the Daily Telegraph, in which the former Test batsman objects to Prior's portrayal as a "team man" and claims "a lot of people are very happy" the former vice-captain no longer has a central contract with the England and Wales Cricket Board.
Pietersen claimed England's bowlers, led by James Anderson and Stuart Broad, "ran the dressing room", with fielders forced to apologise for errors and dropped catches.
Kevin Pietersen in pictures
Kevin Pietersen in pictures
1/55

Pietersen scored a career-best 326 not out in Surrey's County Championship match against Leicestershire.

Getty

2/55

Kevin Pietersen hits a four during his innings for Surrey against Glamorgan

Reuters

3/55

Pietersen is the centre of attention despite sitting on the end of Surrey's team photo yesterday

Getty Images

4/55

Pietersen had an IPL deal said to be worth £200,000 with the Sunrisers Hyderabad before negotiating his release

Getty Images

5/55

Pietersen was part of the Melbourne Stars side that lost the Big Bash final earlier this year.

Getty Images

6/55

Kevin Pietersen walks during his final England appearance during the 2013/14 Ashes.

GETTY IMAGES

7/55

Pietersen in the latest Ashes series

Quinn Rooney/Getty Images

8/55

Andy Flower with KP

Tom Shaw/Getty Images

9/55

Kevin Pietersen with Andy Flower

GETTY IMAGES

10/55

Kevin Pietersen looks on as England crumble once against in the Fourth Ashes Test in Melbourne

GETTY IMAGES

11/55

Kevin Pietersen of England bats during day one of the Fourth Ashes Test Match between Australia and England at Melbourne Cricket Ground on 26 December 2013

Gareth Copley/Getty Images

12/55

Kevin Pietersen makes a gesture to the Gabba crowd

13/55

England batsman Kevin Pietersen walks off at the Waca after the fall of his wicket

GETTY IMAGES

14/55

Kevin Pietersen is all smiles at The Gabba ahead of the first Ashes Test

Getty

15/55

Kevin Pietersen: The local daily in Queensland carried the headline: 'He's so arrogant not even his own team likes him'

Getty Images

16/55

Kevin Pietersen will have a scan and treatment on a knee

Getty

17/55

Kevin Pietersen prepares for the ODI series against Australia

GETTY IMAGES

18/55

Kevin Pietersen bats in the nets at The Oval a

Getty images

19/55

Kevin Pietersen is honoured for becoming England's leading all-time run scorer

Getty Images

20/55

Kevin Pietersen

PA Wire

21/55

Kevin Pietersen of England celebrates with fans after England retained the Ashes

GETTY IMAGES

22/55

Kevin Pietersen's after his 23rd Test match hundred

Getty Images

23/55

Kevin Pietersen – 2
Lasted a grand total of 13 balls in the match, making 7 runs. Played a particularly stupid shot to get out in the second innings and then played no further part in the game due to a calf strain. Doubtful for the next Test, although on this performance he won't be greatly missed.

Getty Images

24/55

AP

25/55

Pietersen must wait until the opening Ashes Test next month to make his first appearance

Getty Images

26/55

Kevin Pietersen: The batsman was spoken to by the referee in the Mohali airport toilets

Getty Images

27/55

Pietersen doing charity work

AFP/Getty Images

28/55

Kevin Pietersen on a celebratory Twitter post

29/55

Alastair Cook and Kevin Pietersen

GETTY IMAGES

30/55

ECB chairman Giles Clarke listens to Kevin Pietersen speak at a news conference in Colombo

Reuters

31/55

Pietersen was one of the more enthusiastic participants in England's victory parade through London

Getty Images

32/55

Pietersen is left out of England's squad following the controversy over provocative text messages

Getty Images

33/55

England retain the Ashes in Australia, their first series win in the country since 1987. Pietersen ends the series with 360 runs at an average of 60.

Getty Images

34/55

Pietersen arrives with England for the one-day World Cup in India in high spirits, but the trip ends in disappointment for him, with injury eventually forcing him him out.

Getty Images

35/55

Pietersen is named in England's Test squad for the first Ashes Test at Lord's, taking the place of the hugely experienced Graham Thorpe.

Getty Images

36/55

Pietersen hits a swashbuckling maiden test century to rescue England in the final Ashes Test at The Oval. The draw means England reclaim the Ashes for the first time since 1987.

Getty Images

37/55

Going on to score further centuries in East London and Centurion, Pietersen ends up being Man of the Series, making 454 runs at an average of 151.33 and becoming the fastest man in history to reach 500 one-day international runs in the process.

Getty Images

38/55

Kevin Pietersen and the team after winning the World T20 in 2010

GETTY IMAGES

39/55

Main attraction: Kevin Pietersen celebrates his century against South Africa. He finished the day on 149 not out

AFP

40/55

Flintoff and Pietersen in 2005

PA

41/55

Kevin Pietersen enjoys a superb match-winning century for Delhi

AP

42/55

England beat Pakistan to take an unassailable 3-0 lead in the one-day series. Kevin Pietersen notched a century in the process.

GETTY IMAGES

43/55

Pietersen with the Ashes

PA

44/55

KP at Wimbledon

GETTY IMAGES

45/55

getty images

46/55

AP

47/55

Kevin Pietersen does the 'teapot' after England win the Ashes in Australia

Getty Images

48/55

Kevin Pietersen gives his verdict on the Lamborghini Gallardo

AFP/GETTY IMAGES

49/55

Pietersen in his early England day

GETTY IMAGES

50/55

GETTY

51/55

GETTY

52/55

GETTY IMAGES

53/55

PA

54/55

Kevin Pietersen (left) and Andrew Flintoff

GETTY IMAGES

55/55

KP in his first Ashes triumph

GETTY IMAGES
But while he insists he still wants to return to the England team and would have no problem doing so alongside Broad and Anderson, Prior's alleged part in the culture is a different matter.
"The bowlers were given so much power," he said. "(Graeme Swann]) was winning game after game for us. Broady was contributing. Jimmy was contributing. But these guys ran the dressing room.
"The thing that horrified me was when Andy Flower and Andrew Strauss said: 'Guys we've got to stop this, it's not right for the team, there are guys that have come to [us] that are intimidated to field the ball.'
"And (the bowlers) had the audacity to stand there and say: 'No, if they've f***** up we deserve an apology.' It's the most angry I ever got in that dressing room.
"I thought, 'I reckon I could hit these guys. Who do you think you are, to ask for an apology from someone who's trying his heart out? Are you perfect, are you never going to drop a catch? Are you never going to bowl a wide?'
"But the double standard for me was the bigger thing. If one of them messed up - if Jimmy messed up, or Swanny - nothing was ever said. Prior left them alone.
"I went after Prior and said Prior shouldn't be in that side because he's a bad influence, a negative influence - he picks on players. He's back-stabbing, he's horrendous, he's bad for the environment.
"He's one bloke that quite a few - I could count on more than one hand - have said: 'Please can you tell the world what that guy's like.'
"It's only Prior that I'd seriously have real issues with, because of how he was portrayed as a team man, the heart and soul of the dressing room, when he was getting up to the stuff he was getting up to."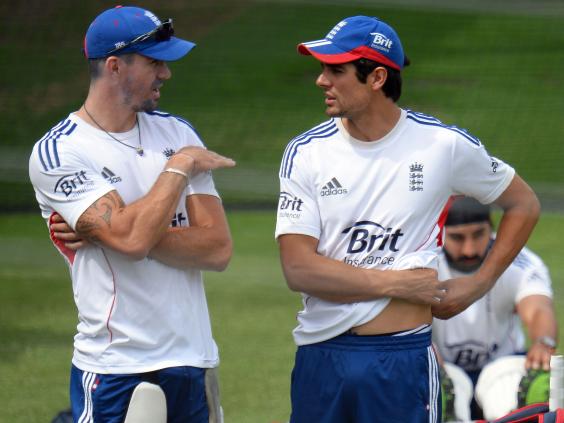 On Flower, South Africa-born Pietersen claimed: "He didn't like one of his soldiers to hammer him. 'He was the boss. He wanted me to fear him. I'll never fear you, buddy."
Pietersen also claimed he was ignored after trying to alert Flower to the anxiety condition which forced Jonathan Trott's withdrawal from last winter's Ashes.
However, the 34-year-old was not so critical about Alastair Cook, who found himself under increasing pressure as captain and batsman earlier this year following a miserable run which saw England lose seven of nine Tests.
Pietersen said: "I hate to see the way he was this summer, because the ECB have put him in a very uncomfortable position and they could ruin his career. They literally could ruin his career."
PA