The game was effectively over at its half way point. Aaron Finch played the innings the whole of Australia knew he could and England feared he would. He optimises the modern one day opener – strong, powerful but with a good technique so he can survive and prosper.
England captain Eoin Morgan will have been exhausted at the interval. Apart from a short moment in the first 10 overs, Australia's batting was so dominant he kept having to throw his best two bowlers back into the attack to try and get a breakthrough.
Finch's innings was so smart. Once he was through the first 10 overs he targeted England's sixth bowler Joe Root whom he hit for 11 off his only over. With no Ravi Bopara in this game there were no other overs available from the part timers, which can so often take the pressure off a captain.
By the end of the 28th over, Stuart Broad and James Anderson had completed seven overs each, the consequence of which was that the remainder of the attack was under strain in the latter overs, strain that told thanks to another barnstorming innings from Glenn Maxwell.
Maxwell flayed England's bowlers in the final overs and exposed again their inability to land yorkers, instead returning to their default setting of bowling short. He  is a phenomenal talent, born out of the Twenty20 era with all the shots. Indications are that in the last month, and with some difficult times recently, he has begun to realise his vast potential. I interviewed him during the summer and when asked his approach to batting his reply was simple – "to hit every ball to the boundary". Unrealistic I'm afraid and he is showing he has moved on and matured.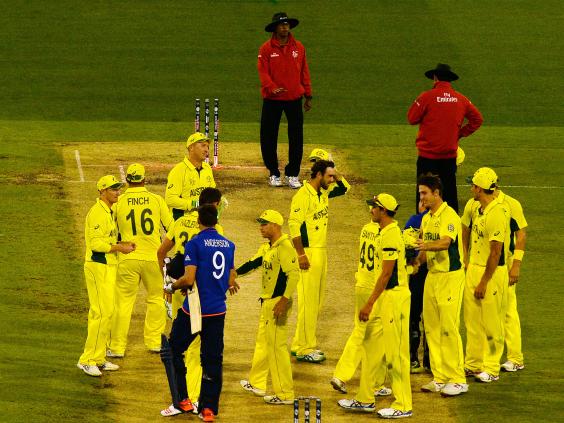 Only James Taylor acquitted himself well for England. He did not deserve his messy and unfortunate end after batting like a champion. Taylor's stock has risen dramatically in the last couple of months. His ability to bat in different situations has underpinned his value to this team, but he should not be left at six. He has been the best player in domestic one day cricket over the last couple of years.
For all the obvious brilliance of Australia's batting, England do have to look at the balance of the side. Five bowlers plus Joe Root is bare bones on these true, flat pitches and I will continue to ask the selectors to consider James Tredwell. Tredwell has been England's most reliable one day bowler and reliability is what they need now.
There is not much turn on these pitches but big playing areas and plenty of cover can encourage Tredwell to employ his strength, which is to toss the ball up and get batsmen coming at him. He has an excellent change of pace and an ability to out-think batsmen.
England's attack is too one paced, though special mention must go to Steven Finn for his hat-trick and five wickets, some fortune going his way which can only add to his confidence.
Why oh why do England keep doing it?  Just as it seemed the team were settled with players knowing their roles going into the World Cup, they make a change. It appeared Taylor was No 3.  Not so. Gary Ballance comes in and Taylor has move down the order, in effect meaning two changes. It seemed odd to me then that Chris Woakes who has been opening the bowling for some time bowls first change. Broad opened the bowling. But why did Broad not open the bowling before when the pair played together? Selectors must appreciate such late changes can unsettle the team and send a poor message to other teams who will rightly assume uncertainty.
Reuse content