England lost to Australia on Sunday in a cut and paste performance of the cricket they have played all winter.
In what was positively not a reprise, their captain, Alastair Cook, said he would consider his position as captain when he arrives home next week.
Cook had just seen his side bat badly, bowl little better and field indifferently before succumbing, as they had seven times before, this time by seven wickets in the third one-day international of the Carlton Mid Series.  Australia had ten overs to spare when their reserve number three, Shaun Marsh, struck the winning four and in that moment Cook might have thought at last that something had to give or he had to go.
With a determined but anxiously subdued calmness ten minutes later he said: "I wouldn't say it has been the most pleasant 48 hours for me. That comes with the territory as captain when you lose games of cricket and in Australia when you have lost for three and a half months it's not exactly a great place to be.
"I'm going to have to make a decision when we sit down and take stock at home. There are going to be some changes. English cricket needs a little bit of a change. The last three months we haven't played the cricket we are capable of doing and we have to look at the reasons why."
Cook was steadfast in his determination to see this tour through although he is making hardly any runs and the team keep losing. But otherwise the admirable resolution which he had shown previously was lacking either with regard to the Test or one-day captaincy.
"I don't really want to get dragged into my position," he said. "It has been two weeks since somebody asked me that question. A lot has happened in two weeks. We have kept losing games of cricket and I haven't been able to turn them round.
"I have a job to do now and try to turn this round. I'm competitive. I leave everything pout on the pitch and I wouldn't question why I wouldn't be in the last two games. We all deserve stick because we haven't won games of cricket."
Australia had again been simply too powerful in all departments of the game, a truth merely emphasised by their magnificent fielding, which invariably reflects a confident side getting the rub of the green.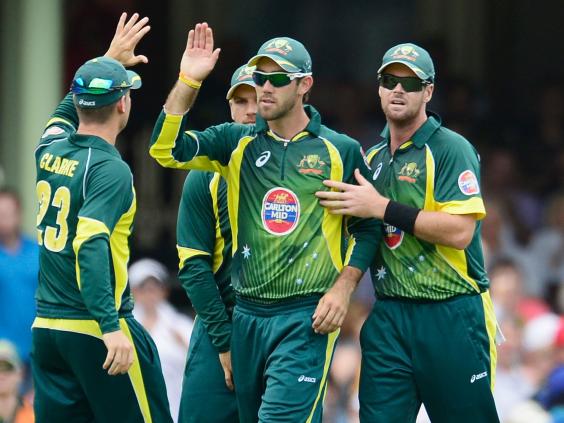 Thus, the second leg of the tour has gone the way of the first, the Ashes, and still there is no sign of an international victory. England have now lost nine consecutive matches one last summer at home and eight on this tour, only one fewer than the ten they have managed twice before in 1993 and 2001.
Lose the next two matches of this series – and who would doubt it – and that number will reach 11. When England set out on this expedition in late October this was not the sort of record-breaking they had in mind. It has now reached that dreadful stage where if a sporting team was a sick animal it would be put out of its misery.
With every passing game, Cook's position comes under closer scrutiny. He needs this series to end so that, whatever the score, there is a period where breath can be paused and the books properly analysed.
It has not helped at all that Cook came into this part of the tour having led England to such unexpectedly heavy defeat in the Ashes. He needed a break but it was impossible to let him have that without revealing signs of weakness.
Those calling for his resignation or sacking might recall that only seven months ago he took England to a Champions Trophy final they should have won. His position becomes less tenable with each inevitable defeat and whatever pleas are entered on his behalf he will have no degree of latitude in the summer should he survive that far.
There are only so many times you can that he is the man for the job. Or perhaps there aren't. But last night he offered the first indications that he too had ceased to believe it.
The tourists, who ended the game with a resigned and bemused air, rather than with agony running through their systems, were perhaps 40 runs short of a competitive total. The pity of this was that they set off at the gallop with Cook leading the charge.
There had been hints that England needed to alter the tempo at the top of their innings and Cook obliged. He batted as assertively as he has done all winter, as if to show that this was the way that he might shake off the woes of failure and return to excellence.
The start was promising with a crunching on drive for four and there followed several vintage cuts and a pulled six. When survived an lbw verdict on review – the ball was going over the top – it seemed that he was destined to go on to the big score that he and his team crave.
But another back foot chop to cover was caught by Gavin Maxwell swooping low to his right. That it was the first of several excellent catches with which Australia's display was studded, can have been of no consolation to a captain and batsman in a plaintive quest for runs and no real idea whether he might find them.
England's innings never regained it dynamism afterwards. Ian Bell was run out for the second match in succession this time dashing for a second only to find that David Warner, from point with one stump to aim half way in from the boundary was in dead-eye dick mode, as he usually is.
From the middle of the innings it seemed that Eoin Morgan would again lead them to respectability. He was as busy as normal, swiped four fours and a six and was gearing up for the final assault when he found a leading edge from which Dan Christian took an athletic diving return catch. Morgan understandably stood his ground, much to the crowd's disgruntlement, though replays showed that Christian had timed his run, his dive and the placement of his hands impeccably.
England were at least 40 runs short and probably another 100 would not have done the way Australia batted. David Warner clubbed the ball around Marsh followed. Job was done and England's captain might be out of one.
Reuse content