There is plenty of baggage which gets in the way of the fact but deep down, at the bottom of it all, we can thank Shane Warne for saying – as he has just done – that Alastair Cook's captaincy can be negative at times – and that England need much more of the imagination Michael Clarke displays if they are to enter the  unprecedented realms of a fourth successive Ashes series victory this winter.
One of the doubts about Warne's verdict revealed itself in his observation, during an important conference call with journalists last Thursday, that the Australia captain Clarke – who passes all the tests he feels Cook fails  – is his "best friend". This was an admission of bias, certainly. Just how much of a 'best friend' was revealed when Clarke was happy to absent himself from Australia's first Champions Trophy match against England in Birmingham in June and attend a charity match Warne and Liz Hurley were staging in Cirencester.
It was Ian Chappell, the epitome of what an Australian figurehead captain represents, who best articulated the questions that decision raised about Clarke's priorities. "You're about to play England 10 times. For God's sake, he had to be at that [Champions Trophy game]," Chappell said at the time. "I have serious queries after the last few months about the off-field part of his leadership ability."
This was the prime doubt about Clarke laid bare: the almost inalienable sense that for all his "funkiness" on the cricket field – becoming only the second captain in history to win a match (against West Indies) after declaring behind in the first innings; dreaming up single-over bowling spells for Shane Watson, Michael Hussey and even wicketkeeper Matthew Wade, who once came on with the ball only 10 overs old – his touch of genius does not extend to managing men. Or, as Michael Vaughan said in response to Warne on Monday, Clarke can't "get the culture right behind the scenes".
Clarke's Australian dressing room has been nothing less than anarchic across the course of a few years in which the esprit de corps inculcated by the likes of Chappell, Allan Border, Mark Taylor and Ricky Ponting has evaporated. Simon Katich tried to throttle Clarke. Andrew Symonds' friendship with him ended with a bar-room bust-up. James Anderson bashed him over the head with a cricket pad in the Australian dressing room at the end of a day's play in Adelaide a few years ago. And even that notion of a diametric opposition between innovator Clarke and plodding pragmatist Cook has had to be deconstructed at times. The Lord's Test this summer when the England captain – whom Warne now says would "never have a leg-slip, bat-pad or leg-gully" - threw Joe Root the ball and caught Clarke off the 22-year-old's bowling… at leg-slip.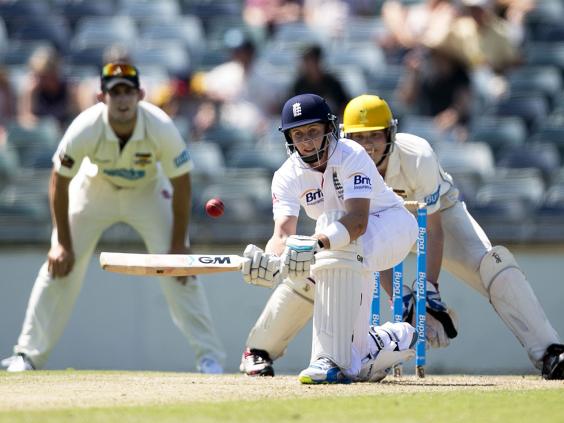 But perhaps with the final observation that Zimbabwe have won more Tests than Australia this year (or as Vaughan put it: his team doesn't win cricket matches. #fact), the doubts about Warne's observations must be reined in a little. Warne will certainly be dismissed as the propagator of another pre-Ashes phoney war because of them but let's give thanks to him on several counts for his early intervention.
It raises a temperature which rarely raced up the gauge in the way we had hoped during a summer which slipped into soggy insignificance by the end. And though a contribution to the England effort was hardly the preconceived intention of someone who is in the employ of Cricket Australia, his words cannot have failed to place the thought in Cook's mind that he does not want his cricket to be of the methodological brand, against Clarke's magical quality.
There were times when we might have asked Cook – still a young captain – to cast off the cloak of conservatism. At The Oval in August, Shane Watson, after a blistering start, was grinding on towards crossing a psychological Rubicon and notching the century which had seemed beyond him after a sequence of failures to graduate from fifties to triple figures and it seemed like a moment for Cook to move the close fielders in for the kill. Instead, play was allowed to drift and Watson reached the highlands.
The BBC's Alison Mitchell yesterday provided a revealing insight, ahead of last night's Radio 5 Live documentary, into the lengths England's team director, Andy Flower, is reaching in his famed preparation for every eventuality in this series. Everything is planned – from seminars designed to "educate the team" better, to requests to the players' families to arrive for their allocated conjugal visit in Perth a few days before the team, so that children will be over the worst of the jet lag.
That is the Flower/Cook England for you; attention to every conceivable detail – inquisitorial knocks on the third umpire's room as much as a reduction of the over rate when impending danger renders it a requirement. Far less common is that something impulsive, unexpected and individualistic. It lodges in the memory of a cricket match, when the result has faded from the mind.
And it might well be a requirement in the long days of cricket ahead, when 450s and 500s will more often be the par score and when Cook will either reveal himself as one with a mind to match his methodology, or simply be found out. The Australian coach, John Buchanan, said of Warne that he was "the reason you played cricket". To be in a Test against him, "you knew you were in a battle with him verbally, physically, mentally and technically". Behind the buttoned-up exterior, there will be a large part of Cook who would like to sit back one day and hear others say that of him, too.
Wireless stadiums: a buzz or a distraction?
The BBC's excellent social media conference at their northern Salford Quays base last week provided an insight into the new demands that will soon be attached to being in a Premier League football stadium. Manchester City revealed at the event that they are soon to provide wireless internet at the Etihad, which Liverpool fans tell me that Anfield has, too. The Premier League welcomes the idea, which creates the opportunity for fans to tweet photographs from their smart phones – all part of the "buzz" that it is keen to foster. The organisation is examining whether it could become a central "buyer" of the wireless facilities that it wants its clubs to offer.
The tricky aspect of wireless stadiums is how to prevent a fan with a smart phone in Row A filming the entire match and broadcasting it on YouTube. For fans, the challenge is how to watch the match. The BBC's Dan Walker told the conference of watching a visitor to this summer's Open tweeting his astonishment at being on the 18th green watching a putt go in, only to miss the putt… because he was tweeting. City fans also have the Posnan to fit into their 90 minutes. Football matches, like life, are becoming far too complicated.
Kick It Out does more than meets the eye
It's a year since the Kick It Out organisation was buffeted by the boycott of T-shirts during its week of action and it has not been easy for it, caught as it is between the indignation of those who say it should do more to combat racism and the indignation of those who say it should do less.
It responded to a request to investigate Roy Hodgson's "monkey" story in the half-time dressing room during England's win over Poland last month but was pilloried after making public its request for an explanation from the FA. It is still standing – with no more budget, one year on, than the £300,000 paid out from the coffers of the FA, Professional Footballers' Association and Premier League – though it continues to deal with all aspects of discrimination across football.
Its Raise Your Game event at the Etihad Stadium next week – fully booked already – is for women and is part of the organisation's attempt to provide mentoring for those seeking careers in areas such as managing, coaching, football administration, media and sports science. Another small part of the workload. The world is more interested in the controversy. Reuse content