A shaken Shane Watson had to quit training with Australia and return to his hotel after being hit on his helmet by a bouncer delivered by an equally upset James Pattinson in the nets at the Melbourne Cricket Ground.
The all-rounder, who was dazed but unscathed, played in the recent game when Phil Hughes was struck by a ball that led to his death.
The bouncer, which hit Watson with a worryingly loud crack, was delivered  as Australia prepare for the Boxing Day Test against India. Pattinson's short ball floored Watson as he landed on his backside before slowly removing his helmet and walking out of the nets to be assessed by team doctor Peter Brukner.
A Cricket Australia spokesperson said the dazed Watson was "shaken but otherwise OK", while vice-captain Brad Haddin later confirmed his team-mate had escaped unscathed. He said: "I had a chat to him – he's a bit shaken, but he's OK. He's shaken as anyone would be."
In light of Hughes' death last month, Watson's knock underlined the heightened emotional reactions to  batsmen being hit on the head or helmet at this time.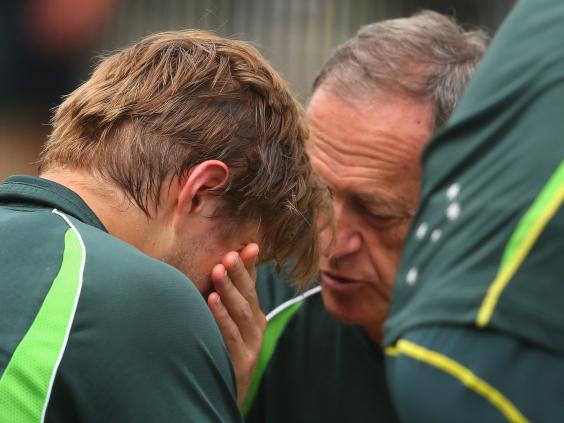 Earlier this month Watson spoke about the difficulties he faced in preparing mentally for the current Test series against India, the first game of which was postponed because of the tragedy. "It's been the most challenging, mentally, couple of days I've had to go through in my career," he said.  "Trying to process everything that happened, especially being there at the SCG.
"Some guys are a bit more affected than others, but every session we were out there you can see everyone starting to gradually find their feet and getting back to what we love doing. There's a lot of inner demons we've had to find our way through."
From a cricketing point of view, the pressure is mounting on Watson to make runs during this four-match series which Australia now lead 2-0 – he has made  a total of 72 runs at an average of 18 in two Tests – and there will be more expectations on his shoulders given that his fellow all-rounder Mitch Marsh has been ruled out due to injury.
Mitchell Starc also suffered a nasty blow while batting at the MCG. He was hit on his knee and limped out of the nets. But Haddin joked: "I think he's trying to get out of having to bowl. He's all right. He just hit the ball on to the inside of his knee."
Australia take on India in Melbourne starting on Friday before the final Test in Sydney from 6 January.
Haddin, meanwhile, has backed the choice of Steve Smith as Australia's Test captain, despite his own claim to the role, calling it "a very brave and very good decision".
Haddin was vice-captain under Michael Clarke, who has been forced to miss the current series with a hamstring injury, but it was  Smith who was chosen to  fill in for the remainder of  the series.
The 37-year-old, who is 12 years older than Smith, said that Smith is "a good leader. He's only young and he's going to get better and better in the role."
Reuse content