The image of a haunted-looking Jonathan Trott walking across the outfield at the Gabba after being dismissed by a rampaging Mitchell Johnson in November 2013 remains one of the most abiding among England cricket's recent set-backs.
In the press conference at the end of that day's play, Australia's David Warner – unaware of Trott's plight – told the assembled journalists that England had looked "scared" and described the dismissal of the Warwickshire batsman, in his 49th Test, as "weak".
Less than 24 hours later, it was announced that Trott would be flying home early from a tour that was about to go from bad to worse. The same could be said of Trott's future in the sport as speculation swirled around his chances of ever returning to England colours again.
Now, almost 18 months on, he is firmly back in England's plans and was on today's flight to the West Indies for this month's three-Test tour.
His absence left a huge hole – arguably one far more substantial than that created by Kevin Pietersen's sacking – in England's top order, but if he does complete one of cricket's most spirited comebacks in the Caribbean, both captain and coach will owe a huge debt of gratitude to sports psychiatrist Dr Stephen Peters.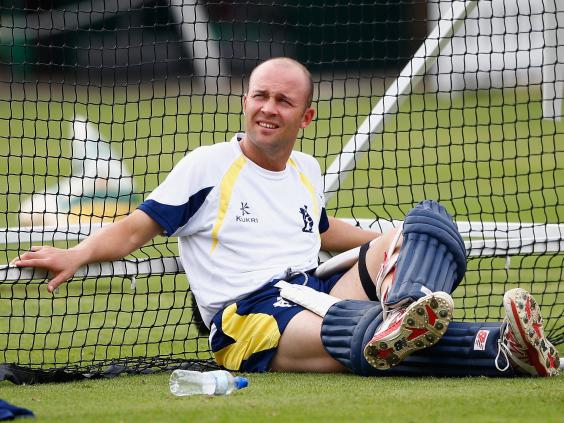 Best known for his work with the Liverpool and England football teams and snooker champion Ronnie O'Sullivan, Peters has been working extensively with Trott as he gingerly began his long road back to recovery.
And despite a false start or two at the beginning of the 2014 County Championship season, Peters believes that Trott's recall isn't so much a surprise as an inevitability. "I have to do an initial assessment to see if an individual can take on the skills, is willing to, and also has the head room to learn these skills and the commitment to them," he tells The Independent.
"He ticked all the boxes. It was a foregone conclusion to me that he would make massive progress – I just hoped that he would then perform as he has been doing and justify his place. Now he has done that."
If Trott's return looked unlikely after his departure from England's Ashes tour, it looked near-impossible after he withdrew voluntarily from the county scene after just two comeback matches with  Warwickshire last April.
He eventually returned to action in June before clocking up 620 runs in the top flight of the County Championship in just eight matches. He was also the highest England-qualified run-scorer in the Royal London One-Day Cup as Warwickshire reached the final at Lord's in September.
Now, having signed a new contract with his county in October and after a successful tour of South Africa as captain of the England Lions development team, he finds himself tasked with helping the senior England side salvage some Test pride after a chastening winter of one-day cricket.
Cricket World Cup final
Cricket World Cup final
1/10 Cricket World Cup final

David Warner of Australia stands in the outfield

GETTY IMAGES

2/10 Cricket World Cup final

Australian cricketer Mitchell Starc (R) celebrates the wicket off New Zealand batsman Luke Ronchi during the final. Starc was named player of the tournament after the match

GETTY IMAGES

3/10 Cricket World Cup final

James Faulkner of Australia celebrates getting the wicket of Corey Anderson

GETTY IMAGES

4/10 Cricket World Cup final

New Zealand batting pair Tim Southee (C) and Trent Boult (R) walk back to pavilion at the end of their innings

GETTY IMAGES

5/10 Cricket World Cup final

New Zealand players celebrate the wicket of David Warner

GETTY IMAGES

6/10 Cricket World Cup final

Daniel Vettori and Ross Taylor of New Zealand looks dejected after Steve Smith of Australia had the ball roll on to his stumps but fail to knock the bails off

GETTY IMAGES

7/10 Cricket World Cup final

Australian batsman Michael Clarke acknowledges scoring his 50

GETTY IMAGES

8/10 Cricket World Cup final

Steve Smith and Shane Watson of Australia celebrate victory after Smith hits the winning runs

GETTY IMAGES

9/10 Cricket World Cup final

Australia lift the Cricket World Cup

GETTY IMAGES

10/10 Cricket World Cup final

Australian captain Michael Clarke and Australian players celebrate winning the 2015 ICC Cricket World Cup final

GETTY IMAGES
It's a challenge that Peters believes Trott is more than up to. "He's an incredible cricketer," he says. "The advice I give to most of the people I work with is not to go public because obviously you're training people to do a skill. A lot of people don't understand it is a skill and therefore you might not get it right.
"People are expecting a magic-wand cure and that's not really the way it works. Jonathan decided he wanted to go public about this because he has done so well.
"It's a credit to the man. You can have periods in sport, sometimes a whole season, when things just aren't happening and you're just digging even harder to make it happen again – that's effectively what Jonathan has done.
"From a psychological point of view, Jonathan is quite robust and certainly determined. It was just a case of giving him the tools to understand what was going on."
For a man who had become the backbone of England's top order, Trott's sudden decline came as a huge shock. Since making his Test debut in 2009, he had demonstrated the sort of steely resolve that made him one of the most dependable batsmen in world cricket – nine Test centuries in 87 innings and an average of 46.45 is testament to that.
For Peters, though, the challenge was to rebuild an individual who no longer felt comfortable doing what had, for a large part of his life, been as natural as getting out of bed in the morning.
"The way I work is that I mentor people, they become students effectively, and they gain insights into the way their minds work," he says. "It relies very heavily on the person I'm working with to actually do the work – all I do is guide them.
"What Jonathan did was to take it very seriously, he meant business, which is a measure of the man. He was very open, hard-working, and what I effectively told him to do was to get some insights into the way his mind was working. Then it was up to him to operate [his mind] in the way he wanted it to, rather than it dictating to him what was going happen.
"I don't have a recipe for people. It's up to the player himself to manage the mind in the way they want to in the future. That's something anyone can do, it's not something you only do when you're distressed. Jonathan had what became a situational anxiety, and once that was understood, he was able to manage it."
His performances with the England Lions in South Africa in the New Year gave the clearest indication yet that the work Trott has completed with Peters is paying handsome dividends. A double hundred in the first unofficial Test in Paarl demonstrated that his powers of concentration, not to mention his hunger for runs, remained undimmed.
A return to the Test ranks, though, is something else entirely. "My feeling is that he'll do very well and he won't have any problems now because he has that insight," says Peters.
"To get that Test recall is fantastic because once he was back on his feet he wanted to go back and play international cricket again. For him to have done that now is a huge credit to him."
Reuse content