David Warner has risked the wrath of Joe Root and the England team by accusing the vice-captain of being racially insensitive in comments that are sure to raise tensions between the sides just  four days before the start of the Ashes.
Warner has revealed he punched Root in his infamous assault at Birmingham's Walkabout Bar back in 2013 because he thought the England player was mocking the South African batsman Hashim Amla. The Australia opener has accused the England batsman of inadvertent racism by placing a wig on his chin – which he interpreted as an insult to Amla who sports a beard as a sign of his Muslim faith.
Warner has also claimed Steven Finn, the England fast bowler, was "asleep in the gutter" at the end of that night in June 2013.
While Warner has expressed regret and taken full responsibility for the incident in the past, this is the first time he has spoken in detail about what occurred hours after England's Champions Trophy victory against Australia at Edgbaston. The revelations are potentially embarrassing for Root, who was not England's vice-captain at the time, and Finn, who is in the squad for next week's first Test.
"We were in the bar in the hotel, a few of us, and we all decided to go next door and have a couple of drinks," Warner told The Sydney Morning Herald. The Australia players were led to a roped off area of the Walkabout, where there were also New Zealand players. An England contingent, including Root, Stuart Broad and Finn then approached.
"We had a place sectioned off for us and they decided to come in – it was probably one, 1.30 in the morning," said Warner. "They were obviously not part of our group. It was more me giving marching orders in a way."
Warner says there were "little things" that annoyed him that night before Root's positioning of the green-and-gold wig tipped him over the edge.
Classic Ashes moments
Classic Ashes moments
1/15 1882

A newspaper obituary mourning 'the death' of English cricket appears after their 7-run defeat to Australia at the Oval, and the Ashes is born.

Hulton Archive/Getty Images

2/15 1932/33

Harold Larwood bowls at Bill Woodfull during the controversial 'Bodyline' series, which England won 4-1.

Hulton Archive/Getty Images

3/15 1938

Len Hutton scores 364, still the highest individual score in the Ashes, as England post a mammoth 903-7 declared at the Oval. They win by an innings and 579 runs.

Hulton Archive/Getty Images

4/15 1948

Don Bradman's 'Invincibles', who go a whole English summer unbeaten, chase down 404 for the loss of just three wickets to win the Leeds Test, with 'The Don' scoring 173 not out.

Hulton Archive/Getty Images

5/15 1956

Jim Laker bowls England to victory at Old Trafford with match figures of 19-90, still the best ever recorded in First Class cricket.

Hulton Archive/Getty Images

6/15 1977

On his return to the England side following a self-imposed exile, Geoff Boycott runs out the local hero Derek Randall at Trent Bridge on his way to 107.

Getty Images

7/15 1981

Ian Botham smashes 149 after England follow on at Headingley before an inspired Bob Willis takes 8-43 to win a famous, series-turning 18-run victory.

Getty Images

8/15 1981

Days after the miraculous display at Headingley Botham rides to England's rescue again at Edbgaston, taking the last five Australia wickets for just one run to clinch another unlikely win.

Getty Images

9/15 1993

Shane Warne announces himself on the world stage by dismissing a bemused Mike Gatting at Old Trafford with the 'ball of the century'.

Getty Images

10/15 1994/95

Shane Warne has Devon Malcolm caught by David Boon during the Boxing Day Test at the MCG to complete the first Ashes hat-trick in 90 years.

Getty Images

11/15 1997

Steve Waugh scores 108 and 116 in difficult conditions at Old Trafford, as Australia win by 268 runs to level a series they eventually clinch 3-2.

Getty Images

12/15 2005

Andrew Flintoff consoles Brett Lee after England won a classic encounter at Edgbaston by two runs to claw their way back into the series.

Getty Images

13/15 2005

Substitute fielder Gary Pratt becomes an unlikely folk hero as he runs out the Australia captain Ricky Ponting at Trent Bridge.

AFP/Getty Images

14/15 2009

Jimmy Anderson and Monty Panesar bat out 69 minutes in a last-wicket partnership that saves the first Test at Cardiff.

AFP/Getty Images

15/15 2010/11

Alastair Cook celebrates reaching his double century at Brisbane on his way to 235 not out in a drawn Test. He goes on to score 766 runs in the series.

AFP/Getty Images
"A mate of mine was actually wearing it on top of his head like a [Lasith] Malinga wig," he said. "That's what it was, and [Root] decided to come in and take it off my mate's head and start acting the way he did.
"When people are drunk that's what they do but I thought it was a bit inappropriate the way he went about that stuff so I went over and tried to take it off him.
"I just think in today's society you shouldn't be fooling around with that kind of stuff. And he probably didn't mean anything by it at all but I just thought – actually I can't say what I thought – I probably let my aggression and alcohol take over there and probably made an excuse for me to go over there and actually take it off him."
Both parties quickly dispersed following the incident and Warner claims he saw Finn "asleep in the gutter" on his exit from the bar.
At the time the England and Wales Cricket Board said Root was "in no way responsible for, nor retaliated to, the attack". The ECB did not respond to requests yesterday for comment on Warner's accusations against Root or Finn.
Warner's punishment for the fracas was to find himself banished to Australia's A squad in South Africa, meaning he missed the first two Tests of the 2013 Ashes series.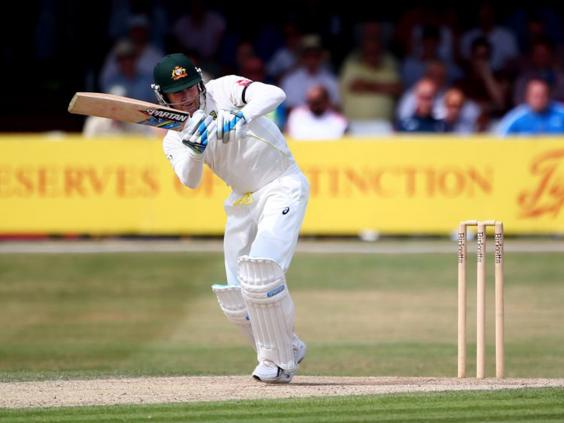 The incident also proved a tipping point for Mickey Arthur, Australia's South African coach at the time, who was sacked and replaced by Darren Lehmann.
Although England went on to win that summer's series 3-0, Warner coming back for the third Test at Old Trafford, both the opener and Lehmann have not looked back since, whitewashing England in the return series the following winter and winning the World Cup on home soil earlier this year.
Warner has also revealed he has put himself on a self-imposed alcohol ban to not only avoid a repeat of that night two years ago but also to play a big part in helping Australia win a first Ashes series in England since 2001.
"I haven't been told to, I don't want to prove a point, I just want to tell myself that I can be disciplined," he said. "But I'm definitely not ruling out having a beer if we win the series."
Warner made just four on day three of Australia's final warm-up match against Essex at Chelmsford yesterday, but he will not be too concerned after scoring 94 in the first innings. 
The Australia captain Michael Clarke, who was out for a golden duck on the first day, top-scored with 77 as his side were reduced to 190 for 8 by the Second Division team.
Reuse content