Why always him? On a day when legends gathered, and a capacity crowd at Lord's paid homage to history, the toxic personality of Kevin Pietersen infected the mood and injected a note of rancour into a celebratory occasion.
He was an irrelevance in playing terms, as the storied career of Sachin Tendulkar closed in a match designed to mark the 200th anniversary of the home of cricket, but he detonated yet another controversy.
Andrew Strauss, his former England captain, was captured on an Australian TV feed referring to Pietersen as "an absolute cunt" in a conversation with Nick Knight, his commentary partner, which both assumed was off-air.
Reports of the exchange quickly went viral on social media and Sky, the host broadcasters, had a PR calamity with which to deal.
In a statement, the company said: "Earlier comments were made during a break of play, which were heard overseas. We apologise for the language used."
Strauss clarified the situation in a subsequent commentary stint. He said:  "I apologise unreservedly, particularly to Kevin Pietersen. I am mortified and profusely sorry."
Though no great surprise, given Strauss's strained relationship with the Pietermaritzburg-born batsman, it was untimely confirmation of enduring resentment. The pair have retained a discreet distance since Pietersen overshadowed the end of his career in 2012. 
Kevin Pietersen in pictures
Kevin Pietersen in pictures
1/55

Pietersen scored a career-best 326 not out in Surrey's County Championship match against Leicestershire.

Getty

2/55

Kevin Pietersen hits a four during his innings for Surrey against Glamorgan

Reuters

3/55

Pietersen is the centre of attention despite sitting on the end of Surrey's team photo yesterday

Getty Images

4/55

Pietersen had an IPL deal said to be worth £200,000 with the Sunrisers Hyderabad before negotiating his release

Getty Images

5/55

Pietersen was part of the Melbourne Stars side that lost the Big Bash final earlier this year.

Getty Images

6/55

Kevin Pietersen walks during his final England appearance during the 2013/14 Ashes.

GETTY IMAGES

7/55

Pietersen in the latest Ashes series

Quinn Rooney/Getty Images

8/55

Andy Flower with KP

Tom Shaw/Getty Images

9/55

Kevin Pietersen with Andy Flower

GETTY IMAGES

10/55

Kevin Pietersen looks on as England crumble once against in the Fourth Ashes Test in Melbourne

GETTY IMAGES

11/55

Kevin Pietersen of England bats during day one of the Fourth Ashes Test Match between Australia and England at Melbourne Cricket Ground on 26 December 2013

Gareth Copley/Getty Images

12/55

Kevin Pietersen makes a gesture to the Gabba crowd

13/55

England batsman Kevin Pietersen walks off at the Waca after the fall of his wicket

GETTY IMAGES

14/55

Kevin Pietersen is all smiles at The Gabba ahead of the first Ashes Test

Getty

15/55

Kevin Pietersen: The local daily in Queensland carried the headline: 'He's so arrogant not even his own team likes him'

Getty Images

16/55

Kevin Pietersen will have a scan and treatment on a knee

Getty

17/55

Kevin Pietersen prepares for the ODI series against Australia

GETTY IMAGES

18/55

Kevin Pietersen bats in the nets at The Oval a

Getty images

19/55

Kevin Pietersen is honoured for becoming England's leading all-time run scorer

Getty Images

20/55

Kevin Pietersen

PA Wire

21/55

Kevin Pietersen of England celebrates with fans after England retained the Ashes

GETTY IMAGES

22/55

Kevin Pietersen's after his 23rd Test match hundred

Getty Images

23/55

Kevin Pietersen – 2
Lasted a grand total of 13 balls in the match, making 7 runs. Played a particularly stupid shot to get out in the second innings and then played no further part in the game due to a calf strain. Doubtful for the next Test, although on this performance he won't be greatly missed.

Getty Images

24/55

AP

25/55

Pietersen must wait until the opening Ashes Test next month to make his first appearance

Getty Images

26/55

Kevin Pietersen: The batsman was spoken to by the referee in the Mohali airport toilets

Getty Images

27/55

Pietersen doing charity work

AFP/Getty Images

28/55

Kevin Pietersen on a celebratory Twitter post

29/55

Alastair Cook and Kevin Pietersen

GETTY IMAGES

30/55

ECB chairman Giles Clarke listens to Kevin Pietersen speak at a news conference in Colombo

Reuters

31/55

Pietersen was one of the more enthusiastic participants in England's victory parade through London

Getty Images

32/55

Pietersen is left out of England's squad following the controversy over provocative text messages

Getty Images

33/55

England retain the Ashes in Australia, their first series win in the country since 1987. Pietersen ends the series with 360 runs at an average of 60.

Getty Images

34/55

Pietersen arrives with England for the one-day World Cup in India in high spirits, but the trip ends in disappointment for him, with injury eventually forcing him him out.

Getty Images

35/55

Pietersen is named in England's Test squad for the first Ashes Test at Lord's, taking the place of the hugely experienced Graham Thorpe.

Getty Images

36/55

Pietersen hits a swashbuckling maiden test century to rescue England in the final Ashes Test at The Oval. The draw means England reclaim the Ashes for the first time since 1987.

Getty Images

37/55

Going on to score further centuries in East London and Centurion, Pietersen ends up being Man of the Series, making 454 runs at an average of 151.33 and becoming the fastest man in history to reach 500 one-day international runs in the process.

Getty Images

38/55

Kevin Pietersen and the team after winning the World T20 in 2010

GETTY IMAGES

39/55

Main attraction: Kevin Pietersen celebrates his century against South Africa. He finished the day on 149 not out

AFP

40/55

Flintoff and Pietersen in 2005

PA

41/55

Kevin Pietersen enjoys a superb match-winning century for Delhi

AP

42/55

England beat Pakistan to take an unassailable 3-0 lead in the one-day series. Kevin Pietersen notched a century in the process.

GETTY IMAGES

43/55

Pietersen with the Ashes

PA

44/55

KP at Wimbledon

GETTY IMAGES

45/55

getty images

46/55

AP

47/55

Kevin Pietersen does the 'teapot' after England win the Ashes in Australia

Getty Images

48/55

Kevin Pietersen gives his verdict on the Lamborghini Gallardo

AFP/GETTY IMAGES

49/55

Pietersen in his early England day

GETTY IMAGES

50/55

GETTY

51/55

GETTY

52/55

GETTY IMAGES

53/55

PA

54/55

Kevin Pietersen (left) and Andrew Flintoff

GETTY IMAGES

55/55

KP in his first Ashes triumph

GETTY IMAGES
Pietersen was dropped for the third Test against South Africa at Lord's after sending supposedly "provocative texts" about team-mates to opposition players. He allegedly referred to Strauss as a "doos" – the Afrikaans equivalent of calling someone an "idiot", or in extreme circumstances, a "dumb cunt".
Pietersen, who appears to derive little obvious satisfaction from his new vocation as an international freelance cricketer, still behaves as if he regards himself as a king in exile, following the implosion of his England career during the surrender of the Ashes last winter.
His agenda intruded on the build up to the match when he reaffirmed his desire to add to his 104 Test appearances for his adopted country. There would appear to be more chance of the Long Room staging pole-dancing evenings.
The indiscretion was quickly seized upon by Piers Morgan, his principal apologist.
He called for Strauss to be sacked, arguing: "Strauss himself axed KP from his England team for allegedly saying similar things about him that weren't even broadcast."
Subsequent wit and repartee – "I'd fire Andrew Zzzzzztrauss for offences against the tedious commentary act" – lived down to reputation.
Shane Warne, another voluble supporter, was otherwise engaged in grimly ironic circumstances. He was taken to hospital for X-rays which confirmed his right hand had been broken by a beamer delivered by former Australian Test colleague Brett Lee, representing the MCC against Warne's Rest of the World team.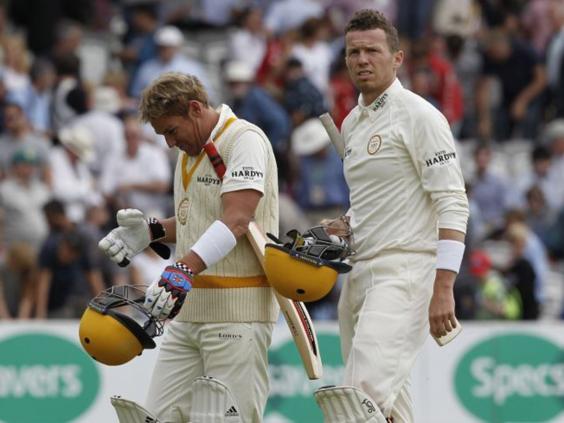 England captain Alastair Cook, the target of a sustained campaign of vilification led by Pietersen loyalists, was at an altogether happier occasion, the wedding of his sister-in-law in Bedfordshire. He deserves forgiveness if the toasts were consumed with rather more relish than usual.
Though warmly received on his way to the middle, Pietersen did not outstay his welcome. He survived only 13 balls, clipping a solitary boundary off his pads before he bounded out of his crease, failed to read Saeed Ajmal's doosra, and was stumped by Chris Read for 10.  
It was an abject exit, following a similar dismissal for a single in Surrey's Twenty20 defeat by Essex on Friday evening. For someone who disdains the option of sustaining match sharpness in the County Championship, Pietersen is barely bothering the scorers.
He cuts a disconnected figure, dispensing jaunty sound bites challenged by mechanical body language. There seems little compensation making substantial amounts of money winding down his career in a succession of over-hyped, underwhelming appearances in the shortest form of the game.
He had an insight into his future on his previous visit to Lord's as a hospitality guest during the first Test against Sri Lanka.
He insisted, with unwitting poignancy, "There's nothing like playing.  I'm still 34. You've got the rest of your life to enjoy days drinking and watching Test matches."
The serenity with which Tendulkar approached what will be his last major innings was a telling contrast. He had not practiced since his retirement at the end of last year, but found simple joy in reacquainting himself with the middle of his bat.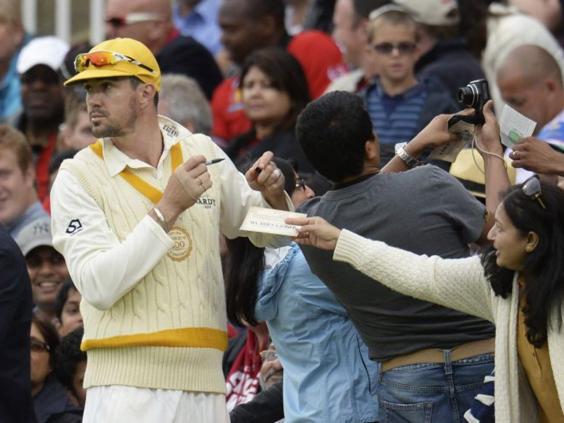 "That sound is always special, when you connect," he said, with an affecting wistfulness.
He loves Lord's as a sanctuary; he had special dispensation from the MCC to have a net at the Nursery End whenever he was in London.
He repaid the favour by making a game of it by taking off Ajmal, who took 4-5 off 15 balls to leave the  Rest of the World team struggling at 68-5. They were helped to 293-7 off their allotted 50 overs by Yuvraj Singh, who was caught for 132 off Tendulkar's bowling.
The low moan which signalled Tendulkar's dismissal, bowled for 44 by Muttiah Muralitharan after sharing a first-wicket stand with another centurion, Australia's Aaron Finch, signalled the crowd's priorities.
Finch saw Tendulkar's MCC team to a seven-wicket victory with an unbeaten 181, but the result was secondary. Few cared about the pettiness surrounding Pietersen. They were there to salute a genuine star whose humility is the ultimate example.
Reuse content