Captain Stuart Broad admits that England's players are looking forward to leaving Australia after their last hope for some redemption at the end of a "torrid" tour was crushed by defeat in the Twenty20 series.
Australia coasted to an eight-wicket win with 31 balls to spare at the MCG to complete series victories in all three formats this winter.
The tourists have been battered and bruised by ruthless displays from the home side in the Ashes and the one-day international series, and Australia have now triumphed in the shortest format with a match to spare.
With off-field issues also clouding the future direction of the England team following the departure of Andy Flower as coach of the Test side, Broad conceded he was looking forward to returning home after Sunday's final Twenty20 match in Sydney.
"It's been a torrid tour for Team England," he said. "We came here with high hopes in the Test arena and lost 5-0. We didn't really get going in a one-day series which, if we look at it, we probably should have won, and lost 4-1. Now we've lost the Twenty20 series.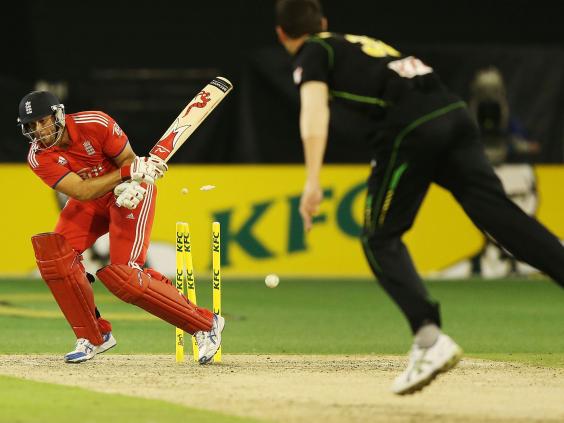 "It's been a really tough tour on the cricket side of things and off the field. We've lost a few guys who have gone home. I don't think many players or coaches will look back on this tour with huge fondness."
England will have little time to lick their wounds when they return home early next week, with preparations for the World Twenty20 to consider. They travel to the Caribbean in just over a fortnight, before the tournament starts in Bangladesh on 16 March.
Broad does not believe the pain inflicted in Australia will be damaging by the time they reach the sub-continent, since most of the T20 squad were not involved earlier in the tour.
However, defeat at the MCG has dropped Broad's side down to eighth in the Twenty20 world rankings – just a place above Ireland.
"I don't think many people will carry the scars from Australia to the Caribbean and to Bangladesh," Broad said.
"I think a few of the guys are looking forward to having two weeks at home in their own bed and refreshing and not thinking about cricket for a while and then coming back a bit refreshed to the Caribbean.
"We've got an exciting T20 side, there's no doubt about that. You look through the line-up. We've played some really good cricket."
But the all-rounder also conceded: "We've not been world-class. We have not won as many games as we should have done. Guys have got an underlying confidence in this T20 side – we just haven't done ourselves justice in these two games. That's part and parcel of Twenty20 cricket and the way we play.
"When you're looking to get big scores there are going to be times when you do and there are going to be times when you don't and you can't let that dent you too much."
England were limp with the bat here as their top order crumbled before managing to post 130 for 9.
Unbeaten half-centuries from Australia's captain George Bailey and opener Cameron White ensured it was a score that never taxed the hosts – who were without a number of their key men after they departed for the tour of South Africa.
---
Who will replace Andy Flower as head coach?
So who now? Candidates for top job
So who now? Candidates for top job
1/6 Ashley Giles

(Odds: Evens) Age 40 Nationality English Experience Ex-England player; Warwickshire coach; now England limited-overs head coach

2/6 Stephen Fleming

(12-1) Age 40 Nationality N Zealander Experience Former NZ captain, now coach of Indian Premier League side Chennai Super Kings Graham Ford (8-1) Age 53 Nationality S African

3/6 Graham Ford

(8-1) Age 53 Nationality S African Experience Former coach of South Africa (1999-2002) and Sri Lanka (2012-13), as well as Kent director of cricket (2005) Gary Kirsten (7-1) Age 46 Nationality S African Experience Led India from 2008-11 and South Africa between 2011-13. At Delhi Daredevils since last September

4/6 Gary Kirsten

(7-1) Age 46 Nationality S African Experience Led India from 2008-11 and South Africa between 2011-13. At Delhi Daredevils since last September

5/6 Mickey Arthur

(10-1) Age 45 Nationality S African Experience Coached South Africa from 2005-10 and Australia from 2011 until sacking last year

6/6 Paul Collingwood

(20-1) Age 37 Nationality English Experience Ex-England player; on coaching team as Scotland qualify for 2015 World Cup