England are urgently trying to prepare for a Test series which starts in three days. On all fronts, it is deeply unsatisfactory. The warm-up week has been a mess, a desperate scramble to obtain practice of a sufficient standard to be ready for West Indies on Monday in Antigua.
But that dire failing has been overshadowed by events at home where the search has started – although some believe that it is already over – for a new supremo for the England team, a so-called director of cricket.
The detailed job description has not yet been revealed but the successful candidate seems destined to be handed power over selection and general direction seen only once before in the days of Ray Illingworth 20 years ago (and that ended in tears).
Peter Moores, the coach charged with ensuring that England defeat West Indies, would hardly be human if he were not affected by this turn of events. The man who appointed him, Paul Downton, has been sacked as part of a restructuring at the England and Wales Cricket Board and the hot favourite to replace him, it is said, is the ubiquitous media pundit and former captain Michael Vaughan, who has made no secret of his distaste for Moores' methods.
Vaughan has stayed uncharacteristically silent on Twitter but used his Daily Telegraph column to announce his candidacy. He said he had a vision for the game and would be more than willing to talk to the ECB to see what the role is.
As the architect of one of the country's greatest sporting triumphs, the 2005 Ashes win, no one should doubt Vaughan's leadership credentials. But his appointment would not be universally popular – far from a shoo-in, in any case, it was said in one exchange – because he is viewed as blowing with the wind.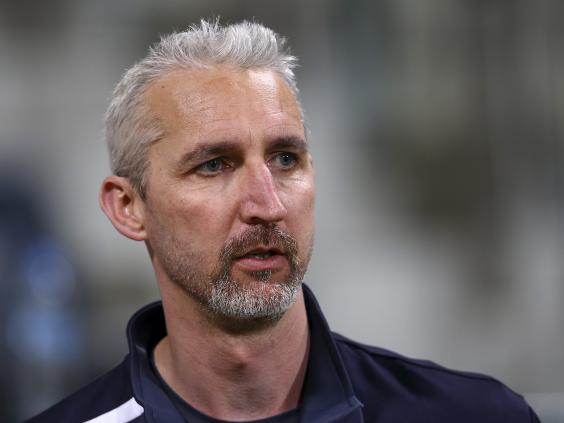 Vaughan received the support of Kevin Pietersen. "He is close enough to the game to make the changes that need to happen for the good of English cricket," said the exiled one. Pietersen, more than any other individual, still calls the tune in the English game.
For Vaughan, there might also be the uncomfortable question of money. He leads a busy life with fingers in many pies which give him licence to offer opinions on many issues. Given the present budgetary restrictions at ECB towers, he would need to take a substantial pay cut and be rather more diplomatic than he has been of late, a feat which he managed, however, as England captain.
The sense of urgency is obvious. James Whitaker, the national selector, has been assured his position was safe, but he can make of that what he will. It is patently unfair on Moores and his men that they should be playing amid this level of uncertainty, particularly when the heat is so clearly on.
Since anything is possible in the ever unfolding comedy drama of English cricket, Moores' fate may already have been decided in the same review of England's World Cup performance which finally did for Downton. But he should ask the question and he deserves an answer.
If this alone makes paramount the need for swiftness, England cannot be seen to hire Vaughan without considering other candidates. They might have in mind a different way of running the show from here on, ditching the long-established selection panel system which should be de rigueur for properly assessing the potential of international cricketers, but that should not entail rushed appointments.
Vaughan has been joined in an expressing an interest by Alec Stewart, the director of cricket at Surrey. "I've always been passionate about England and English cricket and if the ECB want to speak to me of course I'll speak to them."
Cricket World Cup final
Cricket World Cup final
1/10 Cricket World Cup final

David Warner of Australia stands in the outfield

GETTY IMAGES

2/10 Cricket World Cup final

Australian cricketer Mitchell Starc (R) celebrates the wicket off New Zealand batsman Luke Ronchi during the final. Starc was named player of the tournament after the match

GETTY IMAGES

3/10 Cricket World Cup final

James Faulkner of Australia celebrates getting the wicket of Corey Anderson

GETTY IMAGES

4/10 Cricket World Cup final

New Zealand batting pair Tim Southee (C) and Trent Boult (R) walk back to pavilion at the end of their innings

GETTY IMAGES

5/10 Cricket World Cup final

New Zealand players celebrate the wicket of David Warner

GETTY IMAGES

6/10 Cricket World Cup final

Daniel Vettori and Ross Taylor of New Zealand looks dejected after Steve Smith of Australia had the ball roll on to his stumps but fail to knock the bails off

GETTY IMAGES

7/10 Cricket World Cup final

Australian batsman Michael Clarke acknowledges scoring his 50

GETTY IMAGES

8/10 Cricket World Cup final

Steve Smith and Shane Watson of Australia celebrate victory after Smith hits the winning runs

GETTY IMAGES

9/10 Cricket World Cup final

Australia lift the Cricket World Cup

GETTY IMAGES

10/10 Cricket World Cup final

Australian captain Michael Clarke and Australian players celebrate winning the 2015 ICC Cricket World Cup final

GETTY IMAGES
As with Vaughan, there was a certain amount of hedging bets going on. Some potential nominees want to be the ones asked rather than doing the asking. Among other possible candidates there was silence. Andrew Strauss, praise be, does not tweet, and was not answering phone calls about the matter or responding to them. This may or may not speak volumes.
Angus Fraser, managing director of cricket at Middlesex and part of the present, seemingly threatened selection panel, would bring equal wisdom and maturity. Like everybody else, he has barely had time to assess what is happening yet.
The possibility of a foreign appointment should at least be explored. Men of the international calibre of Adam Gilchrist or Tom Moody, not yet entirely ensnared by the broadcasting dollar, should not be lightly dismissed. Or at least options should be examined, diligently if hurriedly.
There is a feeling that England will move quickly without announcing how they intend to proceed. They had that option after their regular board meeting and chose instead only to rubber stamp some appointments.
The most important was the formal appointment of Colin Graves as chairman, though his hand has been behind all recent developments. Another was the elevation of the outgoing chairman Giles Clarke to become the organisation's first president, which was embarrassing in its timing. The night before Clarke had been involved in an unseemly and undignified public altercation at a dinner in the Long Room at Lord's to mark the publication of this year's Wisden almanac.
Clarke was seen haranguing the editor of Wisden, Lawrence Booth, who tried to calm him down. As Clarke himself might put it, just the sort of chap you want as ECB president. He will be in office for four years. The new director of cricket, depending on his post-prandial behaviour, needs a similar term.
Candidates for the new role at the ECB
Michael Vaughan Former England captain and 'Daily Telegraph' columnist.
Andrew Strauss Also an ex-England captain, now working as a pundit for Sky Sports.
Alec Stewart Another former England captain and executive director at Surrey.
Angus Fraser Was an England bowler. Now a selector and Middlesex managing director.
Adam Gilchrist Former Australia wicketkeeper and IPL coach.
Tom Moody Ex-Australian all-rounder. Current IPL coach and former Sri Lanka coach.
Reuse content